QUESTIONS
P.O. Box 631 Station A
Toronto, ON, M1K 5E9
Centennial wins gold on the national stage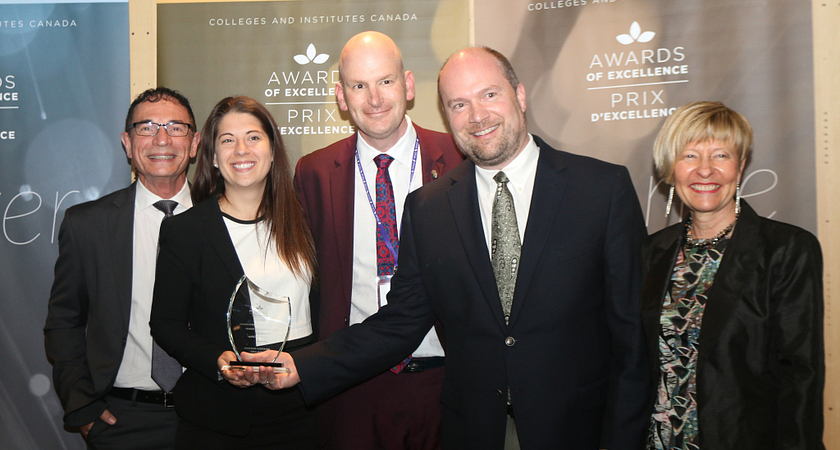 Photo: (From left): Anthony Bertin, Manager, Community Outreach Office; faculty member Shannon Winterstein; Craig Stephenson, Vice President, Student and Community Engagement; Darryl Creeden, Director, Recruitment and Admissions, received the Gold Medal for Indigenous Education Excellence from Denise Amyot, President and CEO of CICan.
Once again this year, Centennial College has been recognized on the national stage for outstanding achievements in post-secondary education. Centennial representatives collected three medals at the Colleges and Institutes Canada (CICan) Awards of Excellence 2016 gala that took place at CICan's annual conference in Quebec City on May 31.
Centennial was the only CICan institution in Canada to earn two Gold Awards of Excellence this year. The awards celebrate the best practices and leadership demonstrated by public colleges and institutes across Canada in eight distinct categories, including Indigenous Education, Innovation in Applied Research, Internationalization, Leadership, Program, Staff, Student Leadership and Teaching Excellence.
CICan's Gold Medal for Indigenous Education Excellence went to Centennial College for our Indigenous Strategy for Access and Participation, a comprehensive mandate that provides services tailored for Indigenous students, community outreach and the inclusion of Indigenous culture in the college curriculum. In addition to developing a variety of initiatives and services to support Indigenous learners, Centennial has promoted understanding and reciprocity among Indigenous and non-Indigenous people through the college's new Indigenous Studies: First Peoples in Canada Certificate, various research projects and co-curricular programs.
The Gold Medal for Internationalization Excellence is again in Centennial's possession this year for its ongoing expansion of internationally focused higher education initiatives. In addition to developing numerous integration strategies and support programs for our 6,000 international students, the college has worked hard to promote applied global learning expeditions and to enhance classroom theory and skills to prepare Canadian students to participate in the global marketplace. By signing more than 100 Memorandums of Understanding and Memorandums of Articulation, Centennial has forged partnerships with institutions on every continent.
The Silver Medal for Innovation in Applied Research Excellence was won by Centennial College and its Applied Research and Innovation Centre (ARIC) for collaborating with Clear Blue Technologies, an innovative sustainable-energy startup that has developed intelligent off-grid energy systems. Since the launch of their product in 2013, Clear Blue has secured 50 customers in Canada, the US, Germany, Dubai and Australia. As a direct result of ARIC's contributions, Clear Blue will boost its staff by 150% over the next two years. All of the Centennial student researchers on the Clear Blue Technologies project were hired after graduation.
Colleges and Institutes Canada is the national and international voice of Canada's publicly supported colleges, institutes and polytechnics, of which Centennial College is a member. The association works with industry and social sectors to train 1.5 million learners of all ages and backgrounds at campuses serving more than 3,000 urban, rural and remote communities in Canada. The association also operates in 29 countries around the world.