QUESTIONS
P.O. Box 631 Station A
Toronto, ON, M1K 5E9
Centennial wins two CICan Entrepreneurship Awards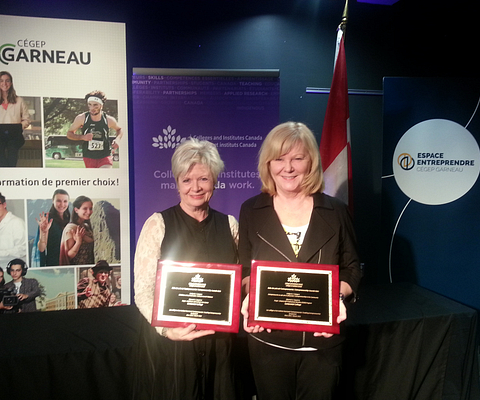 Trish Dryden, Associate Vice President, Research and Corporate Planning (left), and Sharon Mooney, Manager, Centre of Entrepreneurship, hold Centennial College's two CICan Entrepreneurship Awards in Quebec City, March 9.
Centennial College has earned two CICan Entrepreneurship Awards for its work in two distinct categories: Entrepreneurship in the Community, and College and Institute Entrepreneurial Ventures. Centennial representatives were on hand to collect the awards at the Enabling Entrepreneurship Symposium in Quebec City on March 9.
Centennial won for its outstanding Ontario Self Employment Benefits (OSEB) program in the Entrepreneurship in the Community category. The college's Centre of Entrepreneurship (COE) has successfully delivered the program since the Centre's founding in 1987. The work has supported more than 3,600 unemployed and under-employed individuals by helping them to start and operate a new business.
The intensive and hands-on 10-month-long OSEB program is undeniably effective: 98 per cent of the program's graduates are in business and meeting their revenue generation targets. Because of its stellar performance, COE has grown to become the largest provider of the OSEB program for Employment Ontario in the Toronto region.
OSEB graduates have gone on to establish profitable enterprises in such varied sectors as fruit importing, landscaping, pest control, tourism and independent film and television production, to name only a few. COE has helped thousands of individuals turn their lives around and be in business for themselves – not only creating their own jobs, but also creating employment for others, strengthening regional prosperity and deepening Centennial's impact upon community economic development and social inclusion.
In the College and Institute Entrepreneurial Ventures category, Centennial's Residence and Culinary Arts Centre, currently under construction, celebrates innovation and entrepreneurship at every level. The eight-storey building is the product of a unique 3P venture: private sector partners will recoup their investment by operating the residence, while Centennial subleases the academic and conference floors that will house the Culinary Arts Centre and Conference Centre.
The ground level will include seven kitchen laboratories, a teaching restaurant and nine new classrooms. The naturally lit kitchens will service a conference and banquet centre on the top floor. The professional facilities present real-world entrepreneurial opportunities for students, who will prepare scrumptious meals for the restaurant and host various events in the conference and banquet centres. With this exemplary experiential learning, students will compete in the marketplace and gain invaluable business skills that will position them for career success.
The residential floors will accommodate 740 students in two- and four-bed suites, complete with a bathroom and kitchen in every suite. There will also be communal kitchens, lounge space, a meditation room and a screening room where students will congregate. Since a large proportion of Centennial residents are international students, the new building – set to open in fall 2016 – will foster rich cultural exchanges.
The CICan Entrepreneurship Awards recognize leaders from Canadian colleges and institutes, agencies, foundations and partners in economic development supporting business start-ups. Colleges and Institutes Canada (CICan) is the national organization representing publicly supported colleges, institutes, cégeps and polytechnics at home and internationally. It champions the innovations, applied research, international development, and the employment and entrepreneurial opportunities that are created by its member institutions.