QUESTIONS
P.O. Box 631 Station A
Toronto, ON, M1K 5E9
Centennial's Aerospace Campus breaks ground at Downsview Park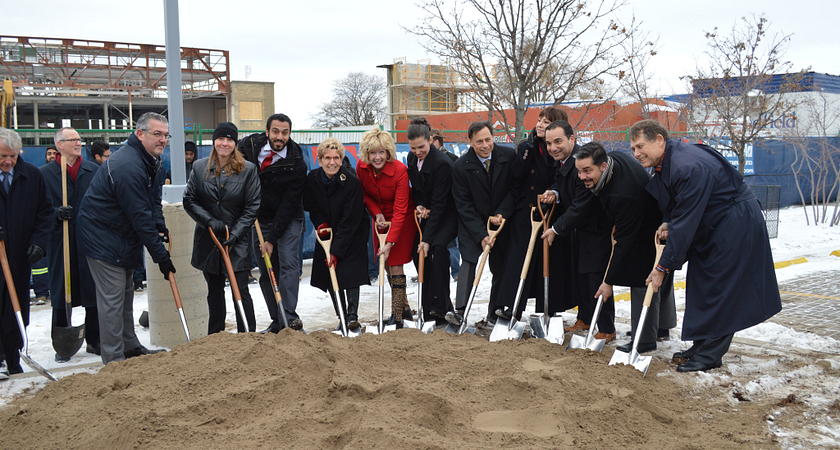 Centennial College officially broke ground at its unique Aerospace Campus with the help of Ontario Premier Kathleen Wynne and federal Hon. Minister of Science Kristy Duncan, who wielded shovels in a time-honoured turning of the soil on November 21.
Minister Duncan announced the project will receive $18.4 million in Strategic Investment Funds (SIF) from Ottawa, while the Ontario government has contributed $25.8 million, to relocate the college's aviation programs to the Downsview Park site. The project is the first step towards creating an aerospace training and research hub for the development of new technologies in Ontario.
The four-acre campus will serve as the new home of Centennial's aerospace technology programs in what is the historic site of de Havilland of Canada, an indelible part of Canada's aviation heritage. The project repurposes the de Havilland building, located at 65 Carl Hall Rd., with selective demolition and new construction to create approximately 138,000 square feet of instruction space.
The $72-million project includes construction of a new hangar that is large enough to accommodate today's commercial jets. Centennial's School of Transportation currently trains about 300 aircraft technicians and avionics technicians annually at Ashtonbee Campus. The move to Downsview will provide a much larger teaching space with access to working runways for the first time. Enrolment is expected to grow to more than 900 students. Program graduates find employment across Canada and around the world.
The new campus will house an innovation and research working group that brings together industry leaders and academic partners, including University of Toronto Institute for Aerospace Studies, Ryerson University, York University, Bombardier and others. The campus will anchor the Downsview Aerospace Innovation and Research (DAIR) Cluster, which will work to maintain Canada's fifth-place ranking as an aerospace supplier to the world.
When the rehabilitation of the de Havilland building is completed in January 2019, it will offer classrooms, laboratory space, workshops, hanger space, offices, a library and food service under one roof. Students will be able to walk to the new Downsview Park TTC subway station, which opens late next year. The campus was designed by MJMA | Stantec (Architects in Association), the same architecture firm that penned the award-winning Library Building at Ashtonbee Campus.