QUESTIONS
P.O. Box 631 Station A
Toronto, ON, M1K 5E9
Centennial's bees make quick and sweet work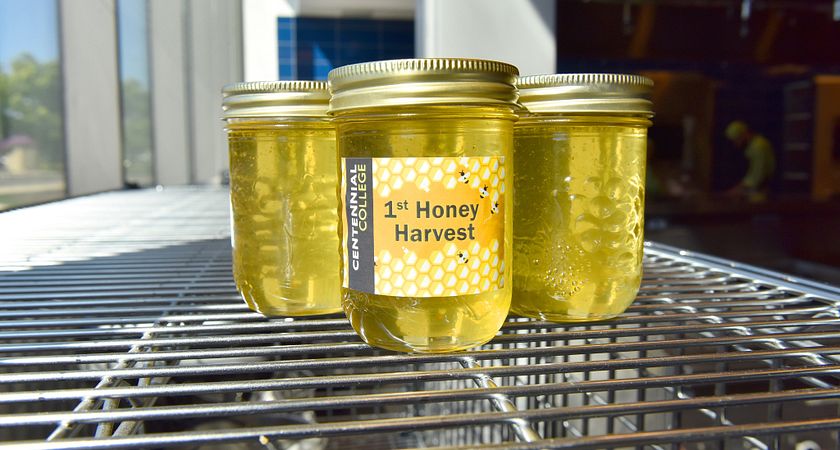 This summer students and staff at Centennial College's Progress Campus gathered to celebrate a new local creation: honey! Thanks to the establishment of four bee colonies less than two months ago, the buzzy little workers were unusually quick in gathering enough flower nectar to produce the college's first harvest of golden sweetness.
"It was entirely unexpected," says Chef Samuel Glass of the college's School of Hospitality, Tourism and Culinary Arts, who originally proposed the idea of bringing beehives to the campus. "Nobody expected honey this early in the process, not even our expert beekeepers."
Local and sustainable are becoming hallmarks of the culinary and baking programs at Centennial, reflecting the industry trend that sees consumers seeking out local food products that are grown with minimal impact on the ecosystem. Whether it is integrating local honey into the college's kitchens, or discussing honey under the sustainability and food theory curriculum umbrella, having an apiary provides great benefits to students in the culinary programs.
Rather than just lecturing about it, Chef Glass and Centennial chose to demonstrate and lead by example. Through the efforts of Associate Vice President Shannon Brooks, the college found the funds to establish four commercial hives at Progress Campus next to a grouping of crabapple trees that proved to be popular with the bees. Two professional beekeepers were hired to manage the hives and ensure the bees are healthy and happy.
"The bees are doing extremely well," says Glass. So much so that the first harvest took place in early July, mere weeks after the colonies were established. The beekeepers spun the hive trays in a centrifuge machine and filtered about 8 litres of honey. On July 20 culinary students packaged the honey in the college's kitchens. There was enough to fill 30 250-ml jars, which were immediately sold out.
"It's the complexity of the honey that makes it different from any other honey," says Glass. "The crabapple trees were instrumental in that, as well as the variety of other vegetation growing around the campus that's conducive to beekeeping."
Centennial's honey has an almost zero carbon footprint, as there's no transportation involved. By using the honey as a natural sweetener in recipes – along with crabapple byproduct that could be used for jams and jellies – it's a small, but positive, step towards "field-to-fork" cooking, says Glass.
Having students involved in harvesting and processing local honey demonstrates experiential learning, which is one of school's tenets. And the college's especially productive bees means there may be two more harvests this season before the weather turns cold. But get your honey order in early to avoid disappointment!