QUESTIONS
P.O. Box 631 Station A
Toronto, ON, M1K 5E9
Centennial's culinary school gets a makeover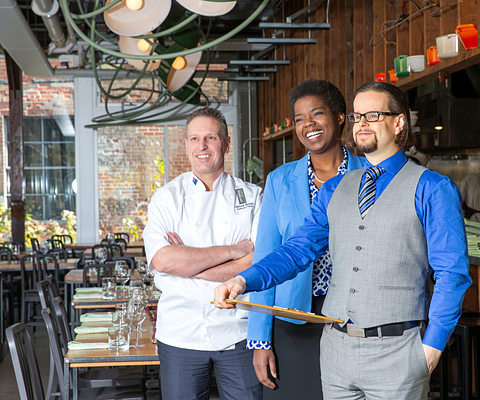 Pictured are (from left): James Smith, Chair of Culinary Programs and Operations; Michelle Caine, Chair, School of Hospitality, Tourism and Culinary Arts; and Dean Joe Baker.

A dynamic new team at the School of Hospitality, Tourism and Culinary Arts is shaking up Centennial College's culinary arts programs with the goal of making the Scarborough school the go-to destination for culinary skills. Spurred on by Canada's food service and hospitality industries, the school has undergone a Renaissance to refocus and produce more graduates with the right skills set demanded by employers. Innovation and entrepreneurship are also embedded in the curriculum, in response to emerging and ongoing trends in the sector.
It's all being led by seasoned restaurateur Joe Baker, who is the school's new Dean. Joe has put together a fabulous team of chefs and instructors recruited from the industry to bring the latest thinking into Centennial's classrooms and labs. Even the facilities of the school haven't escaped scrutiny: rising out of the ground at Centennial's Progress Campus is an eight-storey Student Residence and Culinary Arts Centre, which will give faculty and students great new kitchens and serving space to work in. It's quite a transformation in a few short years.
Read all about it in this feature story in the January issue of Food Service and Hospitality magazine.