QUESTIONS
P.O. Box 631 Station A
Toronto, ON, M1K 5E9
Centennial's Skills competitors show their mettle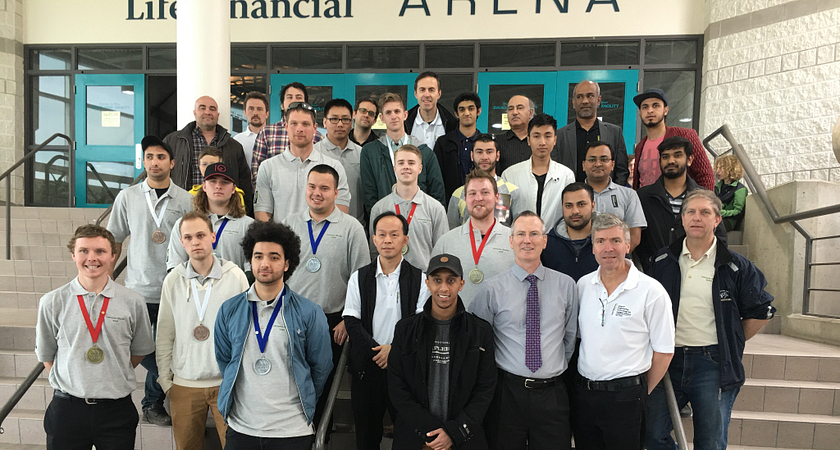 Centennial College sent 30 students – its biggest team ever – to the Ontario Technological Skills Competition in Waterloo, Ontario, on May 2-4 this year, and they returned with 10 gold, silver and bronze medals. It's an exceptional result by any measure.
Competitors were put to the test in a range of contests – such as robotics, culinary arts and automotive service – and judged on their skills related to their field, as well as their job interview and other related soft skills. In addition to gold, silver and bronze medals, some winners were presented with monetary awards, too.
Centennial students representing three of the college's schools – Transportation, Engineering Technology and Applied Science, and Hospitality, Tourism and Culinary Arts – were on hand to do their best.
The medal-winning students included:
James Mosco – Gold, Aircraft Maintenance
Colin Bailey – Gold, Auto Collision
Juan Suarez-Melo – Silver, Auto Collision
Mason Norlock – Silver, Auto Painting
Mathew Watts – Bronze, Auto Painting
Seaton Crawford – Gold, Auto Service Tech
Raha Bassidj - Silver, Auto Service Tech
Anthony Mastronardi – Bronze, Heavy Equipment
Rene Klein Horsman – Bronze, Electronics
Armen Shirinian – Bronze, Automation and Control
The annual skills competition features 67 skilled trades and technologies contests involving 2,100 competitors from high schools and colleges across Ontario, making it the largest skilled trades and technologies competition in Canada. An estimated 20,000 spectators took in the event over two days at the Waterloo Memorial Recreation Complex.
Winners are eligible to move on to the Skills Canada National Competition in Moncton, New Brunswick at the end of May. Gold medal winners there will be invited to compete with the world's best in the 44th WorldSkills Competition that will be held in Abu Dhabi, United Arab Emirates, in October 2017.
Our congratulations to all of the competitors and to the faculty and staff who assisted in their preparation for the Ontario Technological Skills Competition!