QUESTIONS
P.O. Box 631 Station A
Toronto, ON, M1K 5E9
Chef Oscar Farinetti talks Biodiversity in Italian cuisine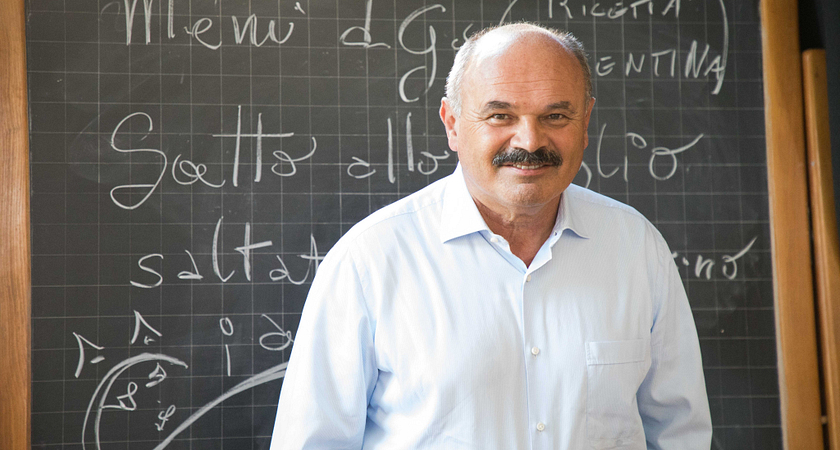 As the world-renowned culinary mogul started his lecture, students from Centennial College's School of Hospitality, Tourism and Culinary Arts leaned forward in their seats, captivated. On that day in November 2018, the room was packed with a diverse range of learners, which isn't unusual for a school known for its global student body. The lecturer — Oscar Farinetti, the man behind high-end Italian food emporium Eataly — however, found the diversity awe-inspiring.
"This is a man who travels around the world and, firstly, he appreciated that students were listening attentively, their eyes big like dinner plates," says Roberto Fracchioni, School of Hospitality, Tourism and Culinary Arts professor and project coordinator for events such as CENTItalia, at which Farinetti was speaking.
"Because culinary schools in Italy are often not nearly as diverse as ours, he was also pleasantly surprised when he asked if as much diversity as he saw was common and I told him that except for Canada's Indigenous people, we're all immigrants here, and we don't know any other way. He paused and said it was a beautiful thing to see."
Interestingly, during his CENTItalia lecture, Farinetti offered attendees a comprehensive overview of his experience of sharing Italian cuisine's biodiversity with the world. So, says Fracchioni, Farinetti's response to Centennial's human biodiversity made the professor reflect on the benefits of such an international student population.
"We have an International Cuisine class where we cook global dishes, and there is almost always someone from the country we're focusing on making suggestions or explaining how they cook the dish," he says. "I'll give that student a chance to demo the recipe, which gives them a voice and brings a really authentic experience to the learning that happens here."
Farinetti's Toronto visit was two-fold. Firstly, he was partaking in CENTItalia, on which Centennial partners with the Italian Chamber of Commerce of Ontario to celebrate Italian cuisine, showcase Italy's ingredients and demo regional Italian dishes through events featuring famed Italian chefs and culinary professionals. Secondly, this year Farinetti is set to open Eataly in Toronto. Spread out over three storeys in downtown's Manulife Centre, it will offer the ultimate culinary experience by housing restaurants, food and beverage counters, a bakery, retail items and a cooking school.
"Oscar is one of the people responsible for guiding and dictating how the world sees Italian food," says Fracchioni. "To give our students the opportunity to hear him speak and then hear how impressed he was with Centennial was amazing. He has seen and done everything, so for him to appreciate how we run the School makes me very proud. Through opportunities like CENTItalia, we're getting the world to realize not only how professional but also how cool we are."
Written By: Izabela Szydlo