QUESTIONS
P.O. Box 631 Station A
Toronto, ON, M1K 5E9
Colts Men's Cricket team on a hot streak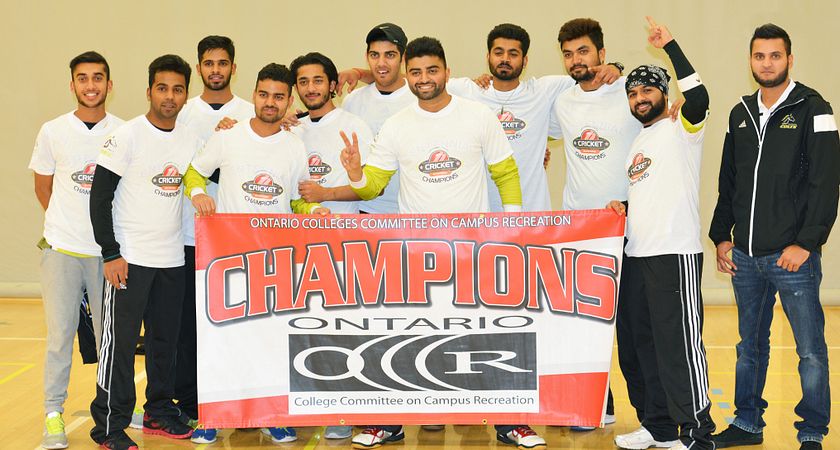 Centennial College's Colts Men's Extramural Cricket team cemented its remarkable success in 2015 when it returned this fall to dominate on the pitch, just as it did in the spring when it won gold in the Ontario Colleges Committee on Campus Recreation (OCCCR) Cricket League tournament.
The Colts opened the fall season with a silver medal finish at the end of August, when 10,000 spectators watched the 2015 Totally Cricket Canadian College Cricket National Championship live stream out of King City, Ontario. The Colts dominated Thunder Bay and the University of Toronto Scarborough, then defeated the York Lions in an extra over. They went on to defeat Ryerson in the semis before succumbing to the Waterloo Warriors in the finals. Centennial excelled in the tournament's sportsman categories, with Anand Erramilli winning Best Batsman and Hardik Patel named All-Rounder.
At the Humber North Indoor Cricket Invitational, the Colts' cricket bats ran hot. Centennial beat Sheridan 31-30 and went on to overthrow George Brown 53-35. The team then bested Humber Lakeshore 54-21. In the semis it was University of Toronto Mississauga that succumbed to Centennial by a score of 39-38. The Colts only needed 4.1 overs to complete the task of handing Humber the defeat and winning the invitational.
The Colts hosted their own tournament at Progress Campus on Friday, November 13 – a date that proved unlucky for the opposing teams. The Colts defeated Humber Lakeshore by a score of 77-42. Centennial went to bat first and completed the 77 runs in five overs, leaving the Humber Hawks to play catch-up. They were unable to score as many runs as the Colts hunkered down to ensure the win to end it in 4.2 overs. At the conclusion, Centennial had amassed a 10-0 record and had won two indoor championships.
The Colts went on to win their third cricket invitational, hosted by Georgian College, in early December. The Colts first defeated Seneca 68-53 in five overs, before losing to Sheridan 52-42. The team remained in high spirits and dominated Fanshawe 49-29. In the semi-final round the Colts played the Georgian Grizzlies, beating them 53-51. They faced Sheridan one again in the final. The Colts batted for 55 runs in the full five overs, while the Bruins were only able to amass 38 runs, allowing the Colts to take the game and another championship trophy.
The next tournament will be held on January 29 at nearby Seneca College. The Centennial Colts aim to keep their hot streak alive and add another championship trophy to their groaning shelf. Go Colts go!