QUESTIONS
P.O. Box 631 Station A
Toronto, ON, M1K 5E9
COLTS return to cross-country running championships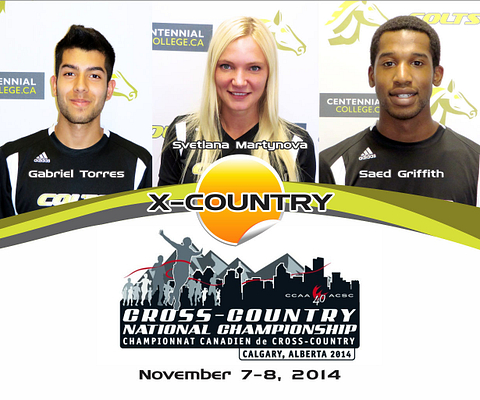 After a 26-year absence, the Centennial COLTS cross-country running team is returning to the CCAA Nationals XC Championships, thanks to the excellence demonstrated by our participating students this year.

Saed Griffith (in the Biotechnology program), Svetlana Martynova (Interactive Media) and Gabriel Torres (Social Service Worker) qualified to compete on November 8 at the CCAA National Cross-Country Championships hosted by the Southern Alberta Institute of Technology (SAIT) in Calgary. The team competed against the top six athletes from 20 colleges to qualify.
Needless to say, going to the CCAA Championships requires dedication and plenty of hard work. Each student adhered to an intense schedule of one to three hours of training per day, six day per week, while attending classes and completing course work.
The students, along with running coach Sean Squires, will be heading to Calgary next Wednesday to represent Centennial College and the province of Ontario in competition with the best cross-country runners among Canada's colleges.

Congratulations to the team for their success thus far, and let's cheer them on in Calgary!