QUESTIONS
P.O. Box 631 Station A
Toronto, ON, M1K 5E9
Commemorative mural unveiled at Progress Campus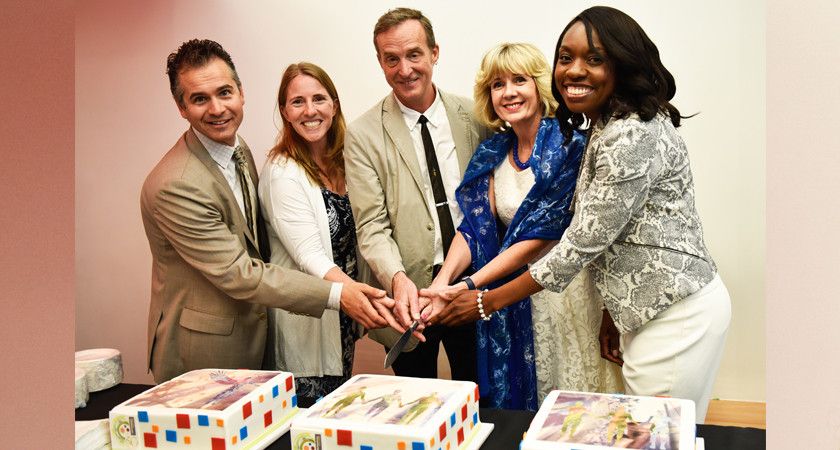 Caption: From left: Patrick Miksa, VP Academic Assets, Knightstone Capital Management; Shannon Brooks, AVP Corporate Services, Centennial College; artist Gavin MacDougall; Ann Buller, President, Centennial College; and Hon. Mitzi Hunter, MPP, Scarborough-Guildwood.
To mark Centennial College's 50th anniversary as well as Canada's 150th birthday, the college commissioned an outdoor mural at the new Centennial Residence and Culinary Arts Centre (CRCA) at Progress Campus. The winning design, entitled 'Dare to Achieve' by artist Gavin MacDougall, a graduate from Centennial's Fine Arts Studio program, was unveiled on June 22.
"Art that's in the public domain tells a bigger story, and so we started the President's Art Project as a way of getting that art out there," Centennial College President Ann Buller told the audience that gathered outside for the unveiling.
"It really does tell the story of courage, determination, and inclusiveness that has defined this institution for the past 50 years," she said of the colourful mural. "Like the silhouettes in Gavin MacDougall's work, we stand united in our commitment to helping every student not only to succeed, but soar, and that's really what this image represents."
The mural competition was intended to show off the artistic talent of Centennial's students and alumni. Thanks to Knightstone Capital Management Inc., which built the CRCA, the college was able to award MacDougall with a $10,000 cash prize.
"The artwork speaks to the importance of education, community, cooperation, and diversity. Individual obstacles and limitations are overcome when people unite," MacDougall told the crowd. He thanked the college, judges and the many people who helped bring the mural to life. "We build upon foundations established before us, and with guidance, instruction and determination, we move forward. Joining together, we rise above and dare to achieve."
President Buller and Gavin MacDougall unveiled the large panels with the help of the Hon. Mitzie Hunter, MPP, Scarborough-Guildwood, Patrick Miksa, Knightstone's Vice President of Academic Assets, and professor/artist David McClyment.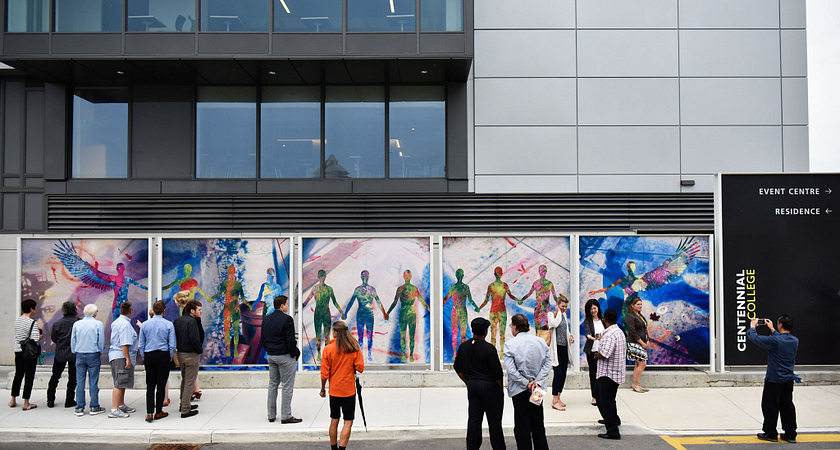 MacDougall's five-panel mural was digitally processed, fabricated and installed on the north side of the residence building, where it will be on permanent display at Progress Campus. MacDougall's work can also be found in Art Interiors in Forest Hill Village, Latitude 44 in The Junction, and Project Gallery in Leslieville.