QUESTIONS
P.O. Box 631 Station A
Toronto, ON, M1K 5E9
Community Skate Date this Saturday, Feb. 21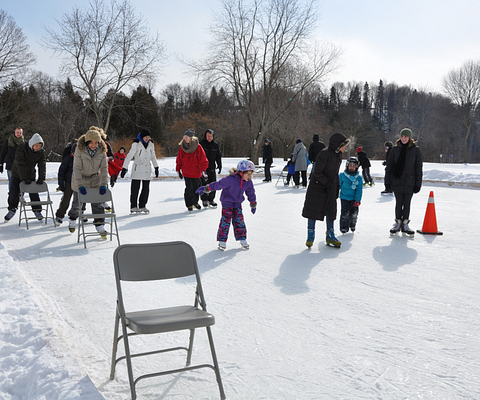 Canada's winters can get cold, but they do have their advantages, including ice skating. If you can walk, you can skate, and if you can skate, you can have fun. If you're looking for something to do outdoors this month, ice skating is an excellent way to get closer. Sometimes literally, if you accidentally take a tumble.
The Environmental Student Society (ESS), one of Centennial College's longest-running student clubs, keeps this tradition alive by creating a natural outdoor ice rink every winter in Morningside Park, just south of Morningside Ave. and Ellesmere Rd. The rink's formal opening took place on February 14, Valentine's Day, but there's a second community skate date set for this Saturday, February 21 from 11 AM to 4 PM.
The date is designated for Centennial's many international students who may not have tried skating before, but it's also open to the entire community, so your family and friends can come out, too. Lunch, hot chocolate, apple cider, and a fire pit will keep the mood warm and inviting. If you don't own skates, don't worry. The ESS will be supplying 50 skates of different sizes, and Centennial's International office will be loaning 50 more.
Technically, our community rink is available for use at any time, but please remember you use it at your own risk, the same way a swimming pool may be available for use without a lifeguard. Users must take care and ensure young ones are adequately supervised; helmets are strongly advised for children.
The chief sponsor of this venture is the Morningside location of Home Depot, giving the ESS $2,000 in wood and materials to make the frame and support structures. The Scarborough retail location of Princess Auto has donated shovels for the rink, and burners for the hot chocolate, apple cider and warm food. Centennial graduate student Mark Tymecki and Layfield Environmental provided and installed the Geosynthetic liner in the wooden frame. Local city councillor Paul Ainslie endorsed the project and asked City staff to allow college volunteers to access the water and hoses at the park to flood the rink surface as needed.
The ESS, the Centennial College Student Association (CCSAI) and the School of Engineering Technology and Applied Science provided the volunteers to assemble the boards and dutifully come out at night to flood the rink repeatedly – and always during the coldest weather. Their efforts were rewarded with a rink that has been called "one of the best natural ice rinks in the city" by City Rinks, a local advocacy group. Graduate Phil Wolfraim, who used to play on the Centennial College hockey team, has been helping with the rink flooding. He recently skated on the rink and pronounced it "very solid."
So, if you're looking for a good winter activity this coming weekend, consider hitting the ice, though hopefully not literally. For more information on the rink and its creation, have a look at the City Rinks official website.