QUESTIONS
P.O. Box 631 Station A
Toronto, ON, M1K 5E9
Culinary students victorious in 'Battle of Ontario'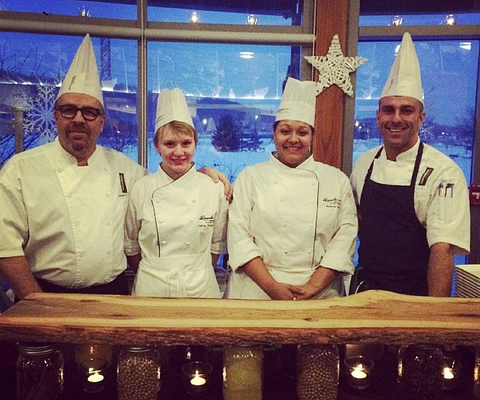 On Saturday, February 21, six Ontario culinary colleges competed in the Battle of Ontario at Niagara College as part of Decadence, an event celebrating two very appetizing consumables: chocolate and ice wine. Our Centennial College student team of Ashley Middlestadt and Breanna Spence took home top honours for their creation, "Casablanca-style Ontario Lamb Leg Ragout."
The culinary competition required each team to produce 150 portions of an appetizer to be served at a cocktail reception. The contest rules stipulated that each team would use a protein and condiment to be determined at a random draw in advance of the competition. Our team drew Ontario Lamb Leg and Good Earth "Good Honey."
They worked tirelessly over the past couple of months practicing and perfecting their recipe in the kitchens of Centennial's Culinary Arts Centre. Once at Niagara College, the students had eight hours to prepare their dish. Much to the pleasure of a very discerning crowd of five judges recruited from the culinary and hospitality industry, our students received many accolades on the taste and presentation of their lamb dish, which was served with "Good Honey" Candied Garlic, Pistachio Phyllo Basket, Preserved Lemon Yogurt and Harissa Oil.
Congratulations to our very talented students, Ashley and Breanna, who have made the Centennial community immensely proud. A big thank-you goes to the many chef faculty who supported them, including Chef Sam Glass and Chef Terry Port (pictured).