QUESTIONS
P.O. Box 631 Station A
Toronto, ON, M1K 5E9
"Design Sprint" addresses living with dementia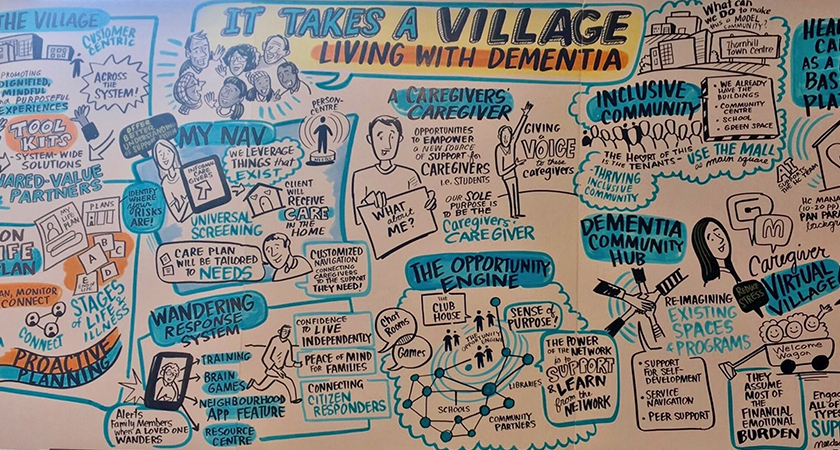 Collaborative thinking often draws out the best ideas from everyone involved. There's no better example of this than caring for people with dementia – that devastating progressive erosion of cognitive abilities as people age. It's a condition that perhaps more than any other requires a cluster of support.
Centennial College hosted a "Design Sprint" recently at the Progress Campus Event Centre, put on by the Canadian Centre for Aging & Brain Health Innovation, a solution accelerator focused on driving advances when it comes to coping with aging.
The event, whose theme was appropriately, "It Takes a Village," featured a community of clinicians, caregivers, researchers, policymakers, students, financiers and designers, along with seniors themselves, who came together to share ideas about best practices when it comes to caring for those with dementia.
Programmers from Centennial College's Wearable, Interactive and Mobile Technologies Access Centre in Health (WIMTACH) acted as facilitators, as teams broke up into groups to tackle a host of challenges associated with aging and memory deficits, then swapped team members to see if fresh inputs could aid in solutions.
Julian Goss is a designer, consultant and assistant professor in the Industrial Design department at the Ontario College of Art & Design University. He's been also working with Toronto's Baycrest Health Sciences for more than four years as part of his professional practice applying design thinking, methods and tools for geriatric care. Dr. Goss says that when it comes to the serious issue of dementia, it's important to "promote support and embed new thinking and innovative solutions around brain health."
And innovative approaches to care are required immediately. According to the Alzheimer Society of Canada's "Prevalence and Monetary Costs of Dementia in Canada," 25,000 new cases of dementia are diagnosed each year, and it is estimated to cost the Canadian economy nearly $10.5 billion annually.
The issue is so grave, Senators Kelvin Kenneth Ogilvie and Art Eggleton recently urged Minister of Health Dr. Jane Philpott to adopt a National Dementia Strategy, as the number of Canadians with some form of memory impairment is expected to double over the next 15 years to a total of 1.4 million in 2031.
Karen Waite, Senior Consultant for the Ontario Telemedicine Network, one of the largest telemedicine networks in the world, is hoping to take results from the Design Sprint and turn it into tangible results. This involves, according to Waite, determining the kinds of partnerships that are needed from the "ideas that are percolating" at the conference.
Director of Service Design and User Insight at Saint Elizabeth Health Care, Paulo Korre concurred, and reported that he was hoping to "highlight some of the challenges they didn't see, and get an interesting cross-pollination of ideas."
Ultimately, events like these are all about ideas. For the likes of WIMTACH, who are frequently tasked to execute these, occasions like It Takes a Village, are vital first steps. WIMTACH research associate Vikramjit Singh says that discussions advanced were "rich and valuable," and was impressed by the diverse perspectives.
It's important to both get the word out about what healthcare innovations we are capable of exploring at Centennial, but also to find out what pressing macro issues pertain to healthcare.