QUESTIONS
P.O. Box 631 Station A
Toronto, ON, M1K 5E9
Dr. Razgar Rahimi, his partner Farideh and son Jiwan Eulogy by Dr. Craig Stephenson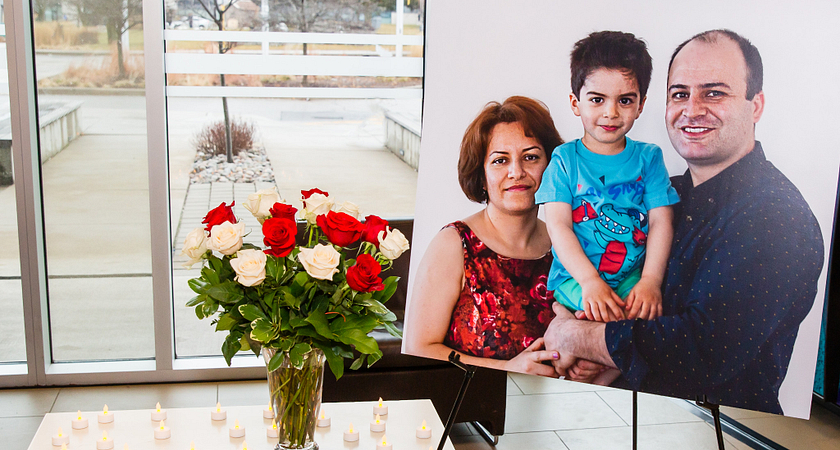 To be standing before you, for some of you, for the third time in the past nine days, mourning the loss of another valued and much thought of member of our community is simply heart breaking.
Just last week we buried two of our students, Damir Kussain and Wei Jie Zhu-Li, within five days of each other as a result of a sudden, tragic and preventable set of circumstances and yet again, as a result of sudden, tragic and possibly a preventable set of circumstances, the facts are uncertain at this time, the whole nation mourns the loss of 138 people destined to travel to Canada, including 63 Canadian citizens and a young family, a member of whom was also part of our family, the Centennial family.
School of Engineering Technology and Applied Science Faculty Member, Dr. Razgar Rahimi, his spouse Farideh Gholami and their three-year-old son Jiwan lost their lives on Ukraine International Airlines flight PS-752 when their airliner plummeted 8,000 feet just minutes after take-off from Tehran International Airport.
On behalf of Centennial College I wish to express my deepest and heartfelt condolences to those mourning the loss of Razgar, Farideh and Jiwan, especially family members and personal friends, but also our very own faculty, staff and students at Centennial who had the pleasure of knowing Dr. Razgar Rahimi. It's so difficult to process the sudden and tragic passing of a highly valued community member, an approachable and helpful teacher, a hard-working colleague of our engineering faculty and, quite simply, a special human being, who was known to be so kind and friendly to all those that knew him.
All of which makes this loss all the more difficult for us, not just for our own community, but for the broader academic community as a whole, for more than half of the victims of flight 752 had a direct connection to a Canadian university, including Dr Rahimi himself. This has left, as one Globe and Mail reporter, remarked this morning, "a gaping hole in the fabric of the country's academic community." And a gaping hole too for the family members and friends in Iran and here in Toronto of Razgar Rahimi and his partner Farideh, a former fashion designer, with a degree in industrial and product design and an interest in wearable technologies.
Professor Rahimi was a partial-load faculty member in our School of Engineering Technology and Applied Science, more fondly known as SETAS, for the past year and a half. With a PhD in electrical and computer engineering from Ontario Tech University and engineering degrees from two universities in Iran, he was well qualified to teach our courses in applied electricity, signals and communications, and programming languages. In addition to his teaching duties here at Progress Campus, Dr. Rahimi was a sessional lecturer at Ontario Tech University in Oshawa and our also heart goes out to the students, fellow faculty and staff at Ontario Tech University who were taught by and worked with, Dr Rahimi.
Professor Rahimi will be remembered as an engaging teacher and mentor, a friendly soul who was in the eyes of fellow faculty member Jesse Paufler, "a very open and down to earth man" a "genuinely… good guy… diligently working away at updating course material" while always willing to assist students with their assignments. He was also a doting father and husband who spoke often of his young family and his many colleagues and friends both in Canada and in Iran. And talking of friends, I know he will be sorely missed by those who knew him and considered him a friend here at Centennial College.
School of Engineering Technology and Applied Science professor Jorge Gruszka remembers Dr. Rahimi well, as they worked closely together developing courses in the Electrical Engineering Technology program. Curriculum development as we know, is never an easy task, as it takes an enormous amount of effort to synthesize a body of knowledge into digestible lessons that mold into the 14-week teaching model we use at Centennial. All the more reason for Jorge to be thoroughly impressed by the electrical and computer engineer with nine years of experience in the telecommunications industry who had been assigned to work with him.
"I had to coach him through the course development process," Jorge recounts, "and I can tell you Razgar was a very quick learner who exceeded everyone's expectations. It's not often someone takes to course development easily. Not only did he modify and update our electrical engineering tech courses, but he made them demonstrably better!"
Jorge and Razgar were working on a project to modify courses to incorporate new low carbon building skills, to lead the adoption of low-carbon or green practices in the building trades. It's important work that the federal government is funding to make our future electrical engineering tech graduates more knowledgeable about environmentally sustainable practices. Razgar relished the challenge and made it his own. He had such an appetite for the work.
Beyond the development work, Jorge remembers Dr. Rahimi always having a positive outlook and never complaining about the tasks ahead. His grading and evaluation work was excellent, and he remembers students coming to see Razgar in his office, learners he always welcomed and helped. He never turned anyone away, and was always generous with his time. Our electrical engineering technician and technology students and apprentices were so much richer for knowing Razgar Rahimi, and I know he will be sorely missed within the program, the department, the School of Engineering Technology and Applied Science, and our community as a whole.
So many people will miss Razgar, his partner Farideh and son, Jiwan, which makes it even harder to make sense of the tragic loss and to know how to carry on at such a moment of grief. I have no easy answer to that, but I do know that by coming together to express our concern, care, support and unrelenting kindness in thought and action as we are doing today, is a critical step we must take at this time.
So how do we make sense of things in such an act of senselessness and the unknown, that brought down a plane filled with 176 innocent souls; mothers, fathers, sons, daughters, brothers, sisters, children, toddlers and babies – all inquisitive, bright individuals, many regarded as innovators and leaders and all of whom had a lifetime of promising dreams to fulfill?
The role of Centennial College, and indeed all postsecondary institutions, is to help students make sense of things. With each passing semester, Centennial faculty and staff support our students to better understand the context of the world they are in; responding when students have questions; clarifying when they are confused or unsure and explaining when things aren't quite adding up the way they should. We are there for our students to light up possibilities, encourage new ways of thinking, point towards new directions and help them explore the promise of a better world.
But in this instance, it is hard to make sense of things for it was so sudden, so unexpected.
And senselessness can understandably lead us to frustration, as we relinquish control to a situation we so badly wish to be on top of, and it can even lead us to dark places where we never really heal. That's why we know that now, more than ever, we will need to reach out to each other, to count on each other for a hug or a supportive look in the grief all of us feel. This is what a vigil – "an occasion" and I quote, "for devotional watching or observance" – can do for us.
And as result, we need to become "senseful" as one small way of honouring Dr. Rahimi's memory, and by that I mean becoming aware of our community, of our feelings and drawing common understandings at this difficult time... When we become more senseful, we are not only awakened to the depth of our loss, but of the ways we can move forward together to ensure these acts of senselessness stop.
And as we move forward together in such uncertain, unpredictable and volatile times, we need to have, and must continue to have hope. Indeed, that is what one of the plane crash victims, a PhD student at Guelph wrote about just before they left Iran, when they emailed their PhD supervisor who was going to pick them up at Pearson airport, about how the Iranian people, amidst the escalating conflict between the United States and Iran, "hope for peace in 2020 in the region as well as the world." And I am sure I speak on behalf of us all when I share that we all hope for peace in every nook and cranny of this precious, and one of a kind planet of ours, and an end to the unnecessary tragedies we constantly endure – we need to come together, pull together and work together for the common good.
And your very presence today speaks to this need in volumes and I am both thankful and humbled to see so many of you gathered here to mourn the loss of Razgar and his family – and heartened by the fact that I see so much sympathy and compassion in the faces that fill this space. We're all better off being together like this, turning to and supporting each other, rather than trying to makes sense of this unimaginable and indescribable loss on our own.
In honour of Dr. Rahimi and his family, as well as the 173 individuals on flight PS-752, Centennial is flying its flags at half-mast on all of our campuses, in accordance with the Government of Canada and we will, as an institution of learning, work harder than ever to face down the prejudices, biases, tensions, ill will and wrong doings, that challenge our world today.
As you may know, the majority of the passengers on that ill-fated plane were bound for Canada. Some were Canadians, some were residents, and still more were bright young students keen to learn what this great country has to offer. So thank you for being here with us to honour their memory. This outpouring of empathy and sorrow means so much and to those who personally knew Dr Razgar Rahimi, please don't hesitate to reach out, for we have strong arms and overflowing hearts and we are here for you.