QUESTIONS
P.O. Box 631 Station A
Toronto, ON, M1K 5E9
Employers: Are you ready to hire millennials?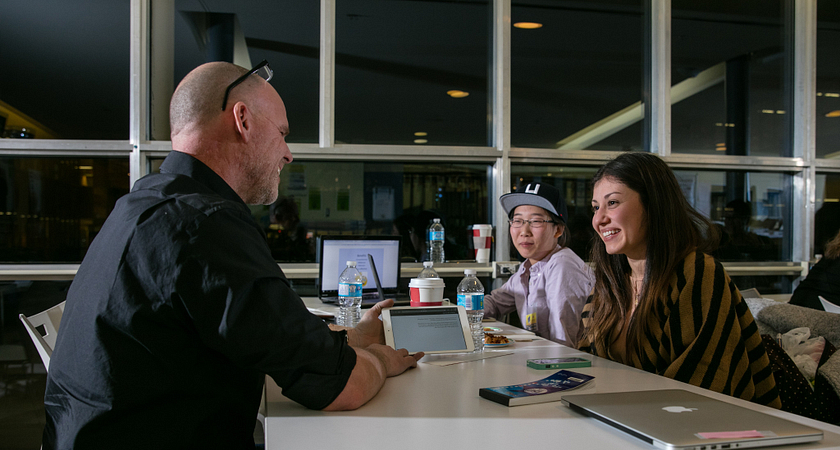 Millennials have high expectations for access to mental health services at work: survey
Thousands of post-secondary millennials are getting ready to graduate and will soon be the largest portion of the workforce in Canada. A new survey finds that they expect Canadian employers to have answers on how they will address workplace stress and mental health as they recruit and hire millennials. In fact, almost two-thirds of millennials expect access to mental health services at work – more than any generation before.
The survey is part of #MindYourBusiness, a Centennial College student/CivicAction initiative aimed at ensuring millennials (defined as those aged 18 to 34) are part of the conversation regarding mental health in the workplace. In addition, students have organized an employer-student event at Centennial College's Story Arts Centre, as well as a social media campaign to encourage employers to complete CivicAction's free online assessment tool MindsMatter. The assessment is a quick tool designed to help organizations know where they are at in supporting their employee's mental health and how to do more.
The campaign was part of a course in Centennial College's post-graduate public relations program that had students working with actual clients on a real campaign, part of the college's commitment to experiential learning.
"The first step to entering the workforce is finding a job that is the right fit," said Lindsay Balbirnie, a Centennial College public relations student working on the campaign. "We hope the survey results help shed some light on the mental health issues that matter most to us as we enter the workforce."
The survey revealed that millennials:
are more likely (64 per cent) than Generation X (48 per cent) and Baby Boomers (42 percent) to enquire about mental health culture and services provided by employers when applying for a job;
are more interested than their older counterparts in learning about what mental health services are offered through job descriptions (22 per cent), interviews (24 per cent) and training sessions (25 per cent);
are more likely to use mental health services provided by a business than any other generation (43 per cent vs. 33 per cent for Generation X and 15 per cent for Baby Boomers).
have greater expectations of having mental health services provided to them in the workplace (63 per cent)
In addition, the survey revealed that women are twice as likely to consider resources and tools for mental well-being when they apply and accept a job. For example, 38 per cent of women look for sick days without penalty compared to only 29 per cent of men. Fifteen per cent of women consider meditation or de-stress rooms important whereas only eight per cent of men consider it important.
"This research reveals that millennials expect more support for mental health in the workplace than previous generations," says Sarah Harris, director of communications for CivicAction. "There's a real opportunity for employers to set themselves apart by being more transparent about what they offer to support their staff's mental health."
Overall, millennials are less aware of the mental health services provided by their employer than the Canadian population as a whole. Seventy per cent of Generation X's are aware of services provided, while only 63 per cent of millennials are aware of services. This means that employers need to take a proactive approach and inform new employees about all mental health services, resources and tools in their company.
According to the survey, employers should consider adding mental health services and tools to their job descriptions and advise potential employees during the interview process.
For information or to arrange interviews please contact:
Sirini Wijesekera
Media Relations
swijesek@my.centennialcollege.ca
416-821-9600
Elizabeth Wilkinson
Media Relations
ewilkin1@my.centennialcollege.ca
647-537-8538