QUESTIONS
P.O. Box 631 Station A
Toronto, ON, M1K 5E9
Everything you need to know about the Centennial College Fall 2020 Virtual Open House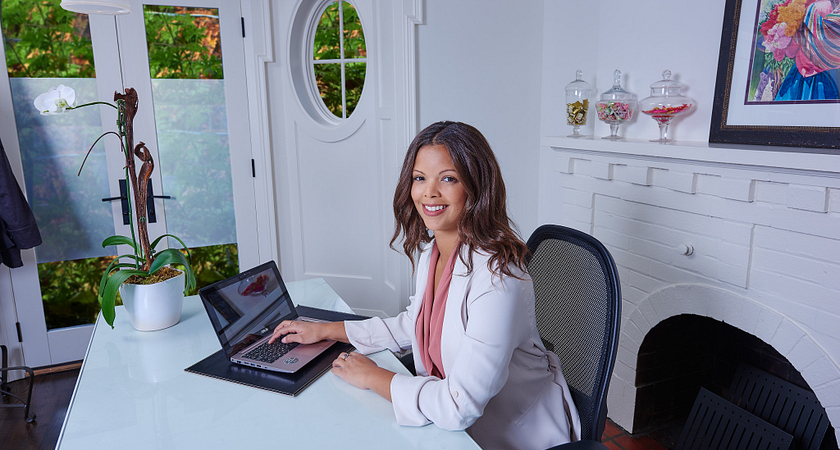 An "open house" event is the best way to pick a college. There's more to a school than what you read in a brochure, and at an open house, you get to really dig into what it's like to learn there. It gives you the chance to learn all about your program of choice, the people you'll learn with, and what each school has to offer you. But this year, COVID-19 means that we can't all gather on campus as usual, so we're hosting a Virtual Open House on Sunday, November 22 from 10 am to 2 pm. Here's how it's going to work this year.
The entire Open House is online
Usually, coming to an open house would involve taking time out of your day and making the trip to campus. Luckily, this year, you don't have to. Like the name of the event says, since we can't see you in person, you can see us online, through a series of live, virtual sessions.
There's room for everyone
One of the best things about going digital this year is that we have more room for information on each of Centennial's different schools, as well as resources and student life. During the day, our Student Recruitment team will be on-hand to answer general questions and point you to the right (online) place. Meanwhile, our Admissions team can answer any questions you have about applying. Interested in how the college can connect you to the working world? We've got a session to explain how co-operative education works at Centennial. Thinking of doing part-time or online learning? We've got a session all about that, too. Have a look at the rest of what we're offering.
Learn about what you want to learn
At our open house, you can learn about the specific programs you want to take in college, thanks to our special academic sessions. You can also use these sessions to get a sense of the people you'll be in college with, too. After all, if you're surrounded by people you like, the program will be easier. Similarly, most programs will have an instructor there to chat with, so you can see who's teaching you, and who you could be learning with.
You can attend from anywhere in the world
Not in Canada? No problem! One of the best things about the open house being online is that you've got no need to travel. We have a special session at 11 am (Toronto time) specifically for international students from around the world who are interested in coming here. Tune in no matter where you are! And if you can't make the session, we'll be answering texted questions all day, which you can register here to take part in.
Learn about our student success services
We're holding a pair of Financial Aid sessions to show you the different kinds of financial supports – such as OSAP, scholarships, bursaries and awards – that are available to you. We're also holding a panel discussion on the different supports available to first-year students for learning success, and even an Athletics and Recreation session on what sports and recreational activities are available. And if you're planning to stay on campus, you can learn about living in residence and take a virtual tour of our beautiful building, Centennial Place. Speaking of virtual tours…
You can explore our campuses in the virtual space
Where you're taking your program is just as important as what you're taking, since your campus will be like a second home for a while. That's why you'll be able to join us on a virtual tour of our campuses. At 10:30, we'll be touring Morningside Campus (here's a Zoom link), and at 12:45, Progress Campus (here's the link for it). Missed the tour? Pre-recorded ones are also available. And while we're on that subject…
We've got a whole archive of on-demand video
If you can't make it to a live session, we have a selection of pre-recorded videos for you to watch on demand at your leisure, including program and service information, and campus tours.
Ready to take the next steps in your education? Come see how Centennial College can help you at our Virtual Open House. Ours is happening Sunday, November 22 and one way or another, coming to it online will help you on your way to success.
By: Anthony Geremia