QUESTIONS
P.O. Box 631 Station A
Toronto, ON, M1K 5E9
Fashion Writer Donna Bishop brings her Industry Experience to Fashion Business and Management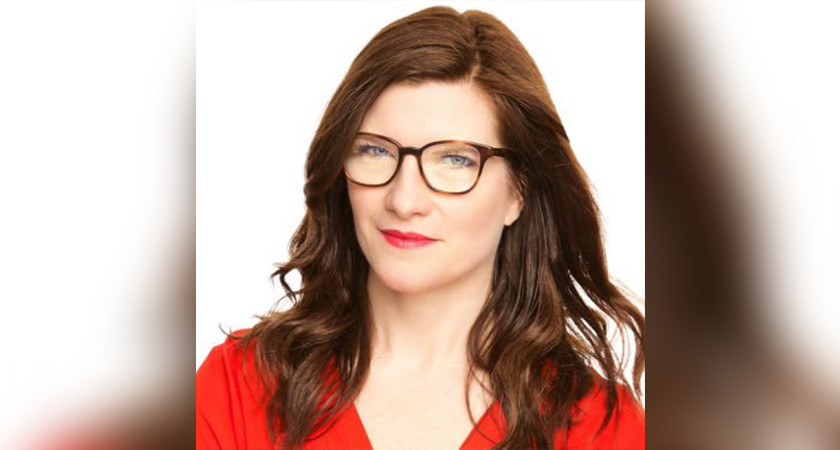 To become an expert, you need to learn from the experts. When Centennial College created its new Fashion Business and Management program, we knew we'd need industry insiders to put it together. It's a program that focuses on a side of the industry other than design, where you learn all about the behind the scenes work of taking the outfits you see on the runway and getting them to you, from planning to production, and from manufacturing to marketing. Donna Bishop works as a fashion writer for CBC, runs a podcast called Fashion Talks, and is one of the fashion and business pros that makes the program what it is by figuring out what you need to learn. Here's how she used her expertise to make this new program what it us.
Bringing the skills to you
"My path has been twisty," Donna says about her career. "I've worked in film, I've worked in theatre, I've worked in PR, I've been a makeup artist, I've run my own business, but through all of that was a constant love of fashion." Now, as a member of the Program Advisory Committee for Fashion Business and Management, she's making students learn the skills they need.
"It's been wonderful to help shape the curriculum and create the most relevant programming, to really help grow the program," she says. A big part of the Fashion Business and Management program to her is how it focuses on more than just the design part of fashion.
"The fact that Centennial focuses on all the other pieces of the pie besides the actual design of the clothing is so, so important," she says. So, what are the pieces that you'll learn about?
"You get a really solid understanding of all of the parts of it," Donna says, "be it retail, manufacturing, buying, marketing, e-commerce, finance, you'll understand the foundation of fashion, where so many things come from. That's what so many businesses need."
The careers you can have
"Students sometimes don't fully get how many careers there are before they start the program," Donna says. "They come in knowing they wanted to be in the fashion business somehow, but it wasn't really until they started the program that they could see the full scope of what was there."
She gives examples of working in a company's buying department, the marketing or strategy department, finance or accounting if you're good at numbers, manufacturing, or even in e-commerce and apps. And there might even be jobs that she hasn't thought of yet!
"The industry is moving so quickly all the time, that there's going to be jobs you have access to that weren't jobs when they started," she adds. "The amount the industry can change in two or three years is incredible."
"The world is your oyster," she says. "There are so, so many touch points, that you can't even list them all off."
Do you have what it takes?
So, how do you know you're ready to take part in Fashion Business and Management? Donna has a few thoughts on what makes a good student for the program.
"People who are curious, people who know that there's a synergy between creativity and business, people who are leaders and detail-oriented, and enjoy looking at the parts of the machine that keep it working," she says.
"You need to have a bit of an entrepreneurial spirit to you," she adds, "because even if you're working within a large organization, being able to be an independent, critical thinker, to be able to understand marketing and to be able to understand strategy and finances will serve you well."
A way to enter the world of fashion
If you're looking to enter the world of fashion in a different way, or looking for a career in an industry that needs business professionals, Fashion Business and Management is your way in, giving you the skills to get you hired, all because an expert like Donna made sure it gives you the experience and connections the industry really wants.
"Everything in this program is there because it's important, it'll help prepare students for a career in fashion," Donna says.
"It's very easy for the fashion industry to become saturated with people who only want to make beautiful things," she adds, "and that's the backbone, but the muscle that keeps that backbone supported is all of the people that come out of this program."