QUESTIONS
P.O. Box 631 Station A
Toronto, ON, M1K 5E9
Federal Government Funds Social Innovation Research at Centennial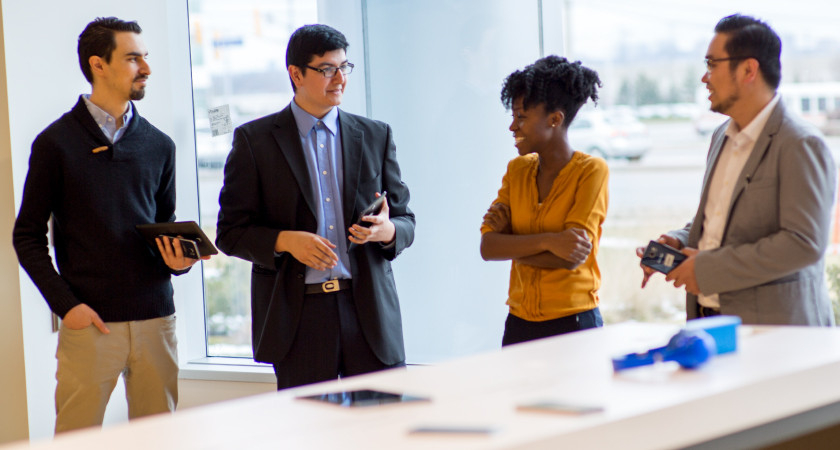 Centennial College has received funding through the Natural Sciences and Engineering Research Council of Canada's (NSERC) College and Community Social Innovation Fund to support two research projects that will provide learning and training opportunities for students. The projects are part of 94 institutional initiatives and partnerships sharing in more than $45 million in research funds announced by Minister of Science and Sport Kirsty Duncan to address local and national challenges that affect Canadians.
Centennial's Centre for Global Citizenship Education and Inclusion received $238,040 from the federal government agency to provide high-quality, evidence-based tools for colleges to increase the employability of graduates with global citizenship skills. Titled I am Global: Innovative Interventions to Improve Self Presentation and Global Competencies in Graduates, the two-year project is the product of an innovative partnership between Centennial College and Colleges and Institutes Canada (CICan).
As part of the project, an enriched career services curriculum is being developed that will be offered to participants as part of the formal research intervention. In an effort to better understand students' application of global citizenship skills, participants in their final year will be assessed for global citizenship competencies before, immediately after and again three months after the intervention. The research findings will be used to develop a best-practice approach to better equip students with the global citizenship competencies that employers expect of highly skilled college graduates.
The I am Global research project will reinforce Centennial's position as a leader in catalyzing dialogue and realizing tangible outcomes around global citizenship in the college context. It will enhance the capacity of Centennial College, Colleges and Institutes Canada and colleges across the country to more effectively prepare college graduates to apply global citizenship competencies in the workplace.
The second research project, Immersed in the Story of Regent Park: Building Social Cohesion through Virtual Reality Community Storytelling, will create an intervention of community-based storytelling delivered through virtual reality (VR) experiences, and will examine the potential of this intervention to strengthen social cohesion in marginalized communities. The $210,000 grant will support research to see if community storytelling can provide avenues to resist territorial stigmatization by putting forward new stories about the assets of a neighbourhood to encourage deeper participation in the life of the community.
Immersed in the Story of Regent Park will build capacity in the downtown neighbourhood through youth mentorships, which foster the creativity of young creators to recount their community's stories with the support of Centennial's Community Storytelling Institute. The project will also foster technical skills, as Centennial faculty, staff and students work alongside Regent Park youth creators to build VR records that the community can experience. The stories shared and skills built will combat the negative narratives that persist in Regent Park, and inspire more nuanced storytelling around the strengths and social cohesion of Regent Park, Canada's first large-scale public housing development that dates back to the 1950s.
This project is a collaboration between Centennial College and the community arts organization Artscape Toronto. Knowledge mobilization will initially occur in Regent Park, showcasing the work of youth creators through the Ada Slaight Youth Arts Mentorship in Artscape's exhibit spaces and at Regent Park outdoor programming. At a later stage, their work will be shared with the broader Toronto community at events such as Nuit Blanche. Researchers will evaluate the extent to which VR stories are able to disrupt territorial stigmatization and put forward asset-oriented narratives of Regent Park.