QUESTIONS
P.O. Box 631 Station A
Toronto, ON, M1K 5E9
Financial Planning Students Win Gold at the Eastern Regional Financial Planning Case Challenge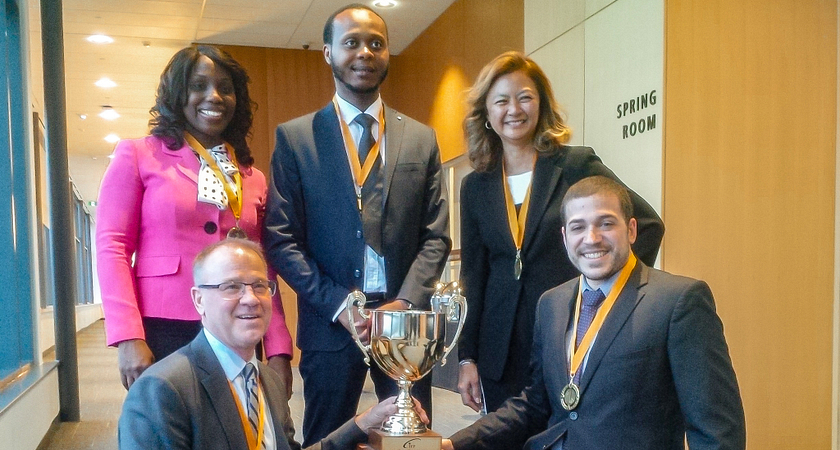 Students Simone Hudson Bernard, Augusto Barbosa Arreas and Stanley Emenike of Centennial College's Financial Planning program won a gold medal at the Canadian Institute of Financial Planning (CIFP) annual competition for the Eastern Region on April 7. The trio beat out seven other college teams to finish first and advance to the national contest against the Western Regional winners in June.
The CIFP Case Challenge provides students with an opportunity to take what they have learned in their financial services programs and demonstrate their financial acumen. The event requires competitors to interact effectively in team situations, analyze real business and financial planning problems, develop appropriate solutions, and present these solutions to a panel of Certified Financial Planners.
"Our students demonstrated sound technical knowledge, complemented by a polished presentation and the ability to create a genuine connection with the judging panel," says Mary Devine, Chair of Accounting, Financial Services, Math and Economics at The Business School of Centennial College. The Business School hosted the Eastern Region Challenge this year.
"I am very grateful to our faculty coaches and seasoned industry professionals, Debbie Williams and Lyle Van Every, who spent several hours with the students over the past two months in preparation for the Case Challenge. Kudos to all our program faculty who have contributed to the academic success of these students," she added.
Centennial's one-year graduate certificate program uses instructional materials from the profession to deliver financial planning courses. A balance of theory and hands-on training allows for effective interaction. Students receive most of the educational requirements to challenge the Certified Financial Planner (CFP) exam and is a pathway to the Canadian Securities Course (CSC) credential.
The Centennial College team will now compete in the 2018 CIFP Case Challenge National event against Red River College, which won the Western Regional Challenge. The event will be held at the CIFP Annual Conference in Halifax, Nova Scotia, June 10 to 13.