QUESTIONS
P.O. Box 631 Station A
Toronto, ON, M1K 5E9
Former HYPE students join Italy trek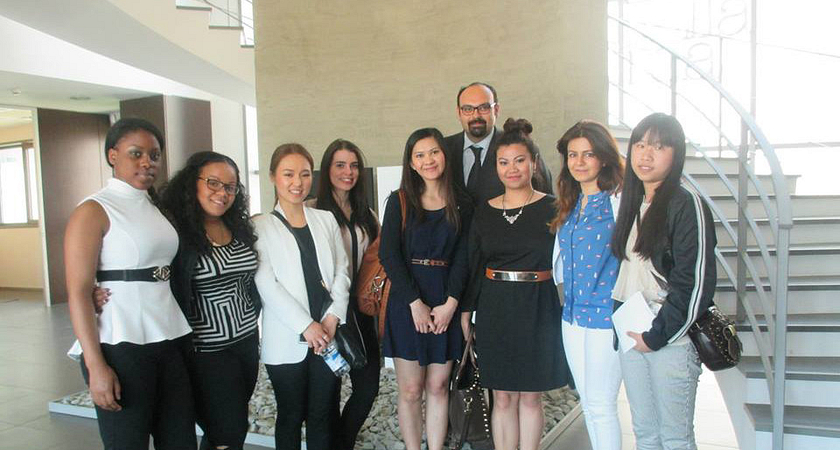 Centennial College's well-regarded HYPE – Helping Youth Pursue Education – program allows young people aged 17 to 29 years to sample a free learning experience over the summer that could lead to a productive future. It promotes education attainment by reducing barriers for youth living in under-serviced neighbourhoods.
This spring, three former HYPE participants were part of a group of Centennial esthetician students who travelled to Italy with faculty to receive some advanced training at RVB Laboratories in Bologna. RVB is the Italian company that supplies the Esthetician lab at Centennial; it offered to subsidize the trip to help make the cost affordable for students.
Aliya Samuel, Autumn Lachapelle and Amanda Bourque originally attended a HYPE class in esthetics and then returned in the fall to enrol in Centennial's two-year Esthetician program. Not only did they complete the program at the top of their class, they volunteered their time and newfound knowledge for a number of causes at the college and in the community. At the end of the fourth semester in their work practicum, all three students were hired by their employers after garnering amazing feedback from the high-end spas where they had been placed.
In the northern Italian city of Bologna, all of Centennial's esthetician students impressed their hosts with their knowledge and professionalism. After the training sessions at RVB Laboratories were completed, the group travelled on to Rome, Florence and Venice for some sightseeing fun and to gain an appreciation of Italy's remarkable history.
For some youth, taking part in Centennial's HYPE program may be the first positive school experience they've had in a long time. For Aliya, Autumn and Amanda, their brief introduction to college enticed them to come back and launch a personal journey that saw all three embrace promising careers as estheticians. Candidates for Centennial's tuition-free HYPE program are nominated by social workers and community agencies serving selected Toronto neighbourhoods.