QUESTIONS
P.O. Box 631 Station A
Toronto, ON, M1K 5E9
From Africa to Canada: How Philip Alalibo brings the continent to the college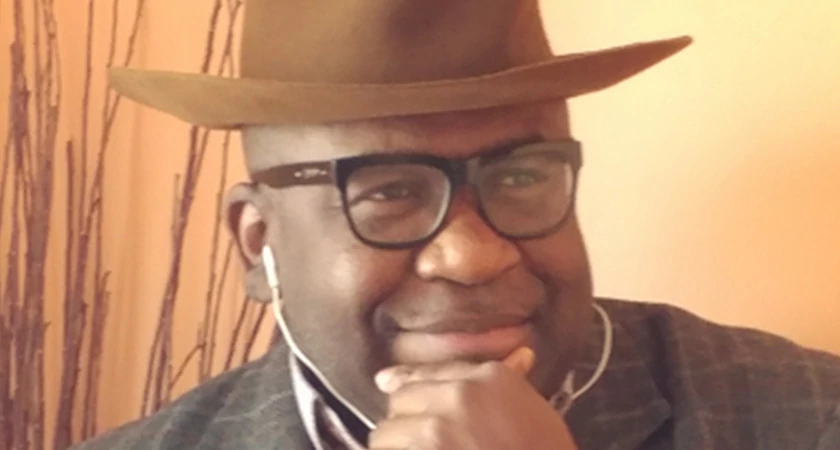 "We were getting ready for Immigration, and some of the students had their cameras out instead of getting their passports," says Philip Alalibo, reminiscing about one of the times he took his students to Africa, and they landed at the airport. "So I told them, 'Get out your passports.' And they said to me, 'No, we're in Africa, we're expecting animals all around, and we want to take pictures that we can send to our family.' After two weeks, they did not see any animals and they were surprised. They said, 'This is not what we've learned all our lives. Where are the animals?' I said, 'Africa is more than animals.'"
Since he first came to Centennial College, Philip has worked tirelessly to bring a broader, more inclusive lens to teaching. Between teaching Global Citizenship, creating an African studies course at Centennial, and taking students abroad through our Global Citizenship and Equity Learning Experiences program, he's played an important part in helping to shift perceptions of Africa, and integrate Black perspectives and diverse Black histories into our learning experience. Here's his story.
From Africa to Canada
Born in Africa, Philip was educated in the U.S. and worked in administration at a university in New York. He came to Canada and started working at Centennial College in 2006. At the time, he worked in a managerial role in institutional research in the Corporate Planning Office, then moved to Student Services. In 2011, he took up teaching at the School of Advancement, something he did for both his family and for the students he'd already been helping.
"I had young children, so I needed more time to be with them and my wife, and teaching provided that flexibility" he explains. "A bigger motivation is to lead young minds to change, to give them information so they can make informed decisions. They can be educated and informed about things happening in the world, especially in Africa, which is so important in the grand scheme of things. Everything we do is tied to that continent. So many stereotypes, so much bias, and what better antidote than to get into the classroom and interact with students. Those were my primary motivations for getting into teaching."
Educating minds
Since he started teaching at the college, Philip has been a professor for our Global Citizenship course, among others. The Global Citizenship course examines social justice issues both in Canada and across the globe.
"I was one of the faculty who contributed to the textbook that's currently being used," Philip adds. "I am proud of this achievement, working with my able colleagues with various expertise to complete the textbook." In addition to teaching this course, he developed a course titled Modern Africa: Interdisciplinary Perspectives, to provide students with a broad understanding of the continent.
"The reason for doing this is that Africa is the second-largest continent," Philip says. "Before the introduction of this course, nothing was known about this continent by our students, the college, and the community. Africa has been the best kept secret. This is a continent of 1.2 billion people, and the United Nations has called it the new frontier, easily the richest continent in the world. The idea is to bring the continent to the students through an academic lens."
"It's an interdisciplinary course," he continues, "which means we're giving students a broad perspective of the continent, including its geography, the sociocultural aspect, the environment – which is very important in this age of climate change – the religions, as well as the politics and economics of the continent."
In addition to his teaching role, Philip helps students with their electives and transfer credits applications as Coordinator for General Education and Liberal Studies.
"This is an important academic role that gives me the unique opportunity outside of the classroom to help students meet their educational goals," he says. "I provide guidance as they make important decisions about their education."
Giving a global perspective
When he's not teaching, Philip found an even more direct way to bring the continent to the students: Taking them there, through our Global Citizenship and Equity Learning Experience adventures.
"In addition to teaching, I have taken students to Africa on a couple of occasions, sponsored by the college under the GCELE program," Philip says. "These trips are very important, because students not only learn in the classroom, but also have the opportunity to learn from real-life experiences, being there on the ground to interact with the locals, experience the culture, to understand inequalities and social issues that people of developing countries face."
"We want to talk about Black History Month?" he continues, "That starts with Africa, with our heritage, with the tradition. We go back to slavery and to the many contours of the history of Black people in Africa and in the diaspora. One of the places I take my students to is the Slave Castle in Ghana, where slaves were held before they were taken to the West. The purpose is for students to understand the experiences of the slaves, but more importantly, the significance of the slave trade to human history. For you to understand any social issue, you have to go to the beginning, to the origin. Even for me, being born and raised on the continent, it's still profound any time I visit. Those students, faculty and staff who came along, are changed individuals. That experience has really given them the opportunity to change their world view. It has enabled them to contextualize the history of people of African descent around the world."
Outside of the College
When he's not working with Centennial College to bring Africa to the school, Philip is using his words to bring it to the community through poetry, with his book, A Sahara Voice: Poems from the Heart of Africa.
"That book is actually used as reading material in some institutions, and I'm really proud of that," Philip says. "The idea, again, is to bring the continent closer to the people through the written word, and to make sure that students and people in the community know about Africa from a poetic standpoint. The book of poems talks about my experiences growing up in Africa, my experiences in the Western world, the U.S. and here, and also the experiences of racialized people in today's world."
"I have another book coming out this month, it's titled A Day in Our Skin: A Struggle Between Race and Resilience." He continues, "It's about my daily experiences in Canada as a racialized person, and the impact of that intersectionality of identities. It is a critical text that provides a powerful framework on race relations. It drives the discourse on racial justice, understanding and tolerance towards a more just society. Last year was the summer of protest, bringing these issues to the fore. So this is a very important moment for this book to be published, because it talks about the critical issues of our time."
It's all for the community
"I'm a very committed person, and I like to be involved in my community," Philip says. "My involvement is based on my need to be a contributing citizen. I'm very privileged to be in the position that I am, and I want to make sure that people can benefit from my experience, knowledge and connections. So I promote education, equality and inclusiveness."
Ultimately, Philip's efforts are all geared towards adding an African perspective to the college's culture. "The opportunity to really introduce students to the continent of Africa, that's my greatest achievement," Philip says.
By: Anthony Geremia