QUESTIONS
P.O. Box 631 Station A
Toronto, ON, M1K 5E9
From PhD to marketing pro: Dr. Resmi Ann Thomas's story of international student success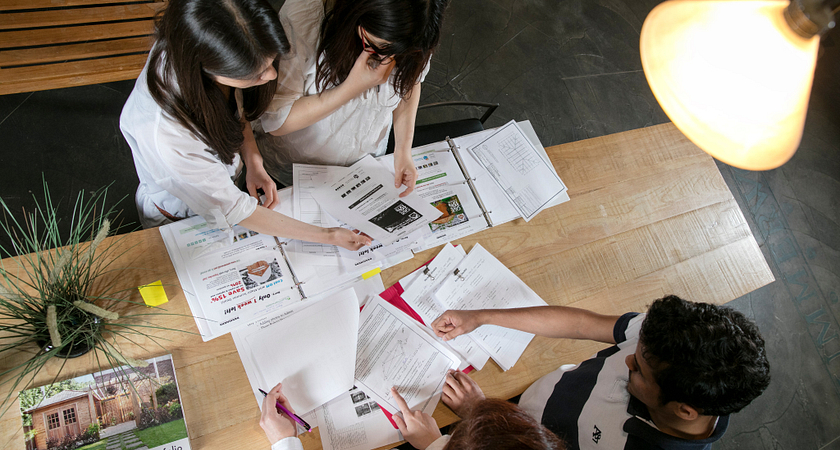 Centennial College has a proud tradition of setting international students up for success, as well as offering post-graduate students who already have experience under their belts the skills they need to advance their career. Dr. Resmi Ann Thomas happens to be both. She earned a PhD in India, before coming to Canada and enrolling in Centennial College's Marketing Research and Analytics program. Here's the story of her long journey.
Her education in India
"I applied to one of the most prestigious universities in India, the Indian Institute of Technology in Madras," Resmi explains, where she completed a PhD in Human Resources Management.
"After finishing my PhD, I moved into teaching," she continues, "because I felt that was my calling. I was also working as a researcher. I'd already published papers and have been teaching research for the past eight years of my life, and have been working as an independent consultant, faculty and researcher for a lot of organizations."
"Research is something that challenges you every day, including in analytics," she says about her career. "Whenever you see something change in this world, without research, none of this would have existed."
Going international
Resmi eventually decided to move to Canada because she felt it would be a better place for her kids to grow up.
"I came to Canada in 2017," she explains, "and I was working as a volunteer in my daughter's school, running afterschool math classes. That was actually a very good opportunity for me to understand Canadian culture. While working as a volunteer, I decided to do some small studying, and took a course in business analysis. Three months into my studies, the owner called me and offered me a job. So, I was working there as a research analyst."
"That is when I decided, let me not waste any time," Resmi says. "Canada had given me a great opportunity to take a postgrad, and that's something I wouldn't have gotten in my country."
Coming to Centennial
"I'm a researcher; I read extensively before spending money on something," Resmi says about her choice to come to Centennial.
"A lot had been written about Centennial College, especially the Marketing Research and Analytics program, and it was close to my heart," she continues. "My only worry was whether or not marketing would be right for me, because I was going into marketing for the first time."
"I also saw that Centennial had a lot of international students," she adds, "so I felt like the exposure might be better, because Canada is a haven for international people, and being at Centennial would add to my experience and value when it comes to dealing with multicultural societies and people."
"As an individual, I'm very competitive," Resmi admits "But all my life in India, as a researcher, I was very complacent, I thought I knew it all, because I used to run classes and do research, so I thought, this is it. But Canada brought in additional perspective for me, because nothing was enough."
Teaching the teacher
Out of everything at Centennial College, it was the instructors that impressed Resmi the most, both in terms of the practical experience they brought to the table and their professionalism.
"I found that a lot of the faculty had real-time experience, and when they come and teach you, a lot of their experience comes through," she says.
"The faculty are also very keen to understand the details of your work," she continues. "I've seen faculty taking three weeks, four weeks to really look at your project, and then they come back and give you such great feedback and insight about what could have been done. They don't just criticize the work you do, but give you a different approach. Those things have enriched me as a student."
"I believe that these people have gone beyond," she says. "I have not seen a lot of faculty that are this passionate towards teaching."
"When I told my faculty I was a PhD, I was taken aback by the amount of support they gave," she says. "They were able to make such a change in my life, that I would call them my role models. "I'm looking in the future to go into teaching, because that is what I'm made of, that is my passion, and I know what kind of a faculty I should be."
Moving into the workforce
Resmi just needs to do an internship before she graduates, but at the same time, her education has already enabled her to stay in the workforce.
"I'm presently working as a research consultant for a small online e-platform school," Resmi explains. The school also takes dropouts who are trying to pass grades 9 to 12, and so it tries to make courses that appeal to everyone, and strike a balance between being simple enough for a working student to handle and involved enough to be satisfying for a student who's solely focused on learning. Five students are already enrolled as a test and they come from Canada, the U.S., India and Trinidad.
"I cannot pinpoint and say that I do one thing, and that's the beauty of working in a small-scale firm," she says about her role in the school, though she does a lot of competitive analysis and competitive research, among other things. Through it all, Resmi credits Centennial's guidance with helping her do what she does so well.
"When I have to make presentations for my stakeholders, I am able to give them a cumulative set of results," she says. "My stakeholders are more happy nowadays, because I am able to present them the good, the bad and the worst."
Keys to Success
Having undergone the journey to Canada, and adapted to new education in an unfamiliar country, Resmi has a few bits of advice for anyone else looking to undergo a similar journey.
"First thing: Hard work," she says. "Not everything comes just like that in research, and if you do not put in a lot of hard work, everything that you have learned will not be able to be brought to point. Second, it's okay if you don't know everything. That's something Centennial has taught me, as well."
"It's truly a humbling journey for me, and for anyone that comes here," she says. "In India, your degree or your background holds a value for you. In Canada, it is more important to show that you are the one that holds your degree; your degree does not control your life."
"This is what I would tell anyone that comes here: I know that Canada is a land of opportunity. There are a lot of opportunities," she says. "Just don't self-doubt. It's all in your head. You think that it is not enough, but you're actually more than enough. It's not just your degree, you earned it. Don't come to Canada and self-doubt, just give yourself some time."
By Anthony Geremia