QUESTIONS
P.O. Box 631 Station A
Toronto, ON, M1K 5E9
From Robert Louis Stevenson to Gord Downie: How a Centennial College Alumnus was Nominated for Poet Laureate of Ontario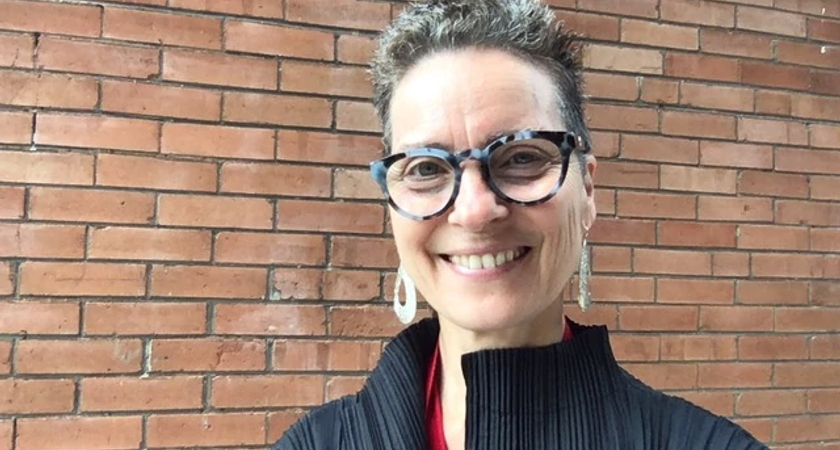 "When I think about poetry, I think of two words: joy, and the second word is freedom," says Margot van Sluytman, Centennial College Publishing graduate, social justice advocate, and now, nominee to be Ontario's first Poet Laureate, an honour established after the late Gord Downie, activist and singer for the band The Tragically Hip.
Margot's publishing and writing career includes the previously-covered Sawbonna Project, which centres around her murdered father. She has published books of poetry on healing and other topics, including Dance With Your Healing: Tears Let Me Begin To Speak and Contemplative Waiting: Write Into The Heart Of Your Spiritual Journey. Here's what she has to say about her journey from aspiring poet to Poet Laureate nominee.
What made her first get into poetry?
"There's one poem that we read as children in Guyana, and it's Robert Louis Stevenson's The Swing," Margot says, before proceeding to quote from it:
How do you like to go up in a swing,
Up in the air so blue?
Oh, I do think it the pleasantest thing
Ever a child can do!
"As a child, I memorized those lines," she adds. "I've known them since I was five or six, and it was just joy."
"In grade seven I had the most astounding teacher," she continues. "His name is Wayne Cormier. My memory of him is reading a Shakespearian sonnet. That was huge for me."
Who are her influences?
"I am influenced by William Shakespeare," Margot says, "not because I write sonnets, but because he was a vagabond, he was wild, and he was creative, cutting-edge, and he had an alacrity with language. That's how I'm drawn to this person: The creative fire and the wildness."
"I'm also drawn to Emily Dickinson," she continues, "not because I write like Dickinson. I love the fact that she can take a few words and make them into a question about the meaning of life, a salient point about life and about soul."
"Another person whose work inspires me is Lee Maracle," she adds. "She's a Turtle Islander, and she and her daughters wrote a book together, called Hope Matters. The poetry is about life, relationships, justice, building bridges, fire and sky and earth and possibility."
What inspires you to write?
"David White, a poet, talks about poetry as our flight for freedom, and since I have been writing poetry, it has been my flight for freedom," Margot says.
"Poetry is art and healing," she continues. "Connecting it with healing is something powerful, and very beautiful. When my dad was murdered, I had published poetry before that, and when I was in grade 13, a friend in the class gave me a notebook and said write your voice of healing. And I wrote a lot of healing poetry."
What was getting nominated like?
"That was really mind-blowing," Margot says about the nomination. "A lot of people know me for my justice work, or a couple of other awards I received for researching and writing Sawbonna: A New Model of Restorative Justice. They don't know that I have written and published about 30 books of poetry."
"The justice work and Sawbonna have kind of taken over," she continues. "So the fact that there are people that know about my poetry was extremely beautiful and very gratifying. It was like a full circle."
How did Centennial College help you to get where you are?
Margot's time at Centennial studying publishing is something that she credits with helping her get her poetry career going, which in turn led to her being nominated.
"It was new, it was cutting-edge, so they were already thinking ahead of the curve," she says, "and I went there because I wanted to know how to publish my work." She would learn how, and she would publish others' work, too, as an alumni of distinction.
"You gave us a way to get our work out there, showed us how to get into the industry – you've got the tools, now do your work," she says of the college's motivation. And she'd give something back, too, returning to the school as an instructor, bringing her poetry with her.
"I teach GNED500, Global Citizenship," she says. "I use some of my poetry in my classes, and my students absolutely connect to that in terms of what global citizenship is, which is agency and voice, and to me that is absolutely powerful and profound. Quite often students are nervous, not really sure about their voice. They see the connection between writing your voice of agency and global citizenship, and how we can care about each other."
What does being the Poet Laureate mean?
"You have to represent the province," Margot explains. "You go around, talking about poetry and you do readings." Given the pandemic, she expects a lot of it will be over Zoom, but looks forward to spreading her healing words even wider, if she's the winner. Regardless, she's happy to be nominated for an award named after the Tragically Hip's late activist lead singer, as she currently works on a new book of poetry-expressive writing, entitled: The Pandemic Poems: Hope Is.
"Hope is a part of us," she says. "And I believe that's the legacy Gord Downie has left us and is leaving."
Written by: Anthony Geremia