QUESTIONS
P.O. Box 631 Station A
Toronto, ON, M1K 5E9
Full Vaccination Required for Access to Centennial College Campuses Beginning September 7, 2021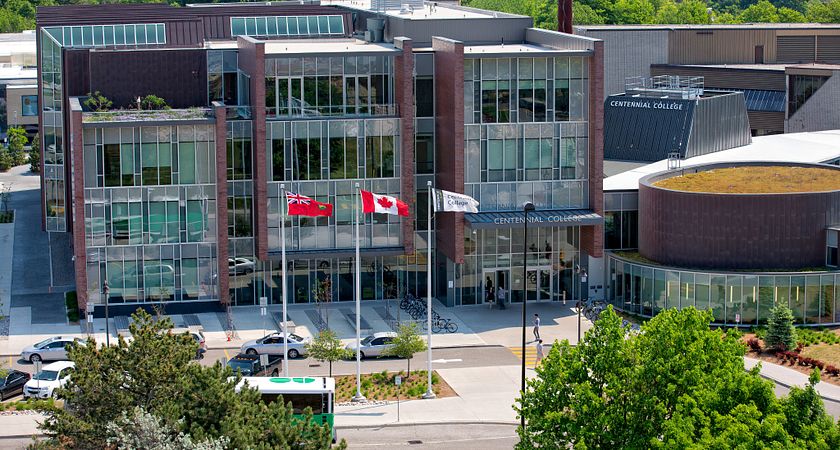 A message from President & CEO, Dr. Craig Stephenson
Following our pivot to online learning in March 2020 and only minimal activity for essential labs, Centennial College is thrilled to be welcoming more of our community back on campus for Fall 2021.
While we are strictly only open for students and colleagues who are scheduled to be on campus for classes* or work, we will truly enjoy the sense of community that being together physically brings – refreshing steps after 18 months of being off campus (though virtually connected).
A short while ago, Centennial College was focused on encouraging members of our community to become immunized and supported that through extensive awareness campaigns as well as our onsite vaccination centre at Progress Campus. However, as we have monitored the impact of the new Delta variant over the summer, there is an increased realization that we are experiencing a "pandemic of the unvaccinated" according to the Centre for Disease Control.
Providing you with a healthy and safe learning and work environment is not just my ethical and legal obligation – it is what I truly care about for you to thrive in this time of unknowns. As a College that values social responsibility, I also deeply care about how we protect those who cannot be vaccinated and swiftly end this pandemic.
As a result, Centennial College will require proof of full vaccination to access campuses and satellite locations.
Beginning September 7, 2021, anyone who is scheduled to come to a Centennial College campus or satellite location for scheduled classes* or work is required to complete the following two-step risk-mitigation process:
Pass the COVID-19 pre-screening assessment on the Centennial Safety Watch App; AND
Provide one of the following:
a. Proof of full vaccination; OR,
b. Evidence of a negative COVID-19 rapid antigen test administered within 48 hours prior to entering the campus.
For those requiring a COVID-19 rapid antigen testing appointment, they are available at pharmacies like Shoppers Drug Mart, with results provided within 15 minutes. We are also looking at the potential option to conduct COVID-19 rapid antigen testing on-campus and will update you on this project.
Please have these pieces ready for September 7 or on your first day of class (whichever comes first). We will send more information next week about the specific process for entry, which is currently being detailed.
Mask wearing and frequent hand washing and sanitization remain expected behaviours and are currently still required from a Toronto Public Health directive. While we maintain enhanced air ventilation, some community members will have various personal space needs. Please respect others, allowing as much distance as possible until you establish a mutual understanding of comfort.
A sincere and heartfelt appreciation to those who have already been fully vaccinated – most recent research shows between 80 to 90 per cent of you have received at least one dose. Thank you for doing your part in keeping us all safe and ending this pandemic as swiftly as possible.
Given our collective community progress, I sincerely trust that eligible and able individuals will be fully vaccinated as soon as possible – as we still have a way to go to end the pandemic.
We appreciate that there will be some staff and students who are currently in the process of being vaccinated and will not have their full vaccination by September 7, 2021. In such circumstances, requirement 2b (above) will be required for entry to the campus. There should be very few instances of this as we progress through September and this will not be acceptable past October 6, 2021.
This means that COVID-19 rapid antigen testing should be a rare exception and only for individuals who cannot be vaccinated due to medical reasons or based on religion/creed. There should be no other exemptions.
If you have any questions about COVID-19 vaccinations, we encourage you to watch the Ask the experts video series: COVID-19 vaccines questions.
Despite robust planning, not everything will be perfect as we begin validating proof of vaccination, and implementing rapid antigen testing for those with documented exemptions. As with all fluid situations, some things will be clearer than others and, as the past 18 months have taught us, there will likely be changes – and just today we have word that Ontario will be launching a vaccine passport.
So we are committed to communicating frequently as substantive updates become available. This will include an FAQ website and means of contacting the College with specific questions related to the forthcoming Immunization Policy and Procedures.
So, I ask again that you be patient and understanding with each other, trust good intentions, and appreciate that these steady steps will bring us toward a sense of normal again.
Sincerely,
Dr. Craig Stephenson
President and Chief Executive Officer
*Unsure if your classes will be offered in person or online? Check your class schedule on myCentennial through the Student HUB online.