QUESTIONS
P.O. Box 631 Station A
Toronto, ON, M1K 5E9
Funeral Home looks to Marketing students for advice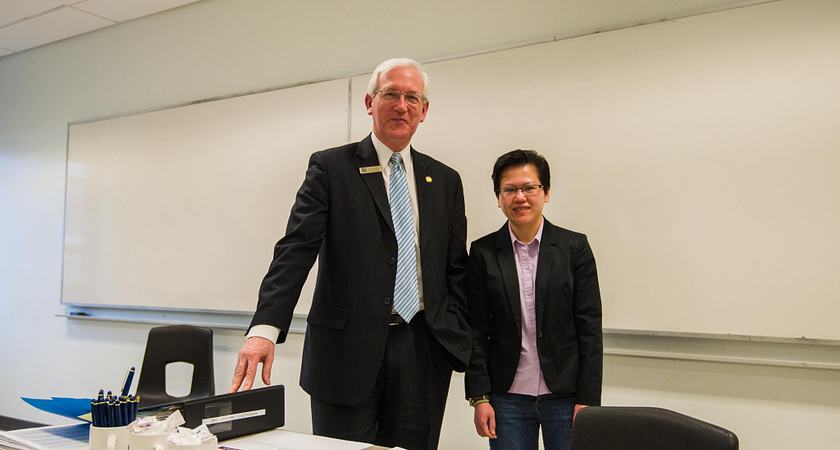 David Garvie and Helen Trans of Ogden Funeral Homes speak to Centennial's Marketing students about their consumer analysis work (photo credit: Chen Feng).
The challenge before them was not an easy one, but Marketing students in professor Danica Lavoie's Consumer Analysis course were up to the task: research the needs of multicultural consumers with respect to funeral services. Because funeral homes, like any other small business, can benefit from smart and targeted marketing initiatives.
It all started in 2012 when David Garvie, the general manager of Ogden Funeral Homes, a well-respected and longstanding family-owned business in Scarborough, contacted professor Lavoie. His e-mail stood out in a way few e-mails do. Written in a friendly, chatty style that immediately captured Lavoie's attention, Mr. Garvie wanted to offer Centennial College students an opportunity to work with Ogden Funeral Homes on some of its marketing challenges.
Like its surrounding community, Ogden's customer base had changed a great deal over the past few decades. Mr. Garvie explained that it was not unusual for Ogden to be hosting families from four or five multicultural groups, with different rituals and expectations, all at the same time.
Keen to work with a college located in his local community and to tap a diverse student base, Mr. Garvie and professor Lavoie sat down over lunch at the college's student-run Horizons restaurant last November to discuss what could be done. Mr. Garvie was as delightful in person as he was in his e-mails, and it did not surprise the professor to learn that he had been a guest on The Oprah Winfrey Show and had been voted by the audience as one of the happiest people in North America!
They agreed to start with a research project, focused on the consumer behaviour of various multicultural groups. The students rose to the occasion, conducting in-depth interviews with people who had purchased funeral services in the previous two years. The results were remarkable. Professor Lavoie described the assignments her students produced as some of the "most interesting marking I've done in a decade."
The interview subjects included people from the Caribbean, Filipinos, Hindus and others who detailed their customs and rituals involved in honouring the deceased. Recommendations brought forth from these interviews included having catering facilities on site, allowing the burning of incense, providing translation services and offering an online funeral service portal that would allow anyone in the world to "attend" through Skype.
In addition, the students focused on the Ogden Funeral Homes website, comparing it to those of competitors and suggesting enhancements. Their recommendations included the addition of a search bar and a "live chat" function, minimizing the need for scrolling, and adding a virtual tour and digital donation box.
The students' work was forwarded to Mr. Garvie, who was suitably impressed. He offered to speak to the students, along with colleague Helen Trans, in class about their findings and recommendations – not to mention bring some pizza and refreshments. It all made for a highly engaging and entertaining hour in professor Lavoie's class in March, where students were given feedback regarding their recommendations and Ogden Funeral Homes' plans for implementation of some of their suggestions.
In addition, Ogden Funeral Homes made a generous donation to ENACTUS, an entrepreneur-focused student club on campus as a gesture of appreciation. Professor Lavoie and Mr. Garvie are already making plans for another collaboration between Ogden Funeral Homes and Centennial College that will benefit this important business partner in the community and the Centennial students who are learning to sharpen their marketing skills in a real-world application.
For more information about Centennial's School of Business programs, click here