QUESTIONS
P.O. Box 631 Station A
Toronto, ON, M1K 5E9
Gear up and enjoy the ride at Centennial College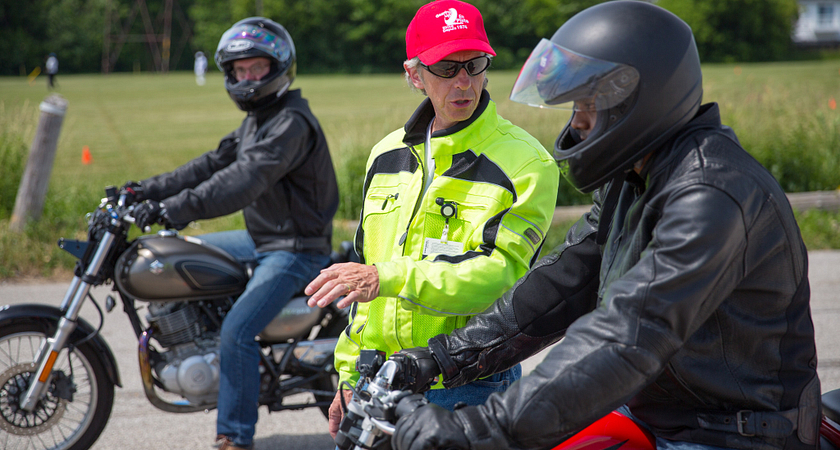 Everyone has their own reason for learning how to ride a motorcycle. For some, it's the rebellious feeling they get when they sit on a motorcycle wearing a black leather jacket, while for others it's the freedom they experience while they cruise away from their normal routine on those long, never-ending roads.
Learning how to ride a motorcycle can be fun and it need not be as complicated as some may think. The best learning experiences are when individuals learn in a collaborative and hands-on training environment, and this is exactly what the Motorcycle Rider Training program at Centennial College offers. The Canada Safety Council approved course focuses on imparting the best safety education to riders, and at the same time boosts their skills and confidence on two wheels.
"Developing the right attitude in riders is very important," says Michael Raber, chief instructor of Centennial's rider training program. "One of the most important lessons we teach in this course is to develop a defensive mindset while riding motorcycles. This is not only important for your own safety, but also for others around you," he adds.
The course is a combination of theory as well as practical riding sessions closely supervised and evaluated by instructors certified by the Ministry of Transporation (MTO). It's an amazing opportunity for passionate riders to connect together to share and learn from each other's experience. The program, which is delivered in a weekend format, takes place on the grounds of Centennial College away from busy streets.
"During the training, riders are put in live scenarios where they are required to think meticulously, be proactive and react as they would do in real-life situations," says Raber. One of the unique features of the course is its inclusivity, which means it can be taken by anyone irrespective of their level of expertise in motorcycle riding. Many lessons and skills that are learned in the course are transferable since the same principles can be applied to driving a car.
"Typically, you'll find motorcyclists drive more carefully on roads as they have already developed a defensive mindset," he says. Raber has been teaching at Centennial for 23 years. An avid leisure rider, he's also a member of the Iron Butt Association of endurance motorcycle riders. He started riding 30 years ago and completed his own motorcycle training at Centennial.
Centennial offers three distinct rider courses: the 22-hour program for those looking to obtain their M2 license; the M2 Exit Training course; and the Introduction to Motorcycling that presents a taste of the program in a three-hour format. Centennial has a collection of motorcycles on campus, so no need to bring your own. Upon successful completion, your graduation card makes you eligible for potential insurance discounts. With the riding season set to begin, now is the perfect time to enrol!
To learn more about our courses, please call 416-289-5207 and press #8, or visit: www.centennialcollege.ca/motorcycle