QUESTIONS
P.O. Box 631 Station A
Toronto, ON, M1K 5E9
Girls' STEM workshops explore career options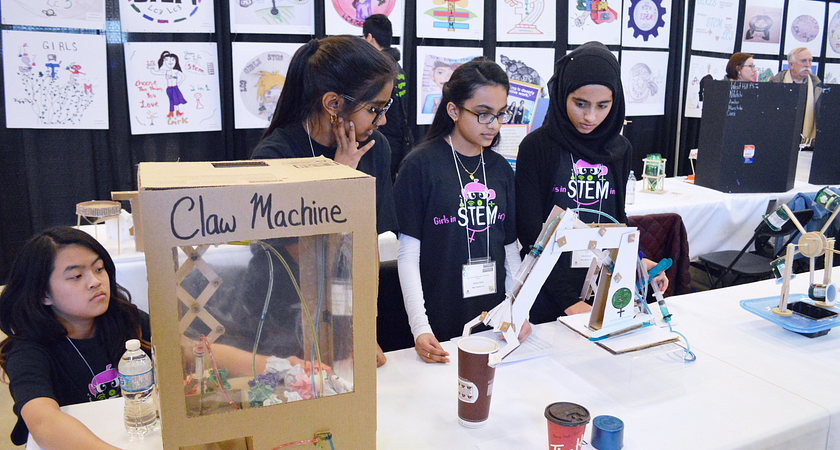 Women historically have been underrepresented in the science, technology, engineering and mathematics fields, commonly known as STEM. To help address the gap, more than 250 grade 7 and 8 girls from Toronto District School Board schools came to Centennial College to hear dynamic speakers and attend hands-on workshops at the Girls' STEM Equity Conference on Wednesday, February 28.
As society strives towards developing global competencies for all students, this exciting day represented a chance to address the barriers and biases that deny girls equity of opportunity in STEM careers, as well as demystify some of the technology that drives future careers. The inventive workshops took place in various labs at Centennial's Progress Campus.
Among the subjects explored in the workshops were digital coding using Makey Makey, filmmaking techniques, rethinking recyclable packaging, robotics and hydraulics, autonomous vehicle controls and more. Students had a lot of fun operating simple robotic arms, learning about the impact of disposable plastics on the environment, writing apps and other exercises designed to ignite their curiosity in technology.
The day was organized by the faculty of Centennial's School of Engineering Technology and Applied Science, in consultation with the Toronto District School Board (TDSB). The workshops were led by Centennial College professors and STEM educators from the school board who teamed up to offer a unique learning experience.
The day was promoted as an opportunity to encourage a bond between young women as they explore non-traditional career options. Participants got an enthusiastic welcome from Ann Buller, President and CEO of Centennial College, as well as from Centennial's Gina Marshall, Associate Vice-President - Learning Innovation, Teaching Excellence & Academic Quality, Carlene Jackson, Associate Director, TDSB, and Colleen Russell-Rawlins, Executive Superintendent, TDSB.