QUESTIONS
P.O. Box 631 Station A
Toronto, ON, M1K 5E9
Giving our Students a Future: Centennial College Donors Crush Scholarship Fundraising Goal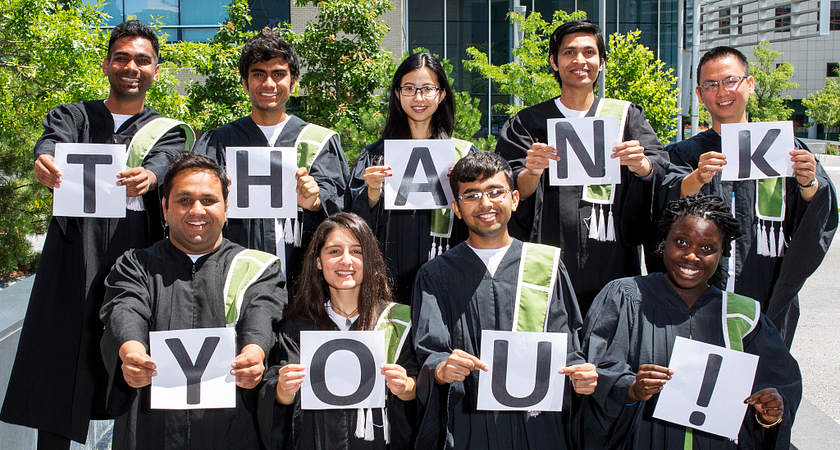 Many parts of our lives have had to adapt and change in response to the pandemic, and that includes the world of education. Centennial College is no exception, having remodelled its learning to deliver its courses online and safely in labs. More than 24,000 full-time students are enrolled in 300 programs at Centennial to become the workers and leaders of tomorrow. But with those opportunities come challenges. Today, over 90 per cent of domestic students rely on financial aid as they study to achieve their goals, which is why Centennial College offers aid of its own in the form of scholarships, awards and bursaries. To fund those bursaries we rely on support from donors, which include alumni, employees, retirees, community organizations and corporations. And this year, our donors helped our students more than ever.
A challenge surpassed
At an event thanking donors last year, Centennial College President Craig Stephenson issued a challenge to friends of the college that had assembled, giving them the task of reaching one million dollars in scholarship donations. Since then, our donors have outdone themselves and nearly doubled the amount. Thanks to the generosity of our donors and the college community, Centennial has awarded $1,896,575 in donor funded scholarships and bursaries in the current academic year. The Centennial College Student Association itself donated close to half a million dollars, which went towards important initiatives like COVID-19 Relief Bursaries, the Student Emergency Fund and scholarships for summer semester students. What all of this means is that this year, Centennial students in need will get the support they require.
Giving thanks
In recognition of this monumental achievement, President Craig Stephenson delivered a special thanks in April 2021 via a virtual presentation. He was also there to recognize more than 800 scholarship recipients that have benefitted from generous donors. Like them, Craig noted that he was a product of such philanthropy, which is why he took the time to thank them all. Most importantly, he stressed to donors that it's not about the cheque or the numbers on it, it's about the fact that students know that there are people who haven't even met them that want them to succeed.
Keeping it going
At Centennial College, we're developing the leaders and workers of tomorrow, and donors help make that happen. By establishing or contributing to a scholarship, donors can directly support a young person's ability to complete their education and pursue the career of their dreams and without financial anxiety. You can invest as a monthly donor, establish a scholarship, or things in between, by contacting the Office of Development and Alumni Engagement. And if you're a student looking for financial assistance, you can access these donations by filling out our Doorways to Dollars questionnaire.
By: Anthony Geremia