QUESTIONS
P.O. Box 631 Station A
Toronto, ON, M1K 5E9
Groundbreaking ceremony marks new Centennial residence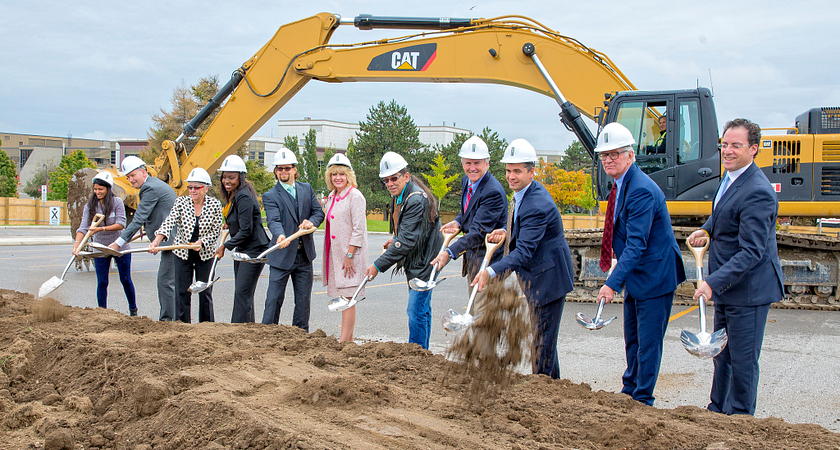 Centennial College marked the beginning of construction of its Centennial Residence and Culinary Arts Centre with a groundbreaking ceremony on October 15. The planned building at Progress Campus combines residences for 740 students with a dynamic Culinary Arts Centre teaching facility on the ground floor, and conference and events space on the top floor.
The blend of residential, teaching and event space promises to make the mixed-use building a popular destination. At eight storeys tall, it will be the highest building at Progress Campus and easily visible from the busy 401 highway. The residence will feature two- and four-bedroom suites, complete with a bathroom and kitchen in every suite. All residents will have their own private bedroom. There will also be communal kitchens and lounge space where students can congregate, including a yoga studio and a movie screening room.
"Our partners have worked very closely with us to design a vision of residence life that will offer students far more than a place to lay their heads," Dr. Craig Stephenson, Centennial's Vice President
, Student and Community Engagement, told the audience. "Students coming from Etobicoke or Collingwood, for instance, could be living next to someone from Panama City or Seoul. They will not only get to know each other as potentially lifelong friends, they could also get involved in a number of programming activities ranging from international affairs groups, cultural nights, study and fitness-focused groups."
The striking building concept takes the shape of a quadrangle with a central courtyard to allow natural light to reach all of the residence rooms. The Culinary Arts Centre includes seven kitchen labs, a teaching restaurant, cafe and eight new classrooms with capacity for up to 600 students. The conference and events centre located on the top floor will accommodate up to 425 guests. The building will be LEED Silver-certified with a focus on sustainable "green"practices as they apply to the hospitality industry.
The $85-million Centennial Residence and Culinary Arts Centre will address student demand for accommodations beyond the former hotel on Progress Avenue that was renovated to become Centennial's first residence in 2001. Construction is scheduled to commence this fall, with occupancy slated for September 2016. Knightstone Capital Management is undertaking the planning, financing, construction and management of the project. Other key partners include Diamond Schmitt Architects, Canadian Campus Communities and FRAM Building Group.