QUESTIONS
P.O. Box 631 Station A
Toronto, ON, M1K 5E9
Hackathon challenges students to create healthcare apps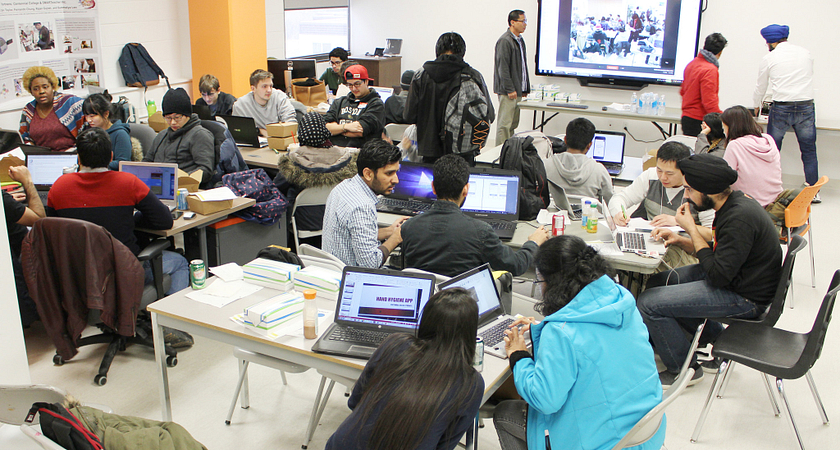 Centennial College Software Engineering students were challenged by two regional hospitals to create smartphone apps that could provide low-cost healthcare solutions at a two-day hackathon event on January 27 and 28.
Representatives from The Scarborough Hospital and Southlake Regional Health Centre laid out concepts for six helpful apps that teams of students had to design, code and test in a high-pressure hackathon. Hackathons have become popular on many college campuses, encouraging computer programming and software students to collaborate on innovative ideas in real-world tests to create usable software applications.
The software apps Centennial students were asked to produce included a game to create awareness of calcium levels in diet; an app to perform hand hygiene audits in hospital settings; software that allows hospital employees to report their absence; an app to capture hospital improvement opportunities; an anti-smoking app; and a communications system to replace age-old pagers still used by some health professionals.
Some 33 Software Engineering students worked in eight teams to design the mobile apps, interactive games and software solutions. At the end of the second day, the teams presented their solutions to a panel of judges from the two hospitals, as well as Centennial's Applied Research, Innovation and Entrepreneurship Services (ARIES) and the School of Engineering Technology and Applied Science.
The winning student team designed the hospital improvement opportunities app, while the team with the employee absence app finished second, and the anti-smoking app team ranked third. Gift cards worth $1,000 were awarded to the winning teams. All of the students received a consolation gift and a Certificate of Participation.
The hackathon was organized by WIMTACH (Wearable, Interactive and Mobile Technologies Access Centre in Healthcare) at Centennial College, along with SmokeBomb Entertainment Inc., a WIMTACH industry partner.
Centennial College's WIMTACH assists small- and medium-sized enterprises to become more productive, competitive and innovative by seeding learning opportunities for students and highly skilled jobs for graduates. WIMTACH was established to help Ontario expand its development hub for digital healthcare technologies and products and services in bioinformatics, diagnostics, imaging, mobile apps and e-health systems integration worldwide.