QUESTIONS
P.O. Box 631 Station A
Toronto, ON, M1K 5E9
'Hamilton Social Experiment' garners worldwide attention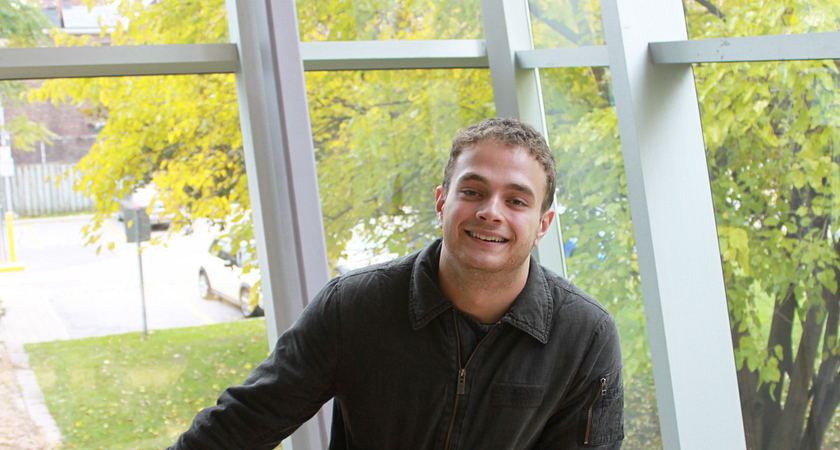 It was an astonishingly bold experiment that ends in a way that took its creators by surprise. In the wake of a horrific shooting in Ottawa that saw a soldier standing on guard at the National War Monument murdered in broad daylight, shaken Canadians were left trying to comprehend why an unarmed soldier had been executed in one of the world's most peaceful capitals.
Devin Giamou and his colleagues set out to learn how the mood of the nation had changed after the high-profile shooting. The Centennial College Broadcasting and Film student had been previously contacted by York University film student Omar Albach about working on videos that explored people's behaviour. Both young men had developed YouTube channels where they had uploaded their own work. The present situation demanded a collaborative effort.
"We both have a natural curiosity to see how people respond to certain dialogue and situations," explains Giamou. They decided to test Canadians' reputed tolerant attitudes by staging a bigoted rant in a public place and film the reaction from bystanders. In a further twist, they chose to do it in downtown Hamilton, the hometown of Cpl. Nathan Cirillo, the young army reservist who had been gunned down only a few days before. Born and raised in nearby Ancaster, Giamou knew Hamilton well, a tough blue-collar city known as Canada's steel town.
"We shot everything in two hours. We picked two bus stops downtown that seemed busy," Giamou recalls of the "Hamilton social experiment." He met Zack Ghanen, another York student, for the first time at the film location. Ghanen showed up sporting a beard and wearing traditional Muslim robes.
"Zack and Omar encouraged me to be overtly racist in terms of what I said," says Giamou, who enjoys acting as well as working behind the camera. "It was all improvised dialogue; we had no script to work from." The chillingly bigoted comments he spewed at Zack at the bus stop immediately caught the attention of bystanders, who did not hesitate to defend the Muslim man.
"It was awful and tragic, but I don't think that's any reason to persecute someone just because of what they're wearing," one woman is heard saying to Giamou, referring to the Ottawa shooting. Her comments, and others, differentiated between the actions of a mentally disturbed shooter and the peaceful followers of a major religion. The three-minute video reveals a surprise ending that nobody saw coming, least of all Giamou.
"I had been speaking to one man when the other stepped forward out of nowhere and punched me in the face," he recalls. The video concludes with Giamou, nursing a bloody nose, being interviewed by a police officer (no charges were laid). Their risky project rewarded the three students with a striking video testimonial to Canadians' unwavering defence of their multicultural society, one that has garnered three million YouTube views as of this writing.
For his part, Giamou credits his Centennial College education for his appreciation of social equity issues. The mandatory course, Global Citizenship: From Social Analysis to Social Action, introduced him to the social problems and global connectivity that makes everyone a potential active participant. As Giamou experienced first-hand, there are no passive bystanders – especially in Canada's steel town.