QUESTIONS
P.O. Box 631 Station A
Toronto, ON, M1K 5E9
High School Students Win Big At Automotive Skills Competition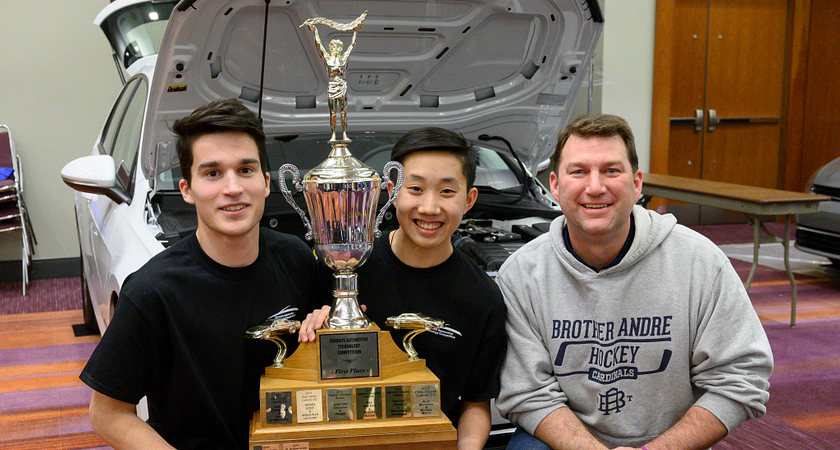 Auto tech students from 18 Ontario high schools competed in the 21stannual Toronto Automotive Technology Competition where they put their auto skills to the test, thanks to the efforts of faculty and students from Centennial's School of Transportation, who organized the competition.
Two students from St. Brother Andre Catholic High School prevailed to win the big trophy. Alexander Liao and Anthony Vecchiarelli performed a number of timed technical tasks and worked on a new Volkswagen Golf that had been rigged with a no-start condition by Centennial's professors. It's the fourth consecutive year that a team from the Markham, Ontario, school won first place – coached by auto tech teacher Jason Rehel, a Centennial graduate.
The St. Brother Andre pair will be representing Canada at the National Automotive Technology Competition in New York City in April. In addition to the all-expenses-paid trip, Liao and Vecchiarelli won tools, software and other gear from industry sponsors.
The competition was presented by Centennial College and the Trillium Automobile Dealers Association (TADA) in partnership with CarsandJobs.com at the Metro Toronto Convention Centre ahead of the Canadian International AutoShow on February 12.
Finishing second was a team from Holy Cross Catholic Academy in Vaughan, thanks to the efforts of students Giovanni De Lio and Francesco Rende. Third place went to Conner McSweeney and Andrew Oliver from Father Leo J. Austin Catholic Secondary School in Whitby.
Ricardo Hamilton of Notre Dame Catholic Secondary School in Brampton earned the Gerd Reisenecker Memorial Teacher of the Year Award, named for the former Centennial College professor and TADA member. Students were encouraged to nominate their auto tech teachers by writing essays.
"Our judges were very impressed by the talent and skill of not only the winners, but all of the students," said Craig Stephenson, president and CEO of Centennial College. "They all have bright futures ahead of them and should be very proud of their performance."
"Every year, the students blow us away with their technical knowledge, problem solving skills, and their enthusiasm," said Todd Bourgon, Executive Director of TADA. "Ontario's auto industry would greatly benefit from having these young people consider joining our sector when they are done with their studies."
The competition was attended by Premier Doug Ford, Ontario Minister of Education, Stephen Lecce and Ontario Associate Minister of Children and Women's Issues, Jill Dunlop. Minister Lecce began the morning with some words of encouragement to the students, emphasizing the importance of skilled trades. Ford and Dunlop chatted with students during the second half of the competition.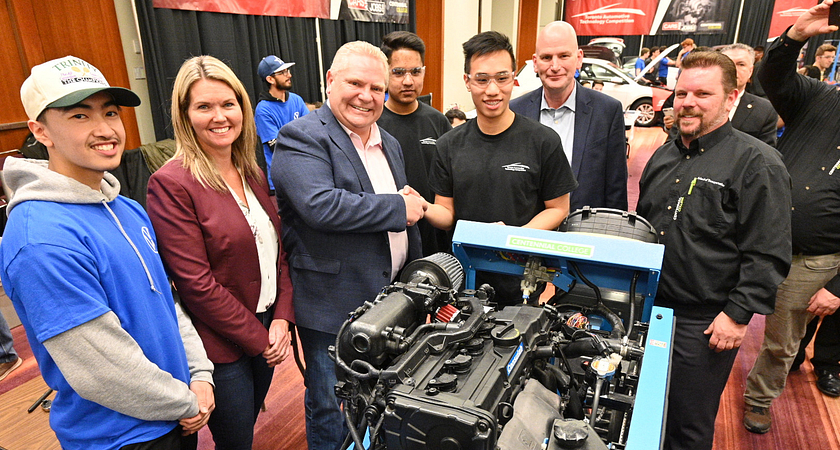 Present at the awards ceremony was Thomas Tetzlaff, public relations manager at Volkswagen Group Canada. "Volkswagen is proud to sponsor the Toronto Automotive Technology Competition and support an event that inspires young people to work in the auto industry long-term," Tetzlaff said.
"We hope that an event like this inspires young people to consider a long-term career in the auto sector," Bourgon said. "Whether you are looking for a career as a technician, in sales, finance, IT, or marketing, auto dealerships are a great place to look for motivating, well-paying jobs, and our CarsandJobs.com platform helps connect job-seekers with these opportunities."
Opportunities to work in auto dealerships continue to grow across Canada as employment in the overall auto industry has been consistently growing in the last decade. According to Statistics Canada, the auto industry's weekly earnings average $1,130 nationally compared to average weekly earnings of $610 for the retail sector at large.
In Ontario and across the country, CarsandJobs.com aims to actively engage the incoming workforce to ensure the auto industry thrives in Canada. Currently, jobs in more than 3,200 auto dealerships across Canada need to be filled in marketing, finance, sales, parts, IT, service and management roles. Centennial College operates Canada's largest transportation technology training centre.
The 21th annual Toronto Automotive Technology Competition receives outstanding support from the industry. Sponsors include TADA, CarsandJobs.com, the Canadian International AutoShow, Volkswagen Canada and Toronto-area VW dealers, Snap-On Tools, Consulab, Canadian Tire, Prona Tools, Electude-Argo, TecMate, Nelson Education and Centennial College.