QUESTIONS
P.O. Box 631 Station A
Toronto, ON, M1K 5E9
High school students win big at Autoshow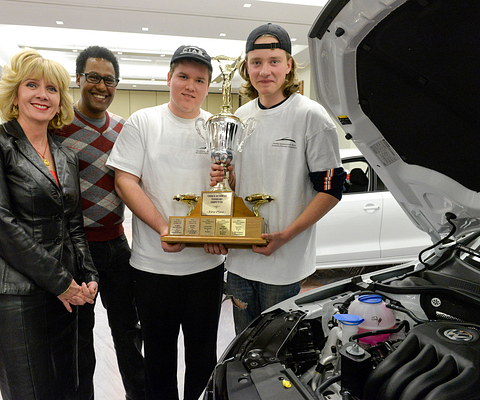 From left: Centennial College President Ann Buller is pictured with auto tech teacher Yonas Lijiam and winning students Michael Macut and Alex Morrison from Philip Pocock Secondary School.
Two automotive technician students from Philip Pocock Catholic Secondary School in Mississauga beat out 18 other Toronto-area high school teams to win a high-octane skills competition at the Canadian International AutoShow on Feb. 12. Michael Macut and Alex Morrison performed a number of timed technical tasks and worked on a 2015 Volkswagen Jetta that had been rigged with a no-start condition by automotive instructors from Centennial College's School of Transportation.
By finishing first, the pair will be representing Canada at the National Automotive Technology Competition in New York City in April. In addition to the all-expenses-paid trip, Macut and Morrison won tools and equipment from sponsors, as well as a new General Motors vehicle that will be used as a teaching aid in their school's auto shop.
Scarborough's Jean Vanier Catholic Secondary School finished second, thanks to the efforts of students Arvin Mendoza and Jan Schymanski, while Antonio Malatesta and Manvir Panesar from Mississauga's St. Joseph Catholic Secondary School earned third place. The automotive labs of all three schools will receive a vehicle from General Motors Canada for training purposes.
Centennial College and the Trillium Automobile Dealers Association (TADA) have been running the competition at Toronto's auto show for the past 16 years. The students, all of whom are studying automotive service technology in secondary school, help underscore the importance of the skilled trades to Canada's vast transportation industry.
In addition to the winning students who were recognized, teacher Magid Masoud of Our Lady of Mt. Carmel Catholic Secondary School earned the Gerd Reisenecker Memorial Teacher of the Year Award, named for the late Centennial professor and TADA member.
Centennial's Toronto Automotive Technology Competition receives outstanding support from the industry. Sponsors include: TADA, the Canadian International AutoShow, Volkswagen Canada, General Motors Canada, Snap-On Tools, Consulab, Canadian Tire, Toromont, Electude-Argo, Nelson Education, Pearson Education, ShockLock, TecMate and Centennial College.