QUESTIONS
P.O. Box 631 Station A
Toronto, ON, M1K 5E9
Homecoming moves online! What you need to know about Homecoming 2020, and why you want to attend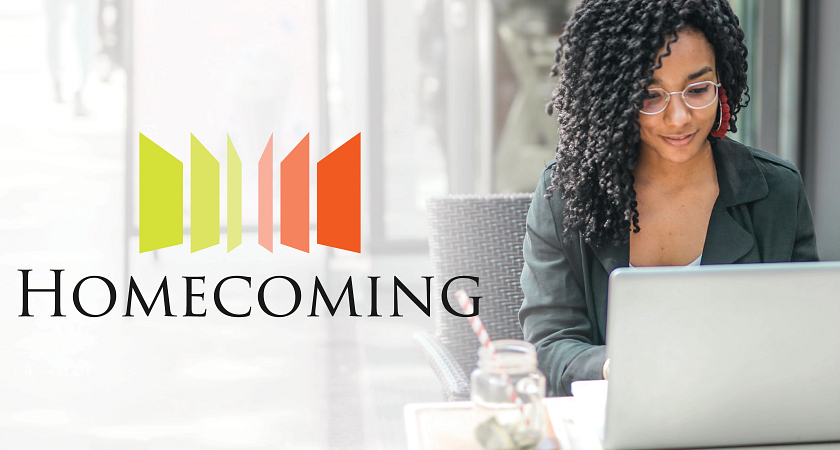 Centennial College's Homecoming is one of our signature events, but like so many other things impacted by COVID-19, it couldn't be the massive college community gathering it was in previous years. But we were determined to let nothing stop us from engaging with our alumni community, which is why our Office of Development and Alumni Engagement has been working hard to host our first online homecoming, happening the week of October 13-17. It turns out that not hosting a physical event has a few interesting advantages, and homecoming is now a bigger and better opportunity to engage and stay connected, plus it's free to attend. Here's how it works, what you need to know, and why you want to go.
More to do, easier to access.
Since the virtual format means that the size of the venue isn't a problem, we've decided to make the best of the situation and make this year's Homecoming free of charge for the entire community. This means students, alumni, staff, retirees and other college community members can all take part just by registering online. If you're a current student, it's a great opportunity to learn what it means to be a Centennial alumni, and what kinds of activities and opportunities you'll have access to when you graduate
There's something for everyone.
To create this year's schedule of events, Development and Alumni Engagement reached out to the entire college community, and found anyone who wanted to hold events during Homecoming. Since we're inviting 52 years' worth of graduates, it was really important that we offer something for everyone. There's fun pieces, but there's also educational pieces, both for your career and for your life.
Enhance your career, and enhance your life.
During Homecoming, Career Services will be hosting an event for Ten Thousand Coffees, a networking group Centennial College works with, which connects Centennial mentors with mentees. Meanwhile, ACCEL (Accelerator for Centennial Community Entrepreneurs and Leaders) will give you the opportunity to connect with successful entrepreneurs. There are even helpful life skills sessions on financial planning and how to write a will!
Or, you can have some fun.
This week's events actually begin with a guided meditation by the team at the Centre for Accessible Learning and Counselling Services (CALCS), so you'll start off relaxed. Another feature of most homecomings is an athletics event, like a basketball game, but that couldn't happen this year. So to make up for it, we're hosting a reunion with previous Hall of Fame inductees. And on top of that, there's Homecoming Night. Typically, homecoming ends on a big finale, and that's usually a dance. This year, we figured out a way to do it online. There's going to be a live DJ set online, at the same time as a bunch of fun events like fortune tellers, all organized with the CCSAI. There's also going to be a movie night!
Interested?
This is just a small taste of what our homecoming week offers, and you can view our full schedule here. Interested in joining us? Register right here, so you can come show your Centennial Pride, and stay connected!