QUESTIONS
P.O. Box 631 Station A
Toronto, ON, M1K 5E9
How Centennial College can make you an award-winning Paramedic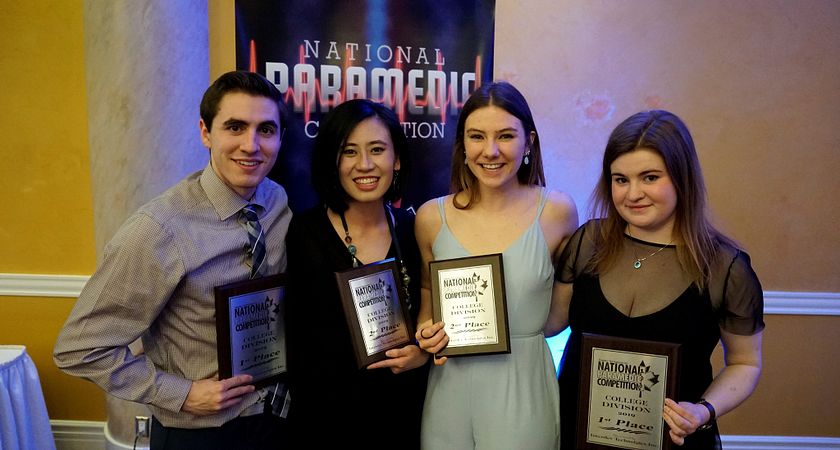 Only the best Paramedics are trained at Centennial College, and we can prove it. Every year, we send the best of the best from our Paramedic program to the National Paramedic Competition, where students test their skills to see who is the best at saving lives. This year, 13 teams representing eight colleges competed in the student division and, out of all of them, Centennial College's two teams took the top two spots. Daniel Campagnia and Louise Monk took first place, and Robyn Chan and Shayla Perko came in second. Here's how the college prepared all four paramedic students for their victory, and how you can learn how to do the same in our Paramedic program.
Why they want to become paramedics
It turns out that each of our student winners had very different reasons for wanting to become a Paramedic, but they all decided to come to the same place to study.
"I was a lifeguard before," Louise says, "and I always enjoyed doing first aid stuff, so I thought it would be fun. I picked Centennial because it has the joint program with the University of Toronto, so I could do it all at the same time."
"In high school," Daniel says, "we had an actual paramedic come in and talk to us about what they did, and I was just in awe. And a lot of my friends went to this program. When they were telling me about the numbers and employment rate, I was really impressed - they were really gearing you up to work. Going into the program, and from where I am now, shows that it's true."
"I wanted my learning to be more practical-based and job-oriented," Shayla says. "I wanted to work in a field that was very social, where I got to meet new people, could face a lot of different challenges, and was very dynamic work environment where I'm not inside all of the time."
"I wanted to do something in the medical field," Robin says. "I wanted something that was diverse and challenging, that required a lot of moving, where you were doing something different every day, and I came up with Paramedicine."
No matter their reasons, all four students decided to take the program, and then try out for the Paramedicine competition when their instructors placed an open call.
Practicing for the competition
The National Paramedic Competition wasn't just open to anyone. Before it began, the eventual winners had to prove their talent, and then refine that talent by practicing. "At the beginning of our second year, there's a selection day where we try out," Louise says. "The school takes the top eight students, and we start going to practices and learning how to run scenarios for the competition. A few weeks later, two people get cut, then the six students practice once a week for the whole year, the top two teams get selected to compete, and the other teams are backup."
"We already had the skills," Robin says. "It was about putting it together. That's how the program prepared us, it gave us the skills, then the coaches helped us put them together."
"The courses at Centennial are really intensive, and go way beyond the scope of a paramedic," Shayla adds. "It's amazing, because you're learning so much, and a lot of people would argue you don't need to know all of that to be a paramedic, but I think it's good to have that knowledge. In the competition, you need to be able to problem solve new diseases and pathologies on the spot, so having that background of knowledge was super helpful."
"The things we were learning were extra add-ons to the skills we were learning in class," Daniel adds, "In the Lab, we're making critical decisions for ourselves, but this is a team dynamic, working with a partner, so they were really teaching us to communicate properly. Their strategy was to give us high-pressure, stressful scenarios so we could control our anxiety and our nerves, and then we can treat whatever it is properly, and it worked out for us."
In the end, after months of grueling training, the four students, in two teams, made their way to the competition.
Putting their skills to the test
"There's three divisions in the competition," Daniel explains. "There's the Advanced Care Paramedics, the Primary Care, and the Student Division. This year involved six stations and a written test, with three to four scenarios per station. For each station, you had to accumulate a certain amount of points, which they tally up at the end, along with your written test mark."
"There was an unconscious lady with no one in the house, connected to a dialysis machine," Louise says as an example scenario, "and you had to figure out why she was unconscious. There was another one that was an explosion in a chemical lab, with injuries. There's another one where we're doing CPR, and eventually find another patient in the basement with a brain injury."
"The hardest thing for us was keeping our head up," Daniel says, "doing a scenario, saying ok, we're done, let's move onto the next one and do the best we can.
What it's like to win
Despite all of their hard work, it still took the two teams by surprise when, out of the eight schools and 13 teamscompeting, they managed to nab both the first and second place spots. "It was a surprise," Louise admits. "It kind of makes sense now, but during the competition, the scenarios are sometimes just impossible to manage, and they're pretty brutal sometimes with their feedback."
"Because we were raised to have such high expectations, and to perform well despite being confused and despite having to figure things out, we were able to pull through," Robin says.
"It felt really good, though," Louise adds. "We worked really hard all year, and it's already a busy program, so practice once a week is a big commitment, and it was really nice that it paid off."
"We worked so hard during the practices, but so did the whole team of people helping us," Shayla says. "There were a lot of committed people there to help us."
What comes next?
Between the already-intensive Paramedic program, and the extra skills from the competition, all four students have already secured jobs in the Paramedicine field—before they graduated! They credit the competition with setting them up for success, despite all of the extra work they had to put in.
"It's a pretty big commitment," Louise says. "But if you keep your head up and keep going, it made me a much stronger student and I can carry those things when I start working, so it's definitely worth all the effort."
"One thing we all got out of it was learning more about how things work in the real world," Shayla says. "We learned how to make decisions, and act quickly under stressful situations. You'll learn more about yourself, and more about the world of paramedics."
"I thoroughly enjoyed the experience," Robin says. "It made my year super fun, and it made me look forward to things outside of finishing my learning."
By joining Centennial College's Paramedic program, you can become as skilled as the competition's winners, and learn skills that will set you up for life, and a career saving lives.
By Anthony Geremia