QUESTIONS
P.O. Box 631 Station A
Toronto, ON, M1K 5E9
How #CentennialBakes From A Distance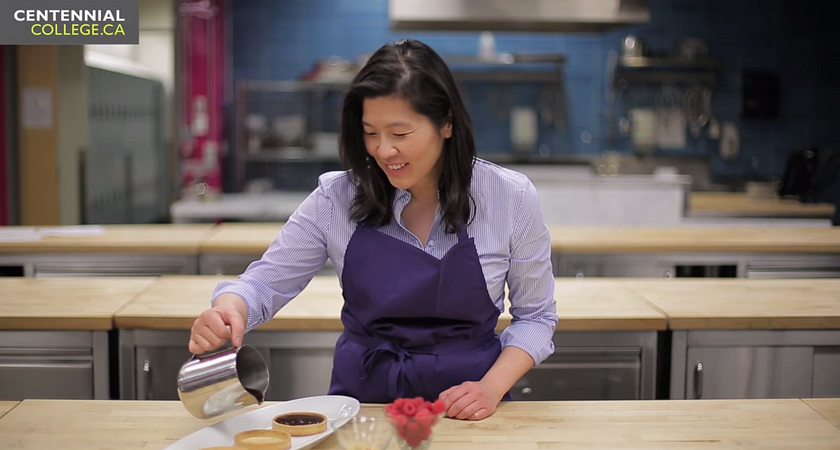 When world events force college students to learn from home, it can be challenging to tackle practical courses like Baking and Pastry Arts Management. But the proof's in the pudding, and our instructors and students have found a way, thanks to the Centennial Bakes Instagram page, and Chef Sally Chiu Hildebrandt's YouTube channel Chef Sally Confections, where she and other Centennial College chefs share scrumptious recipes that students can complete at home. Meanwhile, the Centennial Bakes Instagram page also features recipes for students and by students, as they take what they've learned and give it right back. Here's how Centennial Bakes from a distance.
Mixing it up
"I wasn't a filmmaker before the quarantine," Chef Sally admits about her YouTube channel, "and it's been really great to have this outlet to work creatively and to inspire the students, as well as everyone. This knowledge should be shared. It's been a really great, positive boon in this time."
An important part of what Chef Sally's cooking up is that many of her recipes can be done with ingredients and equipment in the average student's home, with nothing elaborate.
"The content has to be able to reach as many people as possible, and not everyone has all of the equipment available, or unlimited ingredients," Chef Sally says. "It's definitely possible to do with just minimal equipment and ingredients."
"Every video I'm producing, I'm trying to improve, so I'm teaching myself," she says. "I started creating videos because of the quarantine to best reach the students."
More cooks in the kitchen
It's not just Chef Sally that's been putting out content. Students in her baking program have also been taking over the Centennial Bakes Instagram account, posting their own recipes.
"On Centennial Bakes, we've been featuring students with their own videos," Chef Sally says. "They've been baking, and they're enjoying this outlet. One of the students, in her story, even said this quarantine's been great, because she's been able to discover an outlet and skillset she didn't know she possessed."
"The Portuguese Tart was really good, a great technical skill," Chef Sally says about notable entries so far.
"The Madeline was also great, because Claudia was a second-semester student, and to show that leadership and confidence was fantastic," she adds.
Changing the recipe
Centennial Bakes is just one facet of how Chef Sally and other Culinary Arts instructors are pivoting their programming to learning at a distance.
"Yes, they're going to have theory, but to make the skills courses more engaging we have assignments where it's a challenge," Chef Sally says, about how she's pivoting. "If it's doughnut week, or cookie week, or tart week, they have to do online research, because not all students have the ingredients and whatnot, but they do the research, they conceptualize their design and come up with their signature product. Then all the students have to submit to the discussion board, and to further engagement and critical thinking, the class has to go through each entry and go to the poll section and explain why they found value in this entry. For each class and section, there would be a winning recipe. From that, the featured recipe would be featured at The Local Café and sold when things got back to normal, but also blasted in eCentennial through the newsfeeds, and through Centennial Bakes. The students can really have a personal attachment to it, and it's something they can stand behind."
The results
"Since I started the channel, it's really been inspiring," Chef Sally says. "I've had faculty as well as students asking me how I'm doing this, and not just in the bake program."
As for her students, she couldn't be prouder.
"They're learning, and they're enriching their own lives, as well as the lives of everyone around them," she says.
"I give my students lots of words of wisdom," Chef Sally adds. "My parting words for all my students this semester are to be creative, to be courageous and to take those first steps. For every event that comes to you, make it a positive opportunity."