QUESTIONS
P.O. Box 631 Station A
Toronto, ON, M1K 5E9
How Jason Hillier Helps People Recovering from Addiction Through Relate in Recovery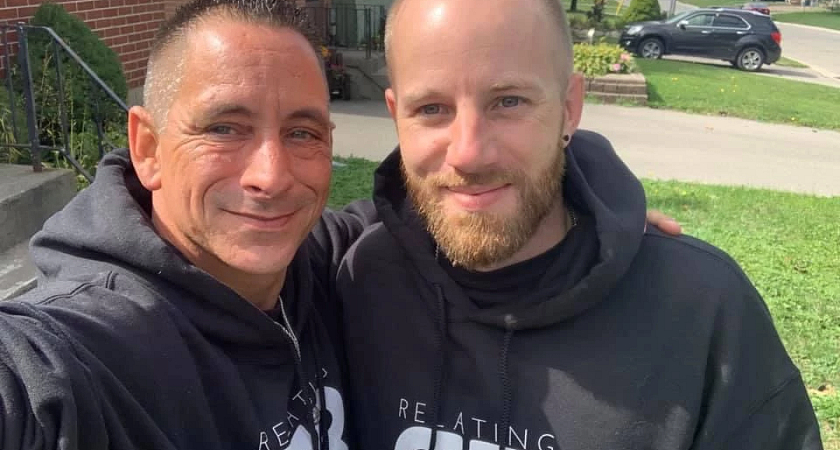 At Centennial College, it's our goal to equip people with the skills they need to make positive changes in the world, and our Addiction and Mental Health Worker program is all about providing students with the tools to help vulnerable people. Jason Hillier, a student in the program, knew what needed to be done, since he came from a background of recovering from addiction himself. Not only did he get sober, but he's thrived while at Centennial and used the experience to start Relating in Recovery, a multimedia project with the goal of helping people recovering from addiction like himself through Facebook, Zoom, a podcast, a charitable line of clothing, and, most importantly, an online resource hub. Here's his incredible story.
His reality
"The reality is I'm an alcoholic and recovering from addiction," Jason says. "I was in active addiction for almost 25 years."
"Once I found the solution," he continues, "which was a 12-step-based solution, my life did a 180, I started to get well, and everyone around me started to get well as a by-product of my recovery. It wasn't just me; my children and family were recovering."
His decision to come to Centennial
"I was about a year and a half sober when I buried my mother," Jason explains. "I went to a meeting that night, and there was an old feller there, and he said, 'The only thing we take with us when we die is what we leave behind,' and it really resonated with me."
"I was going to this job every day slugging steel," he says, "and it was a great Monday-to-Friday gig, good money, but there was no purpose or fulfillment there. I'd go in the evenings to volunteer at treatment centres, I'd work with a guy battling heroin, opiates or fentanyl for an hour, and I'd vibrate, I'd just be lit up and excited."
"I started to see this pattern, and I thought, we have one go-around at this thing, so what do I want to do with my life?" he says. "I started thinking about working at the treatment center, and what that would entail. I'd need some serious schooling."
"I had a lot of obstacles in my way, there was a lot of mountains to climb to get to school, but I wrote some tests at Progress Campus, and I got in, I got accepted into the Addictions and Mental Health program," he says. "When I got that offer letter, fireworks went off in my head. It was a shift, it was a whole new experience that I had."
How College changed him
One of the reasons Jason enrolled in Addictions and Mental Health was how much of the program was relevant to his own experiences.
"When I was doing my research and read my course outline, semester one, there was a biology course," Jason says. "When I was in a treatment centre, I remember learning about dopamine, and the reward system of the brain. I remember learning about serotonin levels and what they do, and how they're created, and I remember being completely relieved, even though my life was falling apart around me, I remember feeling relieved that it was stuff happening in my brain."
"In Community Development and Advocacy," he continues, "We're talking about mutual aid projects and community activism, and I'm like: this course is screaming out my name, I'm living this as we're talking about what it is."
"Some of the teachers there blew my mind," Jason says. "We had discussions that really led me to challenge myself, my own set of values. They opened my mind to certain biases I had. I was very biased against harm reduction, and against other solutions, and I didn't know this about myself. I learned that it was how I was thinking and feeling."
"My experience at Centennial College was so much more than just the education," he says. "The personal growth I had when I was there now plays an integral part in Relating in Recovery."
How Relating in Recovery came to be
"Right before I started my program," Jason says, "I was sitting out on my front step on a Saturday morning, and I was missing my mom. I had this huge network of people in life that could all identify with my addiction, but I also felt like when you lose parents or loved ones that are close to you, it's almost like an exclusive club. You understand that pain, and it doesn't go away. I just wrote a little tiny blurb, and I called it 'relating in recovery,' and I said it was for like-minded people, whatever challenges you might be facing. I invited five or six of my closest friends, and they invited a few more people. This thing wasn't really anything at the time. It sort of grew over the course of the first semester. A few students joined, and then their friends joined, and then a few more friends joined. It's just a Facebook group, but it started to grow, and we were at about five or six hundred by Christmas."
"It's all about positive affirmations and love and kindness, and almost governed itself," Jason says of the online Facebook group that started it all. "Newcomers were coming in two days clean and sober, looking for help, and another guy's coming in, looking for a sponsor, and another guy's looking for resources in Nova Scotia. I was watching this happen, and then COVID-19 hit."
Coping with the new normal
"When COVID-19 hit, it knocked out all the 12-step meetings and all the in-person stuff," Jason explains. "And one of the biggest plights of substance use disorder is we fear isolation, we fear being alone. Being stuck in our own minds is a dangerous place to be."
"I decided to use this platform I had to do a nightly review group, which is just a Zoom meeting, but I'd advertise it to the Facebook group. At this point, we were over one thousand members," he continues. "It was the most amazing thing to watch. We started off with about 20 to 30 people, and by the end of the week, there was over a hundred people."
"Zoom gives opportunity to a newcomer that they've never had before," he says, explaining some of the appeal. "You can keep your video off, you can keep your audio off, join a meeting with 100 people and just listen. There's no fear associated with it. Fear is what kept me out of those rooms for 13 years. Lives are changing as a result, and it all stemmed from the idea that I didn't want to go through this on my own."
Starting the podcast
During his nightly meetings, Jason would get in touch with another person recovering from addiction, Dustin Cunning, and the two of them would collaborate to create a Relating in Recovery podcast based around their journey through recovery.
"We'd talk every night after these reviews," Jason explains about Dustin. "We'd catch ourselves talking for a good hour, two hours, until one in the morning, and these conversations on the phone would be dynamite, we'd be both learning from them. And I said one day after a month of this, we should record this, it could be useful to someone."
"These are things we don't talk about at AA or CA or in a recovery centre," Jason says about the need the podcast fills. "We don't talk about feelings and how to address them, we don't talk about the science of the brain, and neurotransmitters misfiring, we don't talk about grief and recovery. We talk about the solution, which is the most important thing, but once you have the solution, then what? It's not about getting sober, it's about staying sober. And more importantly, it's about living. The reward for getting sober is a good life, nothing more. I'll take that, and for me, that's the most important part. How do you do that? That's the million-dollar question."
"We had 20,000 streamers in South Africa, and my second biggest market is Florida," he says with surprise. "These aren't groups that were involved in the Facebook group. Southern Ontario was where I had all my circles, and we were like, fifth in the metrics. Once we realized we'd reached that many people, we started looking at the bigger picture. This all happened in six months!"
The podcast even helped him get back in touch with his daughter, whom he hadn't seen in many months at that time, which would lead to the next phase of Relating in Recovery.
A hub for healing
"My daughter asked me for help," Jason explains, "and I'm employee at the time at Alpha House Toronto, I'm doing counselling in Brooklyn, I've got this Facebook group filled with thousands of people in recovery, my whole life is about recovery. I have all these platforms, and all these resources, and I'm Googling detox in St. Catharines, and I'm getting juice cleansing, or redirected to Milwaukee."
"I know how important that second of opportunity is to help someone," he continues. "I uncovered a major need: we needed information in one spot, a reliable place to access information."
"This idea was born of a website that would be a hub for resources about depression, anxiety and most importantly, a suicide prevention line," he says. "What about all the treatment centres in Ontario? What about assessment times, wait times, withdrawal management if I want to get it? If I decide right now that I want help, what do I do, and where do I go?"
Clothing for a good cause
"Developing the website was slow-moving, but there were some costs now affiliated with it, and the podcast," Jason says. "Meanwhile, I'm a student, I don't have financial resources like that. I'm a parent, I pay my rent and eat like everyone else."
"The one thing that was really identifiable in relating in recovery was the logo, the back-to-back symbol," Jason says. "It means this is one person recovering from addiction another, and we hold each other up."
With this in mind, he decided to develop a line of Relating in Recovery hoodies.
"If I could find a way to source this stuff, get things made, generate e-commerce, fulfilment and distribution, get this out there, then not only am I going to create a brand, I can generate some revenue, put it back into relating and recovery, and help some people," he says.
"Once we launched it, it just took off, man," he says. "We sold 60 hoodies in one day. And this clothing business thing, it wasn't the intention."
As for his plans with the funds from the clothing?
"The Ministry wait time to get a bed at a treatment centre is five to six months," Jason says. "But if I have $17,000 I can get a bed on Thursday. Most people, when they get to that point in their life, don't have $17,000 and may not even have a health card. So, the objective is to maintain and support this website, and offer more services for those who need it, at their fingertips. But most importantly, it was to create a fund. If you're going to die on the streets before this five-month window is up, we want to get you into a bed now. We don't want you to wait."
Where he's going next
When it's not a podcast or a support group, Relating in Recovery is also involved in outreach programs, and a food and clothing drive with the Back Door Mission in Oshawa, Ontario. And Jason is continuing to expand its efforts. For starters, the podcast will be launching a Christmas episode on December 15, which will also be recorded on video to launch Relating in Recovery's YouTube channel.
Learn more about how Centennial College is here to help you succeed with this quick video series. Click play below and go through the entire (short but riveting) playlist, or dive right into exactly what you are looking for on the links below.

"We decked it out like Macy's on Christmas Eve, with a fireplace and a couple Christmas trees," Jason explains. "We had a back room with a green room, we brought guests in, because of COVID we were very sensible with our actions and how we would do it. We ended up having some high profile guests attend."
There were others speakers, too, like medical specialists, all there to speak on issues like Seasonal Affective Disorder (SAD), addiction and depression.
"It covers every issue that could possibly come up at Christmas, no matter what challenge you're facing," Jason says. "If you're battling something, you're not battling it alone. We recover together."
Beyond that, Relating in Recovery has applied for status as a charity, which will let them help even more people in a timely manner, which is Jason's entire goal.
"The bigger picture is going back to the original vision of building bridges," Jason says. "We started working on summits in 2022, we're going to have speakers from around the world come in. We're all in recovery together."
"I'm also thinking about a sober bar," he adds. "They have them out in Windsor, and it would be called Relating in Recovery, and it would be a place, where, in the daytime, guys could come and go through their 12-step work, and it would be a social club for recovery."
"Relating in Recovery is about breaking down walls and building bridges," Jason says. "And it's not talk anymore. I spent my whole life talking, and now I'm spending the sober part of my life doing. It's refreshing. To help someone save their life. That's my endgame, at the end of every day. Create some opportunity for someone to get well."
Written by: Anthony Geremia