QUESTIONS
P.O. Box 631 Station A
Toronto, ON, M1K 5E9
How recreation and leisure can be used for social good.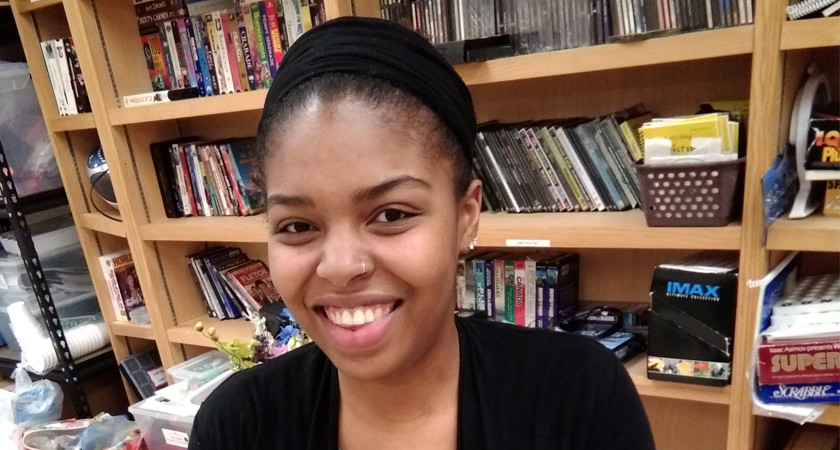 There's more to the world of recreation and leisure than sports. People who play together are happier and healthier, and recreation is a pathway to both better interactions and better communities. You can do some very real good in this field.
Brittnei Lacrette's goal was to get a career helping vulnerable people, something she didn't think recreation and leisure could lead her into. But spending time in Centennial College's Recreation and Leisure Program proved the opposite, and led her into employment with the long-term care facility, Sienna Living at Fountainview , in the east end of Toronto. Here's how she turned her misgivings into the start of a successful career, just like you can do, too.
Changing her mind
Brittnei's goal was always to have a career helping people, which is why she initially planned to get into Community and Justice Services. However, she wound up in Recreation and Leisure due to being wait-listed, only to discover that it fit her career wishes as well, something she hadn't expected.
"It was something that I fell into, that wasn't planned," she says. "But once I got into the program and heard about all the different opportunities and areas that recreation could lead to, I decided to stick with it, and it became a very big passion for me."
What made it into a passion was the fact that she could still accomplish her goal of helping people. "I thought recreation was more of a municipal thing," she says, "keeping children and youth active, but I learned that you could work with seniors, or adults with disabilities, and help them live their life fully. That's what made me feel more compassionate towards the field."
Learning in the field
Out of everything she'd learn in the program, Brittnei gained the most knowledge from the two field placements she took part in.
"For my first year, I did my field placement in Ajax in a long-term care facility," Brittnei says. "That was for six months, I believe, and that was my first real experience working with seniors. I spent a lot of one-to-one time with them, speaking with them, hearing their stories, and that grew."
"For my second-year placement," she continues, "I chose another long-term care facility in Pickering, and it was the same thing. I got to spend a lot of time with the residents, and learn to facilitate programs with them. I helped with a program called the Living Dreams program, where we'd pick one specific senior, and try to grant a dream or wish for them. I was able to get a donation of dentures for a senior with low income, for example, and another one of the wishes was just to go to the Red Lobster restaurant. I'd help them feel good about themselves, and that passion keeps growing."
Creating a career
After graduation, Brittnei had to turn her education and experience into a job.
"I started applying to jobs within the last two months before graduation, in March," she says, explaining her post-school career. "So, I graduated in April, and I got the job here in Fountainview in September. It was a long time to wait, but it worked out very well."
Not only did her experience help her, but the fact that our long-standing Recreation and Leisure program has created generations of professionals also came in handy.
"The manager of Fountainview at the time was also a graduate from Centennial," Brittnei says. "She knew where I was coming from, she knew the professors, and had a good relationship with them. I got a reference from them, and it helped my career get started."
"I'm currently an Activation Aide/Volunteer Coordinator, a full-time recreation aid/volunteer coordinator, so I run programs for seniors," she says of her current job. "I work in the Alzheimer's/dementia unit, so I spend a lot of time keeping them stimulated, keep them from exhibiting responsive behaviours, such as exit-seeking, things like that. I also recruit and coordinate our volunteers."
A typical day starts at 8:30 am, during which Brittnei assists with breakfast, takes care of the in-house pets, facilitates four different programs and completes administrative tasks.
"What I like best is spending individual time with the seniors," she says. "I call them our forgotten treasures, because we often don't spend as much time with them as they need, and they don't get as much warmth and love as they need, so I try to spend as much time individually with each person as I can, and give them that warmth and human connection that they often miss out on."
Advice for others
"I would tell them to always remember why they got into the field in the first place, and always hold on to that," Brittnei says as words of wisdom from her experience. Her specific reasons were helping people, which she considers to be the main aim of the Recreation and Leisure program.
"It's really important for everyone to remember that recreation is about making each other smile," she says, "and I think that's something that's really important to remember and always hold on to, and that's what the whole field is about. Whether it's working with children or with seniors, it's about making that person smile and enjoy their life to their fullest ability."