QUESTIONS
P.O. Box 631 Station A
Toronto, ON, M1K 5E9
How the Virtual Hospital Healthcare Experience turns nursing into a game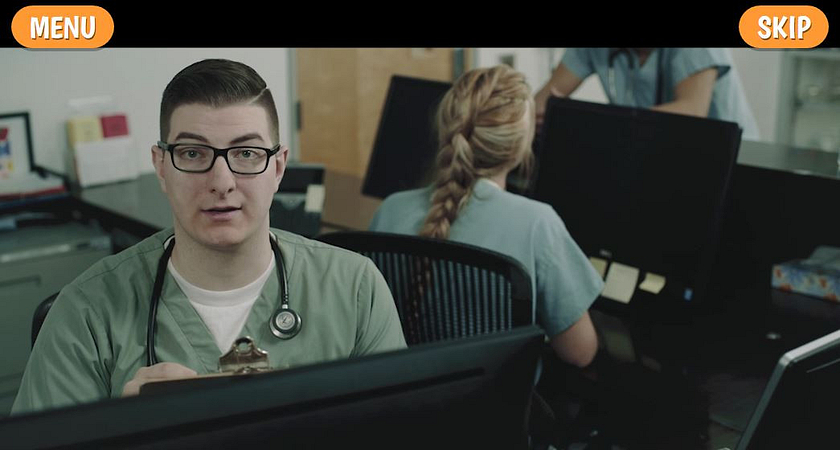 Nursing isn't a game, but learning how to become a nurse can be one. Centennial College prides itself on its modern nursing programs, where we're always looking for new ways to learn. One of these ways is to use the power of video games, and create a virtual learning platform for our nursing students.
Called the Virtual Healthcare Experience (freely available here), it's a game that puts you in the shoes of a working nurse. You pick an area of the hospital, and engage in a story where you make use of the medical and nursing skills you have learned to make choices, changing the story as you go. Right now, there's four areas: Emergency, Pediatrics, Maternal and Child Care, and Mental Health. This game is the product of a collaborative effort involving the staff and students of Centennial College, along with other schools. Here's how the game was created, and the impact it's having on nursing students all across the school.
How it got started
Margaret Verkuyl is a nursing professor at Centennial College, and one of the original architects of the game, along with partners from other schools.
"The virtual game started in 2013 as a collaborative effort between Ryerson University, Centennial and George Brown," Margaret explains. "We received an innovation grant, we joined with the Chang School at Ryerson and created our first game, and it evolved from there."
"The reason we wanted to do it was for our students," she says. "It's a challenge getting clinical placements in certain areas. For example, there's a Pediatric game, because students had trouble getting a pediatric experience."
The game doesn't use computer graphics, and instead uses live-action video to tell its stories, in order to make players feel more immersed.
"If there were humans in the game as opposed to an avatar," Margaret says, "students would feel more connected to it, and perhaps more immersed in it. We wanted to add gaming elements in order to engage them."
Making the game
Since 2013, more and more stories have been added to the Virtual Hospital, and its makers have figured out a good system for making each one, improving as they go.
"During the summer, Marg and I developed our script," says Michelle Hughes, another Centennial College nursing professor who came onto the project later on, and has helped create some of the more recent games. "As we developed it, we sent it to our team, who are experts in the game itself, as well as ER nurses who are also experts. Then, we brought it to the Chang School to see how we're going to film it. Once it gets to that level, all of the gaming elements come in, so what are the angles of filming, how we are going to make sure what's captured is still realistic to nursing."
"It's quite intricate, very involved, and we want to make sure the final product is realistic, yet engaging and fun," she adds.
Getting students involved
While the main speaking roles in the game were played by hired actors, Centennial College nursing students helped add to the realness of the game by playing many of the smaller roles. One of the performers was Renee Shugg, a student in the Bachelor of Science in Nursing Collaborative Nursing Degree.
"I first got involved when I was in school in my second year, when I was able to use one of the virtual simulations to augment my learning in the program," Renee says.
"I told Margaret that if she ever needed help creating another one," she says, "to let me know, and I was more than happy to get involved and be a part of it. I got to be a Charge Nurse in this one, and it was really exciting."
"My involvement included performing as an actress within the scenes," she explains. "While we were there, all of us got to partake in watching the scenes, and helping to critique each other, to make the scene and the flow of our interactions better."
"This new one is an Emergency Room simulation, and takes you on different pathways," she says about her role. "Because I'm a Charge Nurse, I'm in and out of various scenes."
How the game helps students
Many of the nursing programs at the college have students play games from the Virtual Hospital as a part of the program, including Renee, who still uses what she learned on the job.
"It's great, because we were able to experience different placements that not all of us were guaranteed to get," she explains. "So, say I was placed in long-term care, I'd be able to go and do the mental health simulation, and get the experience of what that might have been like."
"Within my clinical placement, I was fortunate enough to get a Labour and Delivery positon," she says, "so I used the Labour and Delivery simulation to help prepare me. It really gave me knowledge of what to expect, what kind of patients I might be seeing, and it highlighted what I should review, which I found really helpful." She now works in Labour and Delivery, and continues to use what she learned.
What's next
For now, the team will keep adding more stories to the Virtual Hospital, as well as design new versions of the game for schools around the world.
"We're partnering with Belgium, the Netherlands, Finland and Spain to make more games, and they'll have an international flare to them," Michelle says. "That'll be an interesting learning curve, because all of the healthcare systems will be different, and all of the roles of the professional players may be different, but the concepts will likely be similar."
"The student reaction to the game has floored me," Margaret says. "My students play these games, often more than once, and they say they showed their family members and friends. They're so engaged in it, and really feel immersed in the experience."
"Students actually gave us ideas about the next game," she adds, "and what they felt they were missing after four years of nursing school." These future topics include palliative care, communication, and the operating room.
"That's the beauty of nursing," Michelle says. "It's so large and diverse that we can go on forever."
By: Anthony Geremia