QUESTIONS
P.O. Box 631 Station A
Toronto, ON, M1K 5E9
How to Get a Career Where Fashion is Your Business: Nancy Baltazar and Fashion Business Management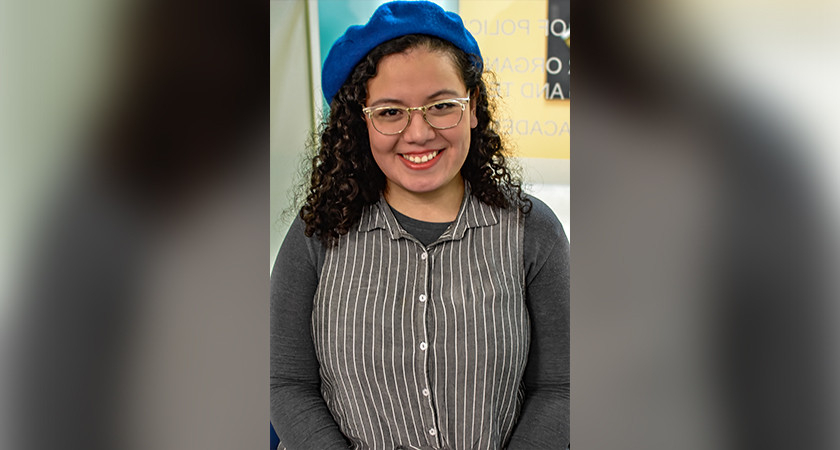 A lot of work goes into the clothes you wear, and from that work comes a career in Fashion Business. If you want to get into fashion, there's a lot more to it than just designing nice clothes. Meanwhile, if you're into business, fashion represents an entire industry out there for you to work in. Fashion Business and Management blends the two to make you into someone who knows both sides of the industry. And if you want to start your own business, like Nancy Baltazar does, then knowing the business side of fashion will help you make that happen.
Nancy was originally from Mexico, where she'd already earned a degree in Fashion Design. But she wanted to learn more – she wanted to start her own business. Nancy was looking to learn how to turn the designs she made into mass marketed products. To do that, she came all the way to Centennial College in Canada to enrol in our Fashion Business and Management program.
Coming to Canada
"It was very challenging, but I always knew that I would have opportunities here, and I did," Nancy says about moving to another country to study. "Back home, there was no program that gave me the tools to do what I wanted to do in the future, which is starting my business. That's why I chose Canada because they were offering a lot of programs that teach those tools, and I particularly chose Centennial because I thought that the program was very well-constructed. It does provide you with all the information that you need to jump onto the other side of the design and creative process, and just take all that and make a business out of it."
What she learned
While in Fashion Business and Management, Nancy learned how to design, manufacture and sell fashion. She learned through a lot of practical, real-life activities, like when she worked with a group to design socks for Business School students, and then contacted a company to make them, which you can read about here. Nancy also had the chance to volunteer for real fashion business activities.
"Last semester I was a part of a Career Fashion Talk, aimed at teaching students how to dress up for job interviews, or workplace environments," she says as an example, which you can read more about here.
Improving the program
Fashion Business and Management is a new program and the School is always looking for student feedback to help improve their programs, inviting students to take part in its Program Advisory Committee. Nancy took part in the committee, ensuring future students get even more chances to learn firsthand about the business of fashion by experiencing the hubs of the fashion business — Paris and London.
"The next group will get to travel to Paris and London, which are great opportunities," Nancy says. "As a part of the PAC, I mentioned it, and now the College is actually making it real, so it's great to see that they take our feedback and input."
"It's a good opportunity for people who want to enter the program," she adds. "It's great to get out there and see cities where fashion is really important."
On the Job
Now in her final semester of the program, Nancy is out in the field working at a paid placement where she gets to apply her fashion and business skills.
"My placement is at a small shop," Nancy says. "It's called Lilliput Hats. It's a small business, and I've always enjoyed working with accessories, so it's a great place to be."
"I'm part of the production, mainly, so it's really great to see how things are done," she says. "I'm dealing a little bit with wholesale orders as well, and just making sure that everything's well-done and on-time. I'm learning about materials, and learning how to deal with customers as well."
"I feel [what] I'm learning the most – and the thing that's more challenging – is interpersonal relationships with the customer," she says. "It's not easy to deal with so many different people. You have someone that's a very easy customer, and then you have someone that has no clue what they want, so it's trying to deal with those personalities."
The Future of Fashion
Once Nancy has finished her placement and graduated in April, she plans to waste no time in realizing her dream of starting her own business.
"I really want to start my own thing as soon as possible, having my own business, because, at the end of the day, that's why I picked this program," she says. "Maybe I'll start something online, or explore what I can do with my brand."
As for other students looking to follow in her footsteps, Nancy thinks both fashion students and business students need to consider this program. A lot more business goes into the fashion industry than one might think, and there's a lot of opportunity for a fulfilling, inventive career.
"I think sometimes we attach meanings to fashion and don't think we're going to be dealing with a lot of numbers," Nancy says. "But, when you're in a business setting, you have to. Just have an open mind about all the possibilities that are within the fashion industry."
By Anthony Geremia