QUESTIONS
P.O. Box 631 Station A
Toronto, ON, M1K 5E9
How to get a global education for a global career: Laura Bunce and Interactive Media Management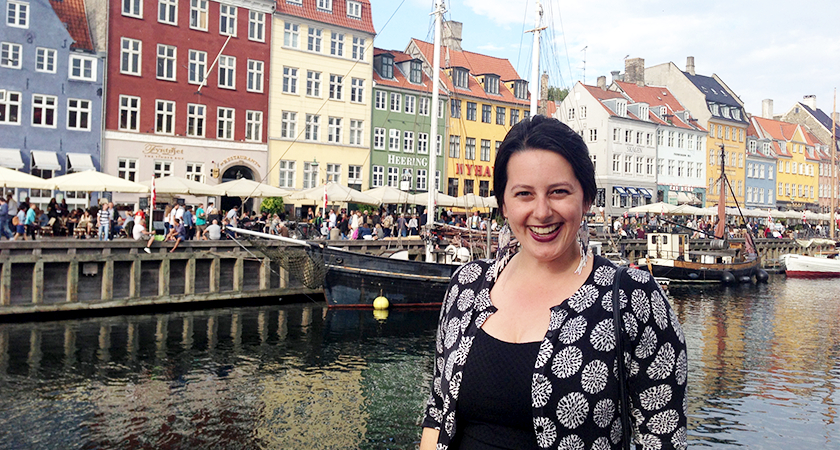 These days, so much of our shopping, business, health, banking and other essentials take place online. This means that a great user experience is more important than ever. How do you create it? You put people first.
That's the role you learn in Interactive Media Management, a postgrad program at Centennial College. The program teaches students how to create delightful interactive digital experiences for everything from websites to self-driving cars. It's a surprisingly creative career, too, with plenty of room to leave your own artistic mark on the media you design.
In fact, that's why Laura Bunce decided to study Interactive Media Management, using her studies to pivot to a career that makes use of both her creative and analytical skills. Over the one year program, she designed her own app, participated in a summer internship program, and took her education abroad, travelling to Denmark as part of a special Centennial College program. Here's her story. It can be your story, too.
Coming to Centennial
Before entering the digital media world, Laura studied environmental engineering and worked as a noise scientist, but she was craving a more creative position. She was motivated to find a career that fit her better, but she admits that leaving the one she had was a tough process.
"Leaving a career to do something new can be quite stressful and definitely scary," she says, "But I think that if you're pursuing your passion, that people will always be excited for you, and it's definitely something that you should do."
As for her choice of Centennial College, Laura received a recommendation from a friend who went to the school for public relations.
"He told me it's one of the best decisions he's made in his career, and that it gave him a new level of business insight," she says.
Learning to put the user first
"It's mostly focused on the whole idea of user-experience design and putting the user first," Laura says of the Interactive Media Management program.
"I struggled the most with content," she says of the challenges of the program, "coming from an engineering background, I put math in front of language for five years as I was studying. So to come back and have my writing scrutinized was tricky, but I really felt my writing improve over this past year."
And what she found the most useful? "Thinking about what the problem is in terms of how you're going to change someone's life," she says. "How are you going to make a piece of their day better by fixing it? How am I going to affect them by giving them this product?" Eventually, she'd get a chance to design a product of her own.
Making her own app
"In the first semester, you learn the basics of how to build an interactive tool or program," Laura says, "and the second semester, you get to build whatever you want, and it's called your senior project." In her case, she'd develop an app called Breadcrumbz, which lets travelers mark locations they've visited with "crumbs." The user can then leave a short description, a picture, the date they visited and use tags to describe what's there, and also tag it as a favorite.
"I've done quite a bit of traveling," she explains. "We were just talking about how unique the experience is when you go, but how you tend to forget where you went the next couple of years. How easy would it be if you just left crumbs as you traveled?"
"Right now, it's a high fidelity prototype that's not actually coded, so the next step would actually be to get a coder to develop it," she says. "I have to look more into funding and resources. I know there's some opportunity through Centennial College and the ACCEL program."
In the meantime, though, there's something a bit more pressing: Her field placement.
Learning in the field
The Interactive Media Management program runs for nine months and is followed by a 10-week field placement. Laura managed to snag one at Ontario Nature, where she'd get a chance to use her newly-developed media skills.
"Ontario Nature is an environmental charity that tries to protect wild species and wild spaces," Laura explains. "The reason I was really excited to come here is because I have an environmental background."
"What they're doing over the summer is a total revamp of their website," she continues. Laura has helped with the design process by auditing the current website, monitoring analytics, creating user personas and providing her insight on best user experience (UX) practices.
Taking her education global
Three weeks into the internship, though, she'd depart for another unique opportunity. Her education would take her to Denmark, to be part of a Centennial College Faculty Lead Internship Program (FLIP) called Beverage Marketing Summer School. She'd had to apply for it through the college, and was selected from a pool of students to go on the journey.
For two weeks, she'd test her skills in a real-world situation, working with a team of Canadian, Danish and Belgian students to create a marketing strategy to help Muskoka Brewery break into the Danish beer market. It was a real problem for which they needed to provide a real solution.
"The coolest part was getting to work in a small group with people from a different culture," she says. "There are so many little things we do differently. There's a lot of collaboration culturally, and often we'd stop working to have conversations, and I learned so much about Danish culture working there."
"The project was a little difficult in terms of the timeline," she adds. "To only have about two weeks to put together a whole go-to-market strategy… but I got the sense that our teachers were taking elements from each of us that I thought would be successful and sending it back to the brewery."
"Now," she says, "I can't look at something in a store without thinking of someone in a room saying: Would this product do well in Canada? What part of the store should we put it in? Those things weren't in the forefront of my mind before."
What's next
Laura's now back in Canada, is nearly finished her internship, and looking to get into the job market, with strong ideas of where she wants to go.
"Right now, I'm looking to get a user experience design position," she says. " I'm most interested in doing something related to strategy if I can. I would try to do something environmental, but that's not necessarily a priority. In the next five to ten years, I want to work in a senior UX role, maybe do some freelance consulting."
One thing that's making it easier on her is how applicable her education is to a whole bunch of different careers.
"My experience coming from engineering and going into user experience, I thought I was going into a whole different world," she says, "but UX fits well with almost anything. It's just a way of thinking that's giving you a different perspective. It's been a really powerful course for me, and I think it's going to take me places."
By Anthony Geremia