QUESTIONS
P.O. Box 631 Station A
Toronto, ON, M1K 5E9
How to turn what you love into a career: Brandon Ramdial, Youth Justice and secrets of success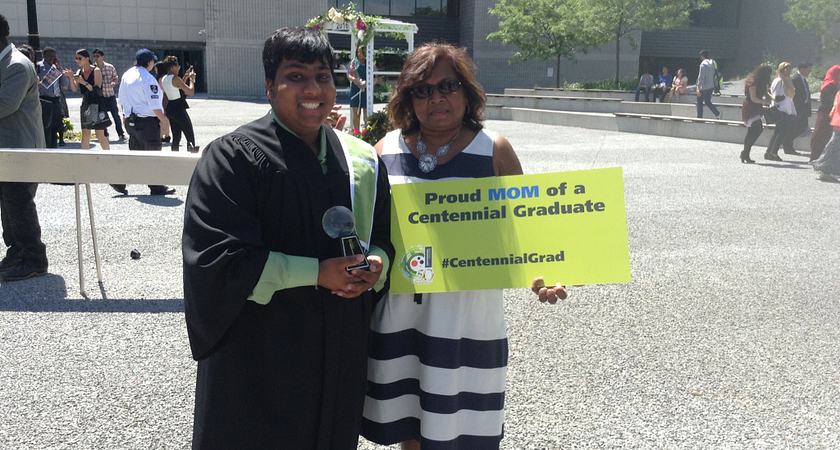 At Centennial College, we enable people with dreams of justice to become agents of social change, through programs like Community and Justice Services, which teaches those fascinated with law and crime to help at-risk people and communities through practical experience and industry connections. Brandon Ramdial graduated from Community and Justice Services in 2016, and took what he learned, using it to develop a career that currently has him working at the Ministry of Children, Community and Social Services in the Youth Justice Services Division. Here's how he turned his interest into a career, and how, with Centennial College, you can do so, too.
A valuable program
"I've always been interested in the law," Brandon says. "I took social science and law courses in high school, and always had a passion to work in the law field."
Through a recommendation from a friend, that interest would lead him to Centennial College, and its Community and Justice Services program.
"The fact that they had placement meant more," Brandon says, "Because I was able to get real life work experience in the field. "
Practical experience
"There are a lot of ways for you to get involved and get experience in the real world, and they were able to bring people from different agencies into the classroom to talk about what they do, and their own experiences," Brandon says of the practical aspects of the Community and Justice Services program. "One part of the practical experience was actually going to the justice-based locations and settings themselves and learning about the different agencies and institutions we can work in. As well, most of our professors came from the field and taught us about the places they worked in and integrated that knowledge into their teaching."
"There's one course called Building Community Partnerships that's offered in the third semester of Year 2 in the program," he adds, "and we actually went out into the community and met with community leaders and police liaison officers to get an understanding of the issues that affect our communities, whether it be the communities are marginalized, low income, or community housing and develop strategies on how we can resolve issues using partnership-based approaches."
"The most important things I learned in the program was my communication and networking skills," he says. "Communication is one of the most valued skills in the field."
"A lot of our clients have been through traumatic or stressful events," he adds, "so being able to de-escalate conflicts and demonstrate empathy to our clients is important."
From placement to career
"I'm happy to say that Centennial's program has more than 200 placement agencies," Brandon says. He'd complete two as part of the program, his first being at Operation Springboard, in their Youth Justice Attendance Centre, and his second one being at the Director's Office at the Ministry of Community Safety and Correctional Services.
"I can say that through all my experiences, I networked with a lot of different people, from police services to probation," he says about his placements. And that is what would get him a job after he'd graduated.
"A position opened up for the Toronto Anti-Guns and Gangs Unit with the Ministry of Community Safety and Correctional Services," Brandon explains. "It was a part-time position that was being offered, and since I did my placement in the Regional Director's Office, they called and asked if I wanted it." Since then, he's advanced his career to much bigger things.
"Right now, I'm the Administrative Assistant to the Director of the Planning and Program Development Branch for the Youth Justice Services Division," Brandon says, "so I coordinate and streamline the Branch's administrative processes for the Director's Office. We have four units under our branch which includes an education policy unit, a strategic policy unit and a mental health and specialize client services unit. Collectively, these units develop and provides strategic input, material and recommendations related to youth justice policy for the Division."
Scholarships: Giving and Getting
During his time at Centennial, Brandon received three major awards: The Ed Blazo Memorial Scholarship for the Community and Justice Services Program, the Centennial Citizenship Award, awarded to a student with good academic standing, and the School of Community and Health Studies "Rising Star" Award in the Leadership category. Because of this, Brandon was inspired to give back to my community, and established the Brandon Ramdial Building Leaders Scholarship, awarded to a student (either domestic or international) who has built their leadership through college involvement and community service.
"The main takeaway that I wanted to get out of creating this scholarship," Brandon says, "was that anyone could win it regardless of your student status, program, or career interests. Leadership is a huge competency that students develop during their post-secondary studies and I wanted to create and build a scholarship that reflected student leadership in an influential and dynamic way." So far, the scholarship's been awarded twice, and there will be a third award in early 2019.
Brandon's secrets to success
"Every time I was in a position, I was constantly learning something new in the field," Brandon says, when asked about how he managed his career success. "I was also able to use the knowledge that I gained from Centennial College in the field."
"I would tell them to get involved in the college setting," he says, when asked for advice for any other aspiring students. "Most of my experience came from the college setting."
"I did commendable work as a Board Member and Campus Director for the Centennial College's Student Association," he explains. "I was also involved with a lot of leadership activities with the student relations and student success department."
"Getting involved in making those connections as a new student is important to your success and career after you leave Centennial," he adds. "If I didn't get involved, I wouldn't be where I am today. Being able to show your traits and show your skills is a great way to leverage how you want to plan your career."
"Being involved at the post-secondary level, whether it be volunteering or student government makes a huge impact," he says, "because it shows your ability to work with those around you, and boosts your reputation as a community and student leader. I do believe every student can be a leader, they just need to take advantage of the opportunities presented. I've never left an opportunity unturned, and explored every opportunity, whether it was life-changing or experiential, and I encourage others to do the same."
By Anthony Geremia