QUESTIONS
P.O. Box 631 Station A
Toronto, ON, M1K 5E9
How your school connects you to professionals: Hannah Burgé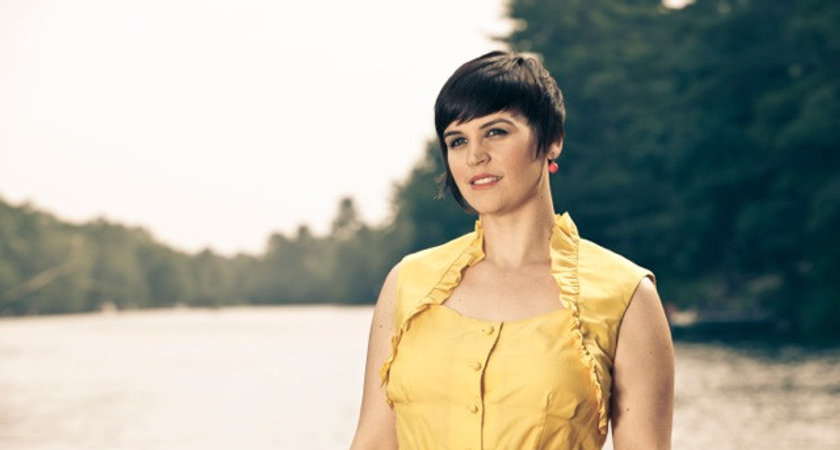 A hallmark of education at Centennial College is its instructors. Whenever possible, the college puts students in front of industry professionals with real-world experience to pass on. Such is the case in the school's Music Industry Arts and Performance Program, designed to not only nurture and grow musical talents but to give students a taste of the business side of the industry. Of course, this requires knowledge from people who've been in the musical game. Hannah Burgé knows a thing or two about the music industry, being a classically-trained pianist, a touring member of the Nathaniel Dett Chorale, and jazz vocalist since 2004. On top of that, her debut album, Green River Sessions, which blends jazz and world elements, was released in December, 2014.
It was this real-world experience that would lead the school to actively seek Hannah out. "I received a phone call from Jenna Burke," Hannah explains, referring to another member of the program's faculty, "who had been working with Jesse Feyen, the program lead. They saw some of the things I had done listed on social media platforms, and my performance history. Jenna reached out to see if I'd be interested in working at the school."
The college's efforts to hire professionals like Hannah were due to an expansion in the Music program. According to Hannah's (unofficial) estimation, "the program ballooned this year, there's a 100 per cent increase in students."
While releasing an album and simultaneously teaching is quite the challenge, it's a challenge Hannah is use to, simply due to Green River Sessions' long gestation period. The 2008 recession scuttled early plans for a release, causing her to slowly work on it until 2013. "I've been working on this record for a long time," she explains, "so I've been releasing an album while raising children, while completing a Master's Degree, and while teaching at the college. The vision and the dream of this record has kept me inspired for the last five years."
While not intentional, Green River Sessions wound up becoming a Centennial affair, with music performance instructor Paco Luviano serving as a producer, and audio engineer, Ron Skinner, recording the original band performances at CBC Studios.
From performer to teacher
"I teach vocal education," Hannah explains of her role at the school. "I have a number of students and I teach them vocal health, performance practice, and musicianship training."
She sees it as a natural extension of her musical career, and a way of giving back for the support she received over her life. "I think that they go hand in hand," she says of musicianship and teaching, "and I was fortunate enough to have really excellent education from a number of great musicians in the industry; I feel I'm falling in line with mentors who went before me."
"I had a very inspirational high school music teacher," Hannah admits, "and I was planning to be just like her. After I finished my undergraduate degree, I found that my interests had veered towards performance, and I received words of encouragement from people already in the business."
In the classroom, she emphasizes the same "music-and-business" message of the MIAP program. "Every musician is an entrepreneur," she states firmly. "When I was in an undergraduate program schools were not teaching the business aspect. After I finished my first degree, I started business training, then marketing, then registered for inter-and-intra-personal relationship courses, and conflict management training." Her vocal classes are part of a program that aims to combine all of these needs in one place:
"Frequently, students learn these skills separately," she continues. "They'll take a class in theory, business, technology, and a class in their instrument of choice. No one course is a be-all-end-all, everything works together."
"I try to give the students a holistic view," she adds. "Students are more aware than ever of how to reach out to their peers through social media in order to promote a performance. But, they are still asking the question: "how do you become a truly great performer?" She, along with the rest of the instructors in the program, are aiming to answer that question.
Wise Words
Being a recording artist herself, Hannah aims to pass real-world wisdom to her students. "It all matters," she says, "everything you do matters. When you take music training, you use it. When you learn about social media, through online training or classes, and when you take English Literature courses, everything adds to who you are becoming, and what you can present through your music."
"Get all that you can get," she says to her students. "You have more time now than you ever will in your whole life –practice as much as you can, learn as much as you can, get as much training now as you can, because you will need it all, and this is the perfect opportunity."
By teaching students the lessons acquired from her experiences, Hannah will become a part of that opportunity.