QUESTIONS
P.O. Box 631 Station A
Toronto, ON, M1K 5E9
HYPE program opens doors for local youth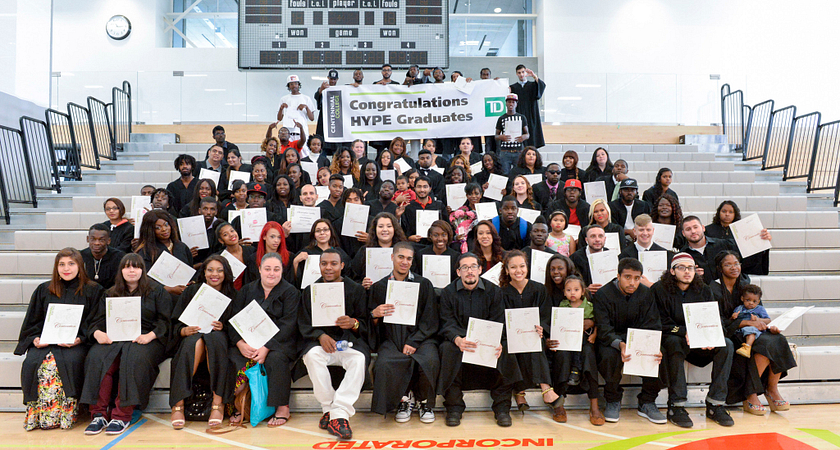 Almost 120 young people sacrificed a bunch of sunny days during an all-too-short summer to participate in Centennial College's HYPE program – Helping Youth Pursue Education – a tuition-free learning experience that can open doors to a bright future.
Over six weeks this summer, the students aged 17 to 29 participated in seven career-oriented courses in business fundamentals, human development, automotive technology, esthetics, digital media, green energy, and baking and entrepreneurship. In addition to free tuition, participants received transportation, learning materials and lunch at no cost.
"For some, taking part in the HYPE program is the first positive school experience they've had in a long time," said Anthony Bertin, manager of Centennial's Community Outreach Office. "Our initiative promotes education attainment by reducing barriers to participation for youth living in under-served Toronto neighbourhoods primarily in the east end."
The HYPE Class of 2014 was recognized for their achievement at a special graduation ceremony at Centennial's Progress Campus on August 7. Class valedictorian Nicole Glean addressed the students and their family members in attendance, who cheered as Nicole recounted her own educational journey.
"In such a short time, I've accomplished more here than in my whole life. I mended my past experiences, rose above them and figured out where I want to be," she told the supportive crowd. "I'm coming back in September to study Hospitality Management!"
TD Bank Group announced a $250,000 commitment to support the program over the next three years. In addition to helping fund the program, TD provides student workshops to promote financial literacy and increase awareness and competency in personal financial management as the exclusive financial partner of HYPE.
"The HYPE program provides a free learning experience to youth and encourages them to recognize and strive for their potential," said David Sloan, Senior Vice-President and Ombudsman, TD Bank Group and past Chair of the Board of Governors of Centennial College. "We are very proud to support such a program allowing youth the opportunities they may not otherwise have access to – because when we invest in our young people, we are investing in the future of our communities."
More than half of the youth participating in HYPE come to it through recommendations from family and friends. Centennial also works with local community service agencies to identify young people who could benefit from the program, which includes free transportation, meals and learning materials. One-third of the more than 1,000 young adults who have graduated from HYPE since its inception in 2004 have gone on to post-secondary education.