QUESTIONS
P.O. Box 631 Station A
Toronto, ON, M1K 5E9
Imade Emwindaru: Centennial College's 2015 Citizenship Award Winner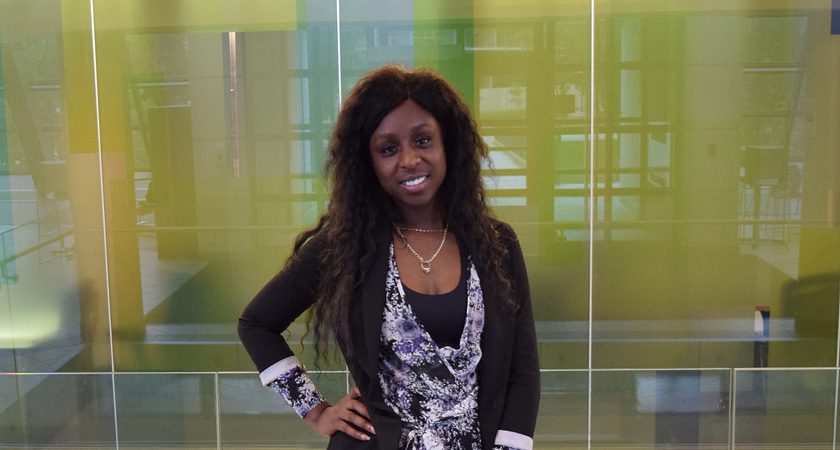 Centennial College enables its students to find both personal and professional success, not just with our programs and courses, but with opportunities for personal growth outside the programs. The school gives recognition to students who take these opportunities, and one such student is Imade Emwindaru. A graduate of the Child and Youth Care program at the college, she was presented with the Centennial Citizenship Award, given to graduates with a reputation for mature interpersonal relations, a record of active participation in student activities and good academic standing. Here's how her journey led her to the award.
Finding a path
"After I graduated from high school, I went and took Social Service Worker at another college" Imade says of her prior education. "I didn't feel like I was ready to be in the field. After that, I just worked retail for two years, and was looking for a job like crazy, and decided it was time for me to go back to school."
However, she decided to make an adjustment to her career aspirations by aiming to become a Child and Youth Worker. "I've just always been drawn to children and youth, and they have been drawn to me," she says. "Children and youth are our future, and they are the path that we should be focusing on, because they're the ones that make the future."
"Even with social service, I found myself always working with kids, but because it was social service, I didn't have the skills to work with them," she continues. "I knew how to play with them, but I didn't know the importance of a therapeutic relationship, or how to deal with disruptive behaviour."
There was a personal angle to the choice, too. "I come from a background where I had social workers and child and youth workers intervene in my life," she says. "and I probably wouldn't be where I am without them, or at least they tried to help me in any way possible."
Child and Youth Worker
What struck Imade the most about Centennial's program was how relevant the skills it taught would prove to be. "Every course in my program helped me out in the field," she says. "In all my placements, there wasn't a time when I couldn't use it."
These field placements, aside from giving her the chance to use the skills she learned in class, would teach her additional ones. "I was fortunate to have three placements, one in each year," she explains. "In the first year, I was in a behavioural class, and it dealt with children with Attention Deficit Hyperactivity Disorder and behavioural issues. For my second year placement, I was fortunate to do it at Children's Aid Society in their residential program. And my last one, which was really outstanding, I got to do at CAMH, the Centre for Addiction and Mental Health. I did everything from teaching children social skills, to helping children deal with their anger and a whole bunch of other things."
"There's only so much you can learn in class," she adds, "and once you go out in the real world, if you can't apply it, it doesn't work. So, I took a lot of things from class that I was able to try out there, and vice versa. It really rounded up my professional skills."
But there was more to her education than simply the program, and she chose to take advantage of the other opportunities presented to her, as well, including going on a GCELE (Global Citizenship and Equity Learning Experience) trip to Arizona and Mexico.
"My experience with the college has been the most rewarding," she says. "The school offers so much. I got to do a GCELE, which was the biggest eye-opener ever. It really assured me in what I wanted to do in life, and gave me more of a drive and more of an understanding of things that are going on globally, so when Centennial says they create global citizens, they're telling the truth." In the end, it was her involvement with these extra activities that would lead her to receiving the Centennial Citizenship Award.
Getting the award
"One of the friends I made from the GCELE program nominated me and said some really great things about me," Imade explains. "It was just amazing, because we were only together for about 14 days, and we've remained close friends ever since."
While the Centennial Citizenship Award was presented to her at her convocation, she didn't initially recognize the significance until afterwards. "Even after I received the award, I didn't realize that it was based out of the whole school," she admits. "It's a great feeling knowing that you're recognized for all these things."
"I think it was my interpersonal skills," she says about her win. "I find I have a good relationship with pretty much everybody, even the faculty. I'm always reaching out to them. I did not necessarily know that there was a reward system behind all of the things I did, but Centennial gave me so many opportunities to do and be a part of, and I took advantage of them all."
"My confidence level is up there," she says about the award, "so I feel there's nothing I'm not capable of doing. These awards have reassured me on my career path choice."
Looking to the future
"I will be continuing my education, so I'm going to get my bachelor's in social work," Imade says about her plans. "In terms of being in the field, I have made good relationships with my placement at CAMH. I'm still in contact with them, and that's going really well. I also recently got a job with the city."
Imade advises other students pursuing the same education to venture outside their course and pursue the additional opportunities for growth the school offers, as she did. "Centennial is a school that has a lot to offer, and you'd be crazy to pass any of these things up," she says. "Take part in anything and everything."