QUESTIONS
P.O. Box 631 Station A
Toronto, ON, M1K 5E9
Indigenous Social Service Worker Professor Breaks New Ground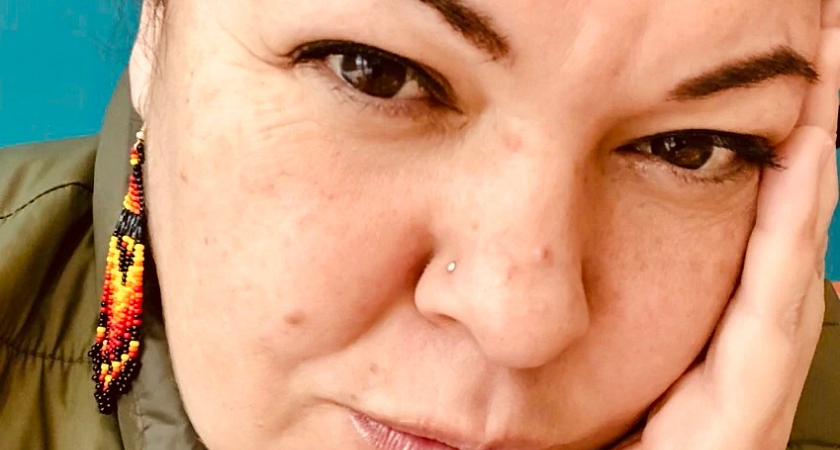 Shortly after being hired at Centennial College in March 2019, professor Leigh Simpson was asked to lead a series of workshops the College's Indigenous Strategic Framework. Following the successful event, which engaged about 100 faculty and staff in storytelling and lectures, Leigh had a moment of reflection. For her, Centennial, along with many other institutions, is still in the truth-telling stage of the Truth and Reconciliation process. Today, this personal recognition continues to inform Leigh's work at and beyond the college.
"There needs to be a certain level of safety for reconciliation to begin, and I think that can't happen until everyone can understand and own the truth," says Leigh, a Centennial graduate who started her teaching profession in the College's Indigenous Studies: First Peoples in Canada Certificate program before becoming the full-time Indigenous Social Service Worker (SSW) professor.
"I talk to my students about 'reconcili-action', which is a process with lots of steps. Questions to consider include: What does it mean to be an ally? What is my role towards reconciliation? Some of my work examines these questions."
In fact, taking a thoughtful approach to actionable steps is one of the reasons Centennial's SSW program has started to incorporate Indigenous content into its courses. It's an initiative in which Leigh plays a key role as she is responsible for mapping Indigenous theories and ways of being into college courses. To take her work a step further, Leigh has designed a second-semester course around an Indigenous approach to social work. The newly approved curriculum will launch in January 2021.
"In creating the course, I took an Indigenous approach and community perspective, interviewing Indigenous social workers from Toronto to Algoma, as well as chiefs and councils from reservations," says Leigh, who is Anishinaabe-que from Serpent River First Nations. "The topical themes include the idea that to understand the worldview perspective, you have to understand the land through land-based learning. The first four weeks of the course will actually take place on the land, which makes it easier to grasp concepts like treaties."
The college course was also influenced by Strong Helpers' Teachings: The Value of Indigenous Knowledge in the Helping Professions by Cyndy Baskin and through consultation with Program Advisory Committee members who believe SSW field placement students will benefit from the knowledge of worldviews and land-based healing prior to engaging with Indigenous organizations. In this way, says Leigh, the course plays a role in the Truth and Reconciliation process.
"If we want students to make a positive impact within the Indigenous social service provision, we need to be better preparing them to culturally service their community and clients," she says. "If you look at the colonial history of social work and Indigenous communities, it's very problematic. I see the course as a way of repair."
Outside of Centennial's classrooms, Leigh lectures at various institutions and is consulting on the A-Block building expansion at Progress Campus — a unique timber construction project that will feature spaces that support Indigenous ways of learning and being. She was recently a keynote speaker at a Ryerson University-hosted lecture on Indigenous worldviews concerning finding solidarity through connection within the current social climate of COVID-19, Black liberation and Pride. She says at Centennial, and beyond, such spaces are crucial for Black, Indigenous and People of Colour (BIPOC) community members to safely engage in dialogue.
"I think it's important to examine what are our experiences, and why aren't there many spaces to troubleshoot?" says Leigh. "Every institution needs to be creating these spaces for dialogue to happen and once that's in place, then allyship can form."
Written by: Izabela Szydlo