QUESTIONS
P.O. Box 631 Station A
Toronto, ON, M1K 5E9
Indigenous Studies e-Textbook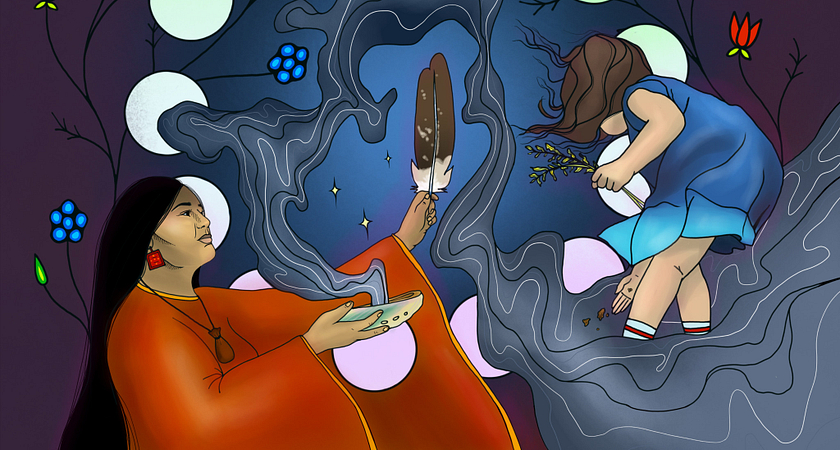 Cover Art by Chief Lady Bird and Aura
In 2014, Centennial College's School of Advancement led the development of the Indigenous Studies: First Peoples in Canada stackable credential program. As a component of this programming, we developed an Indigenous Studies eTextbook entitled Our Stories: First Peoples in Canada. This textbook endeavours to tell the truth; the truth about the time before the settlers, the truth about the experiences of Indigenous communities, clans, and Nations, and the truth about the impacts of colonization and the journey of reconciliation on Turtle Island.
This eTextbook required tremendous sensitivity and respect for Indigenous culture, and involved a number of internal and external stakeholders. The stories that informed the etextbook were gifted to Centennial College by citizens of Nations and members of Indigenous communities. We recognize that these are not our stories and we claim no ownership of them. We express our gratitude to those who shared their stories with us.
As with all major undertakings, many people contributed to the success of the eTextbook, the product of their unique talents, skills and gifts. We gathered more than 30 interviews from Indigenous community members, who shared their personal stories. The generous contributions of Centennial faculty, staff, students and the many Indigenous community members who support the College provided a strong collaborative foundation for the project.
The content was edited by Truth and Reconciliation Commission Ambassador, Len Fortune. In addition, our own students worked on video editing, photography and graphics for the textbook. Our Library was instrumental in clearing copyright and providing the citation of images. Renowned Indigenous artists Chief Lady Bird and Aura designed the cover page. Generous funding from eCampus Ontario and financial assistance from Centennial's Office of the Academic Vice-President and Chief Learning Officer made certain a project of this magnitude was possible.
This textbook aligns with the College's Indigenous Strategic Framework. We are honoured to have been able to produce an open educational resource, which is freely available to all who are interested in hearing truth through storytelling. This etextbook can be accessed electronically through ibooks on Apple devices, ePub on PC and Android devices, and in a PDF format. If you have any questions, please email ourstories@centennialcollege.ca.