QUESTIONS
P.O. Box 631 Station A
Toronto, ON, M1K 5E9
International Team Effort To Tackle Global Energy Poverty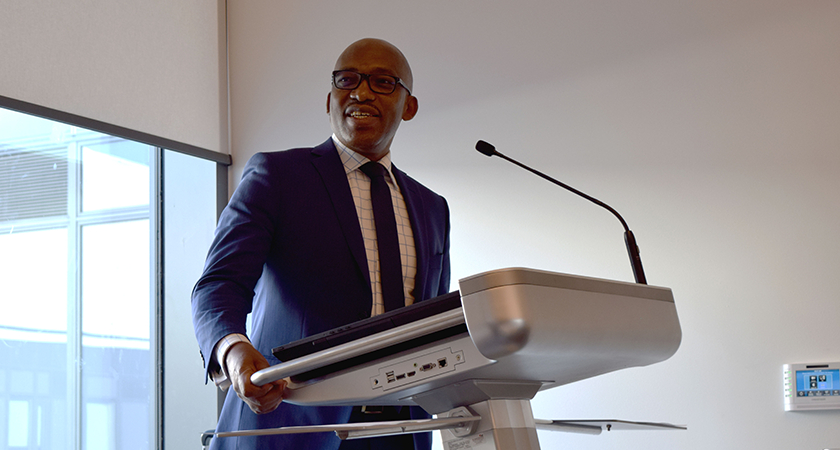 There are many ways to define poverty, and they differ depending on where in the world you are, but when it comes to the basics – access to electricity, clean cooking facilities – they are the building blocks required to grow economies. And yet many people face challenges. Access to energy is a critical component of international development, and it's incredible to think that more than a billion people on our planet have no electricity.
As part of the College's mandate to lead the conversation regarding what it is to truly be a global citizen, Centennial hosted a very special guest on February 17 to help transform words into action: Professor Thandwa Mthembu, Vice Chancellor of South Africa's Durban University of Technology, a school that's similar to Centennial in terms of full-time enrollment, as well as its forward-thinking vision.
After introductory remarks by Dr. Rahim Karim, Centennial's Associate Vice President, Partnership Pathways and Internationalization, Professor Mthembu briefly sketched his team's research group on renewable energy and its contributions.
Like Centennial College, the Durban University of Technology has wind- and solar-powered outdoor lighting systems installed and solar chiller units similar to ones currently being tested at Progress Campus.
Professor Mthembu touched on off-grid wind and photovoltaic hybrid system solutions to power local schools, and explained the energyDRIVE project, a customized mobile truck equipped with wind turbines and photovoltaic panels, "which takes the form of a roadshow," travelling to rural schools and vocational/training colleges to build awareness about access to electricity.
According to Professor Mthembu, it's important to "raise awareness and give hope for the future" and the Vice Chancellor emphasized that we should be "doing things that have an impact that can be a model for the world."
So where does Centennial come in?
The College's Rwanda-born David Himbara, Scholar-in-Residence at the Centre for Global Citizenship Education & Inclusion, is a long-time friend of the distinguished visitor. He has written about how the College can champion the fight against global energy poverty, which affects over 620 million people in sub-Saharan Africa alone. Mr. Himbara pointed out that while there's much work to be done, those in positions of power are taking note, and that even the World Bank's homepage focuses on the urgency of addressing energy deficits. As Himbara put it, "everyone has our conversation on top of their agenda."
He emphasized the need for access to renewables in developing nations, and the importance of replacing dangerous kerosene lamps, which are still being widely used.
Himbara rightly said that "Centennial has both the vision, and the capability" to help.
And resources do exist here, whether it's Natural Sciences and Engineering Research Council of Canada (NSERC)-funded green energy projects through the college's Applied Research Innovation and Entrepreneurship Services, or the valuable industry partnerships and connections the College has made.
It just so happened that one of our distinguished partners was on hand.
Robin Adamson, Director of Business Development, Microgrid & Hybrid Solutions at Canadian Solar Inc. was a guest speaker as well. Canadian Solar is a company that, as he put it, "made their mark in the world by selling energy modules."
And they've been involved in similar ventures, such as tackling diesel offset issues in northern Ontario First Nations communities, a reminder that energy poverty really is a global phenomenon, and exists even in countries like ours.
Adamson emphasized that the technology is there. Canadian Solar has energy solutions for small communities that are "elegant and simple." These involve installing solar and wind energy generation systems, and energy storage solutions, all managed and controlled from remote locations. He said as a public company, they're interested in "building projects that work" and bridging the gap between need and financial requirements, which must involve partnerships with government at the federal level.
Finance, physical and political risks are obstacles they face when developing micro-grid technology networks. But Adamson emphasized the potential for installations and industry's willingness to rise to the challenge.
These were some of the issues addressed in a post-talk brainstorming Q&A session, where participants from the industry and the institutional sides explored ways to implement innovative off-grid solutions for those who need it most, and tackling technical challenges like training electricians once module units are installed.
Professor Mthembu, was then given a tour of Centennial College's research facilities, including WIMTACH, the College's Wearable, Interactive and Mobile Technologies Access Centre for Health. Also, students from Centennial's Accelerator for Centennial Community Entrepreneurs and Leaders (ACCEL) were given a chance to pitch their entrepreneurial ideas to the visiting professor.
International visits like this are important to tap into the available capacity and support, and to collaborate on a global scale for important long-lasting changes.
By Chris Lombardo