QUESTIONS
P.O. Box 631 Station A
Toronto, ON, M1K 5E9
Introducing our new Executive Chef Lilian Cardoso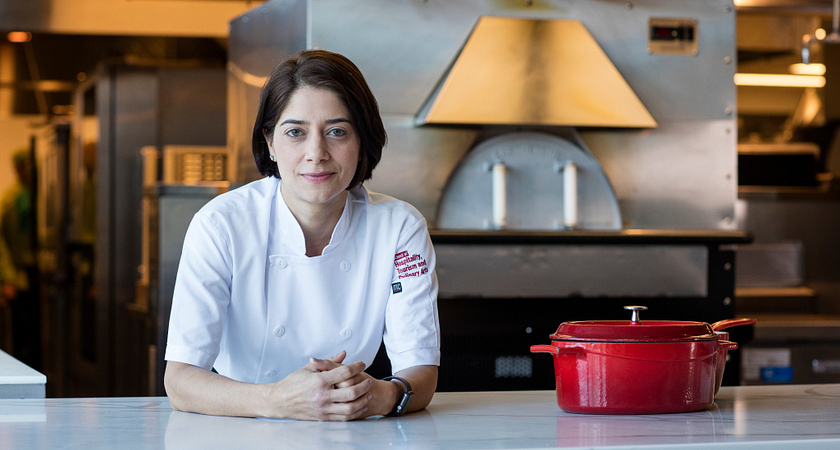 The School of Hospitality, Tourism and Culinary Arts is proud to welcome new Executive Chef Lilian Cardoso to the team. Lilian brings a diverse background of culinary leadership and education to Centennial College. Actually, Chef Cardoso is not entirely new to us; she garnered some first-hand experience teaching at The Local last year.
Most recently Lilian has held Executive Chef roles at restaurants in Toronto including Zebu Steak + Bar and Los Colibris. Prior to working in Toronto, she spent many years leading kitchens in Montreal and Ottawa at such renowned establishments as Maison Christian Faure, Europea Relais & Chatêau and Mambo Restaurant.
Lilian's education is as impressive as her leadership experience. She holds a Master's degree in cellular biology and a Bachelor's degree in biology, both from the State University of Campinas in Brazil. She also studied culinary techniques at SENAC in Brazil and culinary arts at École de Cuisine Alain Ducasse. She holds a diploma in culinary and pastry arts from Le Cordon Bleu, as well as her Red Seal designation.
Lilian will begin in her new role as Executive Chef on September 3 with our previous Executive Chef Alison Iannarelli, transitioning into her new role as Culinary Professor. Please come by to meet Chef Cardoso as she leads the talented culinary team at The Local and Event Centre at Progress Campus.