QUESTIONS
P.O. Box 631 Station A
Toronto, ON, M1K 5E9
Invention Convention a showcase for budding entrepreneurs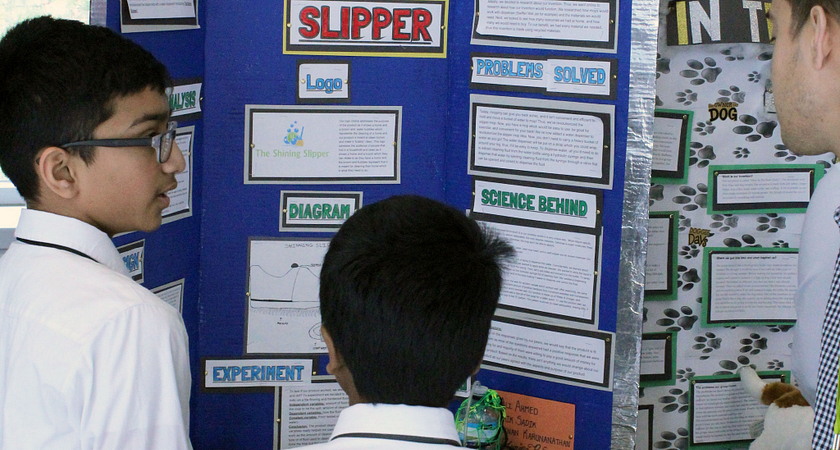 When it comes to the next generation of innovators, we're in good hands. Centennial College welcomed 7th graders from St. Nicholas Catholic, St. Maria Goretti Catholic, Fleming Public and Chief Dan George Public schools for an "Invention Convention" at Progress Campus on March 29.
The Invention Convention is organized by The Learning Partnership, a group best known for its Take Our Kids to WorkTM program that takes place every November. But it's their Investigate! Invent! Innovate! or I3 program, which combines STEM (science, technology, engineering and mathematics) studies and workplace skills considered integral to success in the field. Coincidentally, they are key components of Centennial's mandate as well.
The Learning Partnership's I3 GTA Program Manager Kristen Gilmour explained the group's aim is to promote, support and advance publicly funded education in a venture where students are "asked to come up with a problem in their daily life, and then come up with a solution and create an invention that solves that problem." That's easier said than done, but the concept really captures much of what entrepreneurship entails, regardless of age.
Diana Vecchiarelli, a 7th grade science and French teacher at Scarborough's St. Maria Goretti Catholic School, had heard positive things about the I3 program through a colleague, then set up a workshop with The Learning Partnership. Her students worked hard for two months to come up with their inventions. "The students were very eager, enthusiastic, very motivated to learn, and to also take risks," she said.
The kids' inventions ran the gamut of solutions to problems relating to bicycles, beverage temperature measures, heart monitors, night lights, cleaning products, ice cream scoops, phone protectors, and even an app to help tinnitus sufferers get a good night's sleep. Despite their young age, the inventors' presentations were sophisticated, often including market testing data, customer feedback and price-point justifications. Some of the attendees had prepared pitches worthy of Dragon's Den, the entrepreneur reality TV series.
Sue Pfeffer, The Learning Partnership's National Program Manager for Entrepreneurial Adventure, noted that students taking part in these kinds of initiatives learn about the practicalities of running a business, including "entrepreneurship, brainstorming, collaborating, when things go wrong, how to pivot when things go wrong – all the things you'd learn as an adult. They learn a lot of language and math, and media literacy."
During their visit, the grade 7 students were given a tour of Centennial College, including the baking lab at the Hospitality School's state-of-the-art facilities, the largely student-run restaurant, The Local, and the new corporate Event Centre.
Since the day was all about entrepreneurship and innovation, the students made a stop at Centennial's youth entrepreneur centre (called ACCEL) and even took in a VR demonstration at the Wearable, Interactive and Mobile Technologies Access Centre in Health (WIMTACH). The young visitors came away suitably impressed with all the real-world labs at Centennial, confident in the knowledge that budding entrepreneurs are well supported at the college level.